Kate Middleton's Stand-Out St. Patrick's Day Fashions
In 2012, Kate Middleton made her first official solo military visit to the 1st Battalion Irish Guards annual St. Patrick's Day parade.
The event was a special milestone for the fledgling royal and as such, began a relationship with the battalion which has endured throughout her 11 years as a working member of the royal family.
The tradition of royal women attending the parade was started in 1901 by Queen Alexandra (wife of Queen Victoria's eldest son Edward VII).
On her visit, Alexandra presented small bunches of shamrocks to the officers and this tradition has been followed by successive generations of royal women.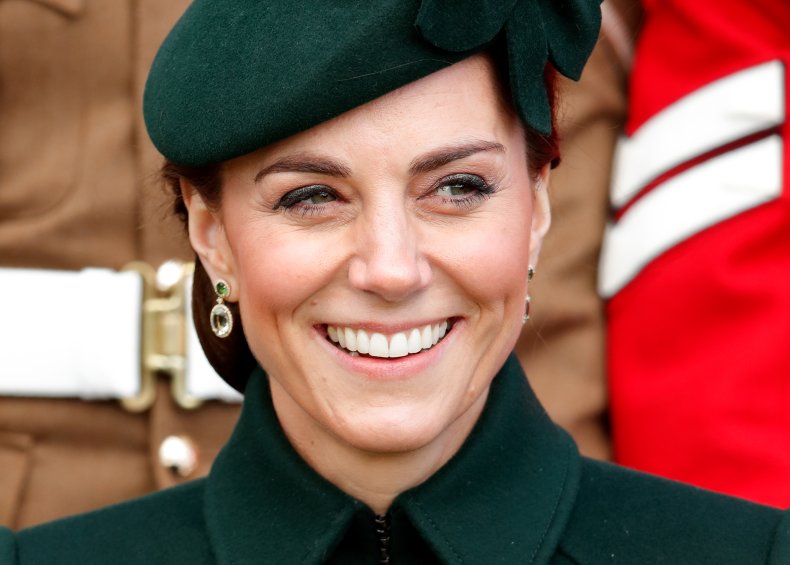 The Irish Guards have a special tradition for their royal visitors too. Each year Kate is loaned a brooch in the form of a gold shamrock with an emerald central stone to wear for the occasion.
Unusually the brooch doesn't belong to Kate or even Queen Elizabeth II. The jewel was given by the battalion to Princess Mary (the queen's aunt) in 1961.
After her death the Irish Guards bought it at an auction of her jewels and thereafter loaned it to the royals for the St. Patrick's Day parade each year.
Kate has attended the parade over seven years, only missing the event in 2016 due to family considerations, and the 2020 and 2021 parades being canceled because of COVID-19 restrictions.
In a tweet released on Thursday, William and Kate marked St. Patrick's Day for those that celebrate around the world. It read:
"Happy #StPatricksDay wherever in the world you're celebrating today!"
The 2022 1st Battalion Irish Guards St. Patrick's Day parade will mark Kate's eighth in-person appearance and each year she puts on a suitably patriotic display through her wardrobe.
Here, Newsweek rounds up Kate's stand-out St. Patrick's Day fashion moments.
2012
To her first military solo engagement, Kate wore an elegant Irish green coat by designer Emilia Wickstead, with a chic brown velvet Lock & Co pillbox hat. The Irish Guards St. Patrick's Day parade has been a favorite event on the calendars of modern royal women, with Princess Diana, Princess Anne and The Queen Mother all attending in the years preceding Kate.
Pinned to her coat, Kate wore the gold and emerald shamrock brooch.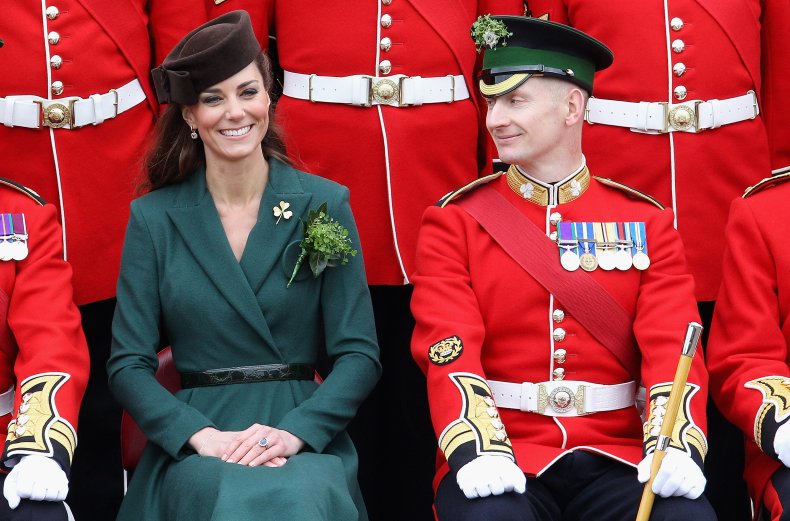 2013
In 2013 Prince William accompanied Kate to the St. Patrick's Day parade in his role as colonel of the Irish Guards. Kate was pregnant with her first child, Prince George, at the time and was suffering from severe morning sickness which caused her to cancel many of her engagements.
To the parade, Kate, surprising many avid royal fashion followers, re-wore the Emilia Wickstead coat which she had debuted at the event the previous year.
There was, however, a sartorial stumble when Kate caught her heel in a grate on the parade ground. She had to be rescued by William who thought the whole thing very funny.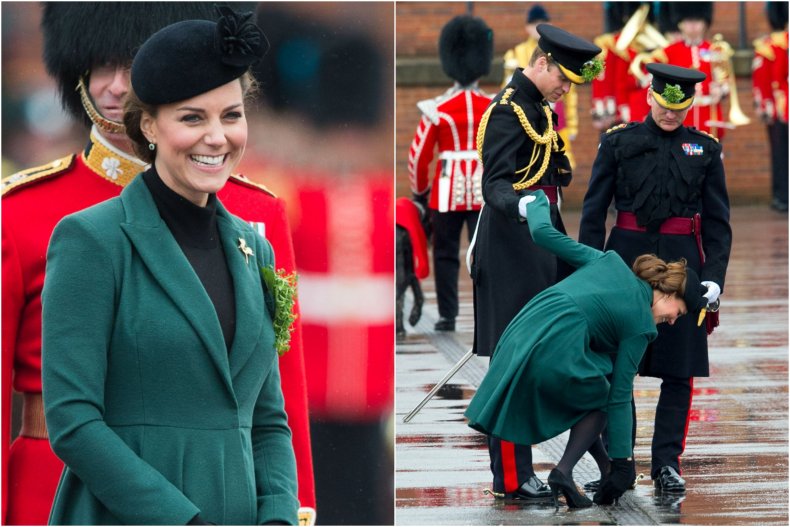 2014
In 2014 Kate wore her signature style of coat dress, again in a patriotic shade of green wool. The duchess paired her outfit with black accessories, a hat by Gina Foster and the shamrock brooch.
Prince William was also in attendance at the St. Patrick's Day parade and watched as his wife made the traditional presentation of shamrocks to the battalion.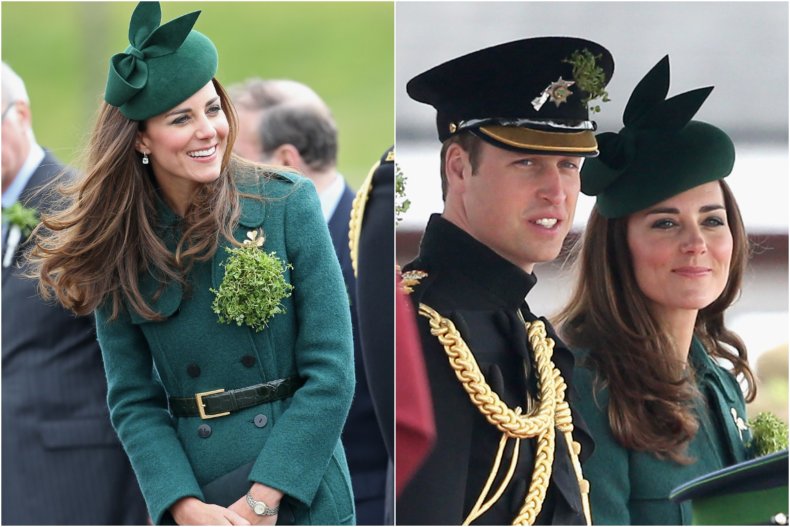 2015
In 2015 Kate broke with her own tradition of wearing Irish green to the St. Patrick's Day parade and instead chose a dark ensemble. Perhaps due to the fact that she was pregnant with Princess Charlotte at the time, the duchess wore a loose coat by Catherine Walker & Co. paired with chocolate brown accessories. The 2015 parade was notably smaller in size than previous years due to the Irish Guards being on deployment in stations around the world at the time.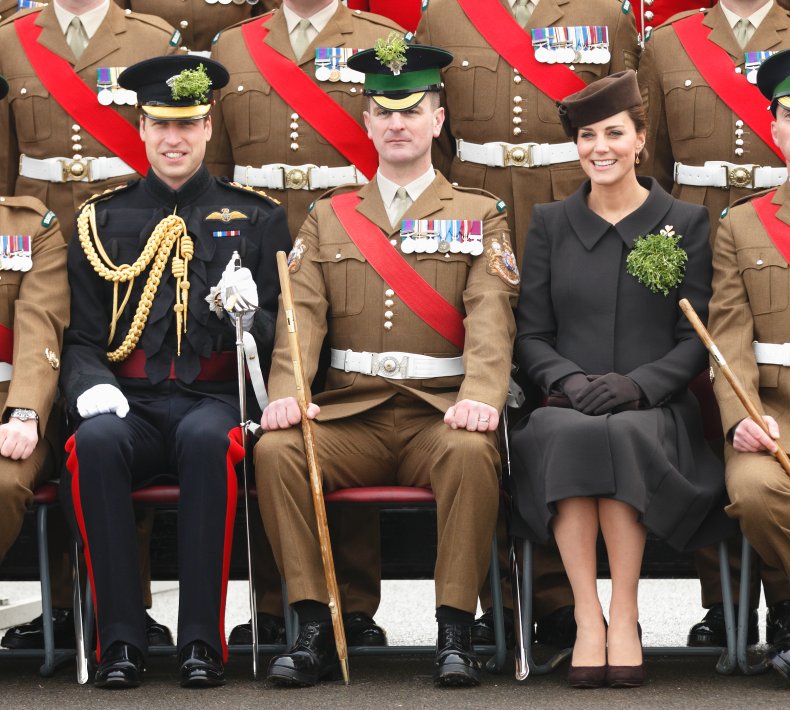 2017
To her fifth visit to the Irish Guards St. Patrick's Day parade, Kate wore a Catherine Walker coat dress in emerald green with statement buttons and a hat by Sylvia Fletcher for Lock & Co.
When presenting the 1st Battalion with their shamrocks, Kate never forgets to include their mascot, an Irish wolfhound who dons his ceremonial tunic for the royal visit.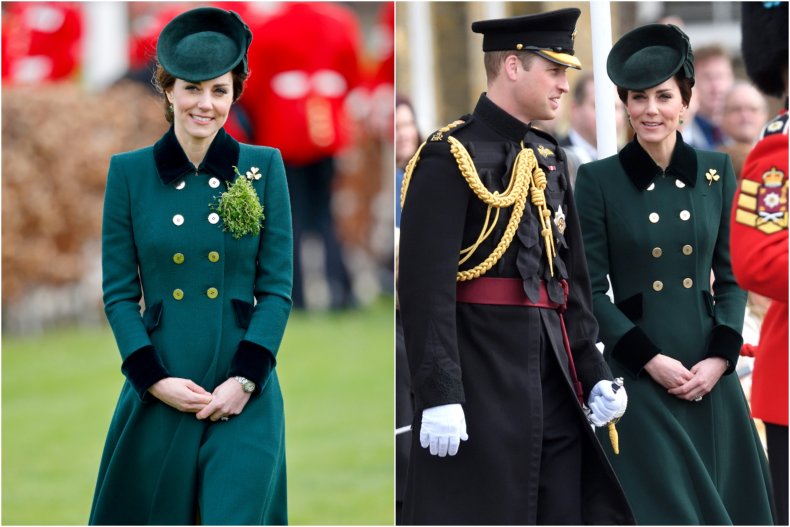 2018
In 2018 Kate was pregnant with her third child, Prince Louis, and chose to wear a green Catherine Walker & Co. coat with black faux fur trimming which she had debuted on an official trip to Sweden and Norway earlier that year.
Kate paired the elegant coat with black gloves by Cornelia James, shoes from Tod's and her trusted hat by Gina Foster.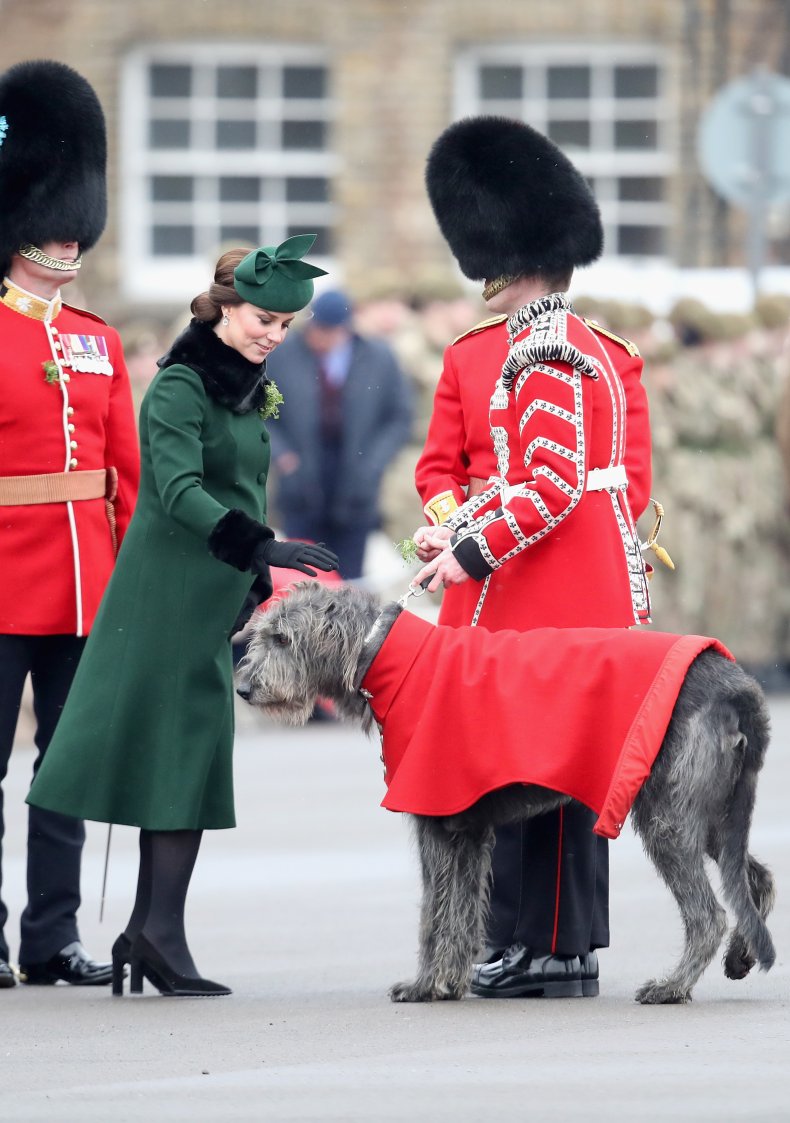 2019
Kate's love of military inspired fashion was on full display in 2019 when she wore a coat dress by the designers of her wedding dress Alexander McQueen to the St. Patrick's Day parade accompanied by Prince William.
The duchess accessorized the look with Gianvito Rossi black suede pumps and Jenny Packham clutch bag.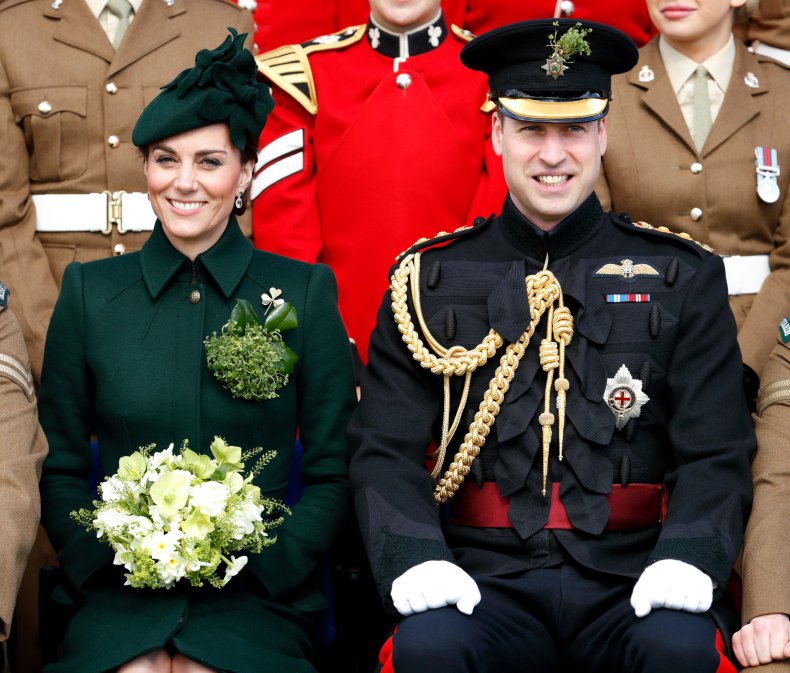 2021
In 2021 William and Kate sent a special St. Patrick's Day message to the people of Ireland being unable, as they were, to attend the annual parade due to COVID-19 restrictions.
In the video featuring world leaders, Kate wears a bright green blazer by the highstreet label Zara.
2022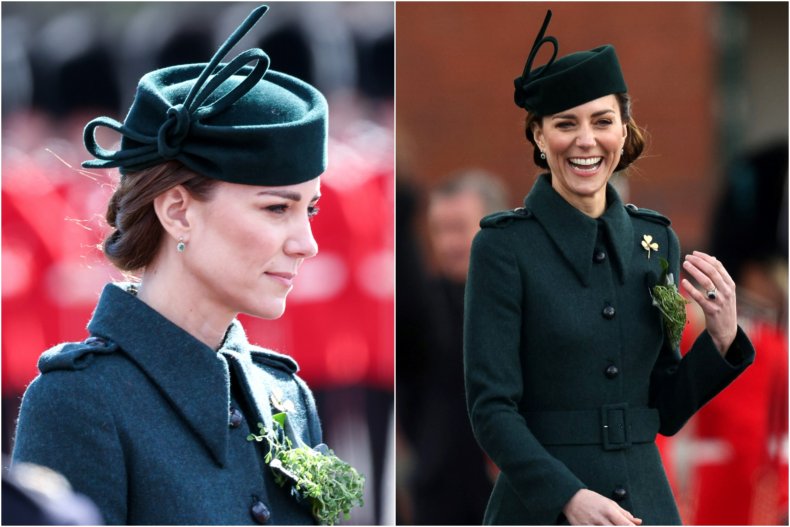 Kate wore a green wool dress coat by Laura Green London to attend the 2022 St Patrick's Day parade. It was business as usual following two years of cancellations owing to the Covid-19 pandemic. The duchess paired the coat with an elegant green hat and matching accessories.