Kate Middleton's 'Very Beautiful' Voice During Wedding Vows Goes Viral
Kate Middleton's voice was "very beautiful" when she read her wedding vows to Prince William, according to fans who sent a clip of the fairy tale moment viral on TikTok.
The Prince and Princess of Wales married at Westminster Abbey on April 29, 2011, in a star studded wedding that included Elton John and David Beckham among celebrity guests.
Reading her vows, Kate said: "I Catherine Elizabeth take thee William Arthur Philip Louis to my wedded husband, to have and to hold from this day forward, for better for worse, for richer for poorer, in sickness and in health, to love and to cherish, 'til death us do part, according to God's holy law, and thereto I give thee my troth."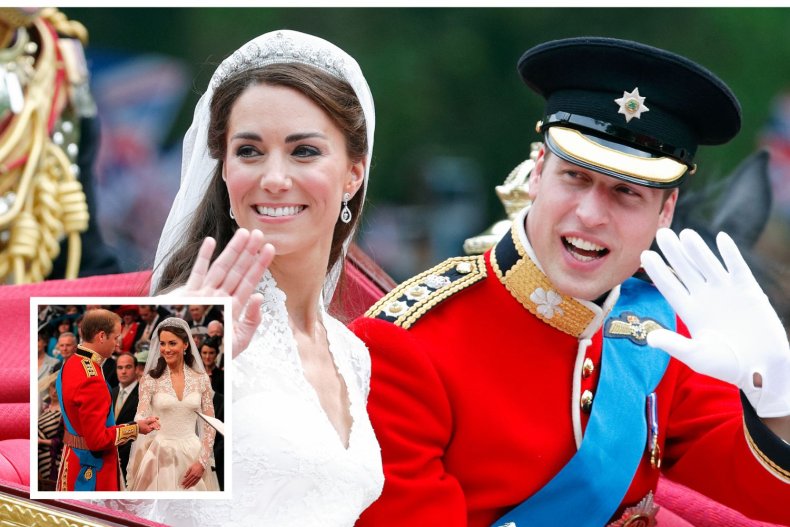 A clip of the moment that resurfaced on TikTok has been liked 53,000 times and viewed 809,000 times and was posted with the caption: "Her voice is very beautiful."
One comment, liked 1,476 times, noted: "The way William looks at Kate." Another read: "Beautiful couple. I don't know how she did it. She must have been terrified but doesn't show it."
Kate's wedding vows were noted at the time because she dropped the word "obey" for the traditional script.
Moments before the vows, William was seen whispering: "You look [beautiful], you are beautiful."
The Princess of Wales wore an Alexander McQueen dress designed by Sarah Burton, the fashion house's creative director. Memorable moments included a bizarre fascinator worn by Princess Beatrice and a clergyman who performed cartwheels down the aisle in robes after the ceremony was over, seemingly not realizing he was still on camera.
The wedding was also the moment Britain fell for Kate's sister Pippa Matthews, who carried her wedding train.
Prince Harry, who kept the rings for the bride and groom, is visible at the end of the clip, standing just to one side of his brother and sister-in-law.
The Duke of Sussex described the wedding in his book Spare: "I recall Kate walking down the aisle, looking incredible, and I recall Willy walking her back up the aisle, and as they disappeared through the door, into the carriage that would convey them to Buckingham Palace, into the eternal partnership they'd pledged, I recall thinking: Goodbye.
"I loved my new sister-in-law, I felt she was more sister than in-law, the sister I'd never had and always wanted, and I was pleased that she'd forever be standing by Willy's side.
"She was a good match for my older brother. They made each other visibly happy, and therefore I was happy too.
"But in my gut I couldn't help feeling that this was yet another farewell under this horrid roof.
"Another sundering. The brother I'd escorted into Westminster Abbey that morning was gone—forever."
Jack Royston is the chief royal correspondent at Newsweek, based in London. You can find him on Twitter at @jack_royston and read his stories on Newsweek's The Royals Facebook page.
Do you have a question about King Charles III, William and Kate, Meghan and Harry, or their family that you would like our experienced royal correspondents to answer? Email royals@newsweek.com. We'd love to hear from you.