Prince Harry, Meghan Markle Moved From 'Obama 2.0' to 'Figures of Ridicule'
Prince Harry and Meghan Markle's unforgiving spoofing by adult animated comedy South Park has illustrated just how far their public image has been transformed from "Obama 2.0" to "figures of ridicule," a British morning show has heard.
The couple faced a pop-culture grilling from South Park's creators Trey Parker and Matt Stone in a special episode on Wednesday night titled "The Worldwide Privacy Tour."
The show mocked the Sussexes' bombshell interviews, use of private jets and Harry's memoir Spare. The South Park episode follows other skits that have targeted the couple amid their recent tell-all media projects.
Appearing on Good Morning Britain on Friday, Newsweek's chief royal correspondent, Jack Royston, highlighted the slow turn in the couple's public image.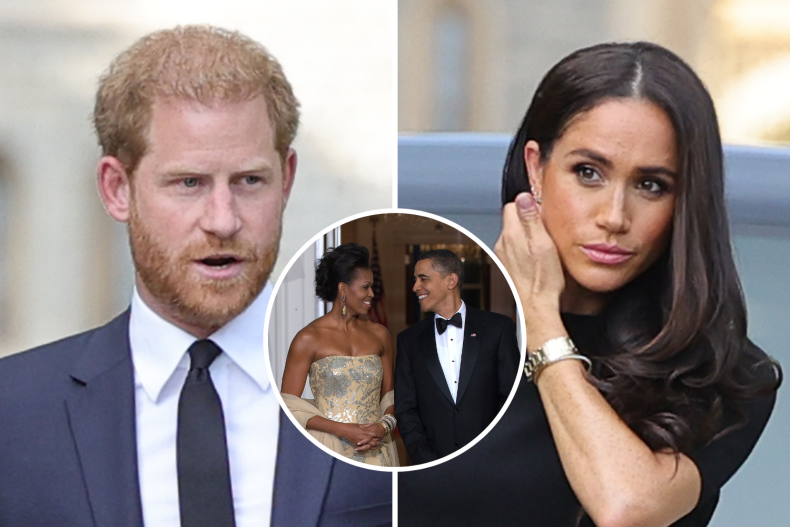 "This is a big deal, isn't it, that they have had the mickey taken out of them on a massive show like that?" said anchor Ranvir Singh. "It's like, when you're on The Simpsons it's always an accolade. When you're in South Park, I'm not sure so much."
"This is a big thing that's happening in America now," Royston responded. "They've transitioned from being, kind of, Obama 2.0, these really serious celebrities, into being figures of ridicule. It's not just South Park, it's been Saturday Night Live and Jimmy Fallon and other U.S comedies [...] big mainstream comedy shows, so it is a big transition."
Illustrating this change in the tide of public opinion is recent polling, he offered. "We actually did some polling before Harry's book came out and then again afterwards and they have crashed in the U.S. opinion polls, so public opinion in America has swung significantly against them. Harry dropped 45 points."
The polling, conducted for Newsweek by Redfield & Wilton six days after the release of Harry's Spare memoir and the broadcast of his numerous interviews promoting it, showed that in the U.S. the Sussexes are now less popular than King Charles III, Queen Camilla, Prince William and Kate Middleton.
Meghan's approval rating sits at -13 while Harry's doesn't fare much better at -7. To illustrate how dramatically this has changed in recent months, similar polling in December, prior to the release of their Netflix docuseries, Harry was at +38 and Meghan at +23.
South Park is not the only show to have taken aim at Harry and Meghan in recent months.
Seth Meyers, James Corden and Jimmy Fallon have all featured Harry and/or Meghan as the punchline in their opening monologues or specially arranged skits. The late-night host to have given Harry the harshest spoofing over multiple shows has been Jimmy Fallon who made a number of digs at the royal's admission in his memoir that he caught frostbite on his penis after a North Pole trek, and that he used Princess Diana's favorite lip cream as a home remedy for the affliction.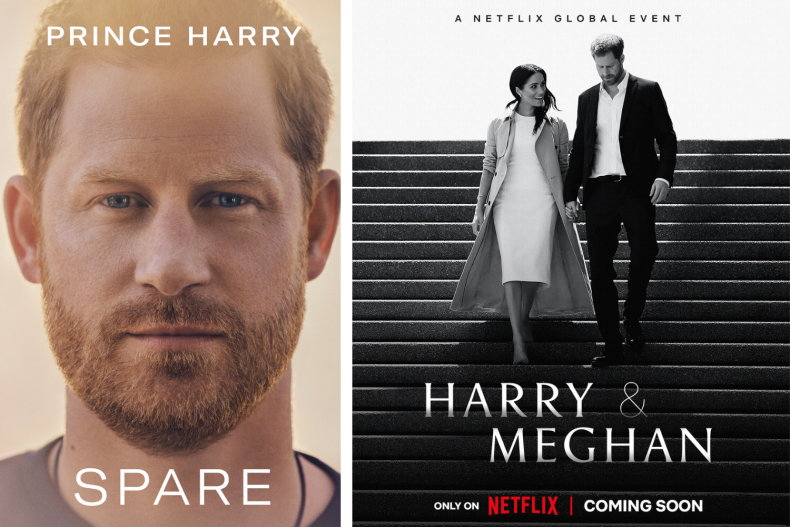 At the Golden Globes in January, Chelsea Handler made the prince the butt of her joke introducing the nominated shows, which included true-crime drama Dahmer.
"Dahmer became the third-highest viewed show on Netflix, which had a combined watch time of 1 billion hours," Handler told the audience. "Which, apparently, is the same amount of time we're going to have to listen to Prince Harry talk about his frostbitten penis. It's enough already."
So far, Harry and Meghan have not made any public appearances since the publication of Spare. They have not officially commented on the commentary surrounding the book or their other recent media projects.
Newsweek approached representatives of Prince Harry and Meghan Markle for comment.
James Crawford-Smith is Newsweek's royal reporter based in London. You can find him on Twitter at @jrcrawfordsmith and read his stories on Newsweek's The Royals Facebook page.
Do you have a question about King Charles III, William and Kate, Meghan and Harry, or their family that you would like our experienced royal correspondents to answer? Email royals@newsweek.com. We'd love to hear from you.