Kate Moss Goes to Johnny Depp Concert Sparking Fans' Reconciliation Hopes
Johnny Depp's fans hope a romantic reunion is on the cards with Kate Moss after she attended his show in London on Tuesday night.
Moss was called to testify in the trial involving Depp and his ex-wife Amber Heard, which also sent the internet and social media into overdrive, but a more recent meeting between the pair has gotten fans' hopes up too. For the second night in a row, Depp joined Jeff Beck onstage at the Royal Albert Hall in London, and multiple reports suggest Moss attended after an invitation from Depp.
The recent trial between Depp and Heard, in which he sued her for $50 million over defamation claims, came to an end on Thursday May 27. It came about after Heard wrote a 2018 op-ed stating she was the survivor of domestic abuse, which Depp's team say damaged his career. The jury is currently deliberating and deciding the verdict.
Multiple reports have stated that Moss attended Depp's gig in London last night, seemingly confirmed by journalist Jessica Reed on her popular Instagram account @houseinhabit. Since then social media users have been reacting to the news, with many hoping that this will mean a reconciliation for the former couple.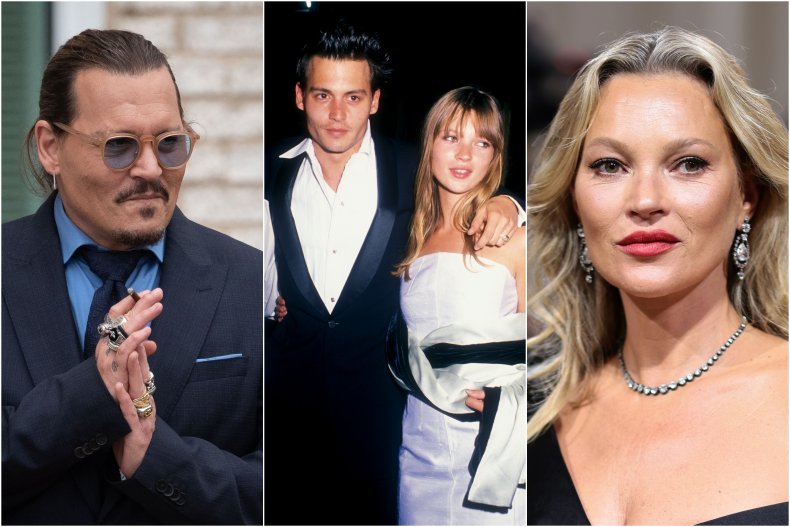 "So hope they will be back together again!! Kate is a queen!" wrote @ktvogre on Twitter in response to seeing the news reports of Moss attending Depp and Beck's concert. "The reunion we all deserve!" said @wikner_tilda while @daiski_20 exclaimed a simple "oh my gosh!!!!!!"
Moss and Depp dated between 1994 and 1998. She was called to testify in court recently to quash a rumor that he once threw her down the stairs whilst on holiday in Jamaica. During her short testimony, she confirmed this never happened, and that he had sought medical attention for her after she had a fall.
"Kate Moss went to Johnny Depps gig last night and my mind has constructed the most fabulous love story," one excited fan, @Daniellaaa_93 said. TikTok user hbbratt13 took the news to that platform and shared a a video featuring the news that Moss and Depp were together, and wrote, "Love Love Love This." On Twitter, @lucifairwife shared multiple pictures of the pair together from the '90s and wrote, "just some photos of Johnny Depp and Kate Moss, while manifesting for some new ones of them together"
Whilst many celebrated Moss and Depp reuniting in person, others were quick to drag Amber Heard into the conversation. Many featured hashtags favoring Depp and mocking Heard, as well as her friend Eve Barlow.
Twitter user @dead_cat2 predicted that Amber Heard's head will be "spinning like a top now" after seeing the news. "Screw Depp winning the trial. The biggest payback to the turd is him getting back with the LEGENDARY Kate Moss," wrote @papafrita_16.
Jeff Beck will continue his tour across the UK this week but it's not known if Depp will continue to tour with him. Newsweek have reached out to Depp, Moss and Beck for comment.