'Easy Win': Kate Moss 4-Minute Testimony for Depp Praised on Social Media
Kate Moss only featured in the Amber Heard and Johnny Depp trial for a couple of minutes but her appearance and testimony caused a huge reaction online.
Moss was called to testify by Depp's legal team to debunk the rumor that Depp once threw her down the stairs. She appeared for just four minutes, "but she slayed during all of them," wrote one Twitter user, as the praise for the British model came rolling in.
Depp and ex-wife Heard are involved in a $50 million defamation lawsuit after Heard wrote a 2018 op-ed stating that she was a survivor of domestic abuse. Though he wasn't mentioned by name, Depp's team argue the insinuation has resulted in massive loss of career earnings for him.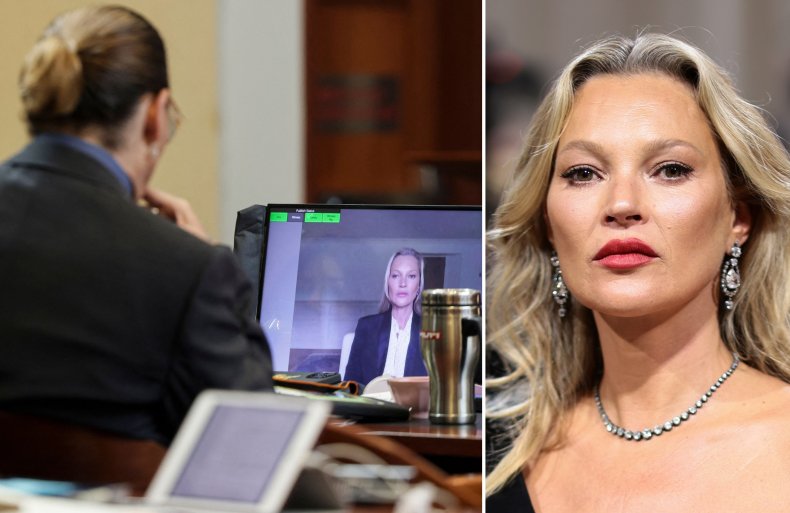 Earlier in the trial, Heard had mentioned Moss by name, referencing a rumor that Depp had once thrown Moss down the stairs while they were on vacation in Jamaica in the 1990s. The moment Heard mentioned Moss' name went viral as Depp's attorney Ben Chew appeared to celebrate her bringing it up.
Speaking from Gloucestershire, England via a live video link, Moss confirmed to the court that she had a romantic relationship with Depp from 1994 to 1998. She was asked about a specific holiday the couple took in Jamaica during that time. Moss testified that as she left their room, she slid on some wet stairs.
"I screamed because I didn't know what happened to me and I was in pain, and he came running back to help me and carried me to my room and brought me medical attention," Moss testified.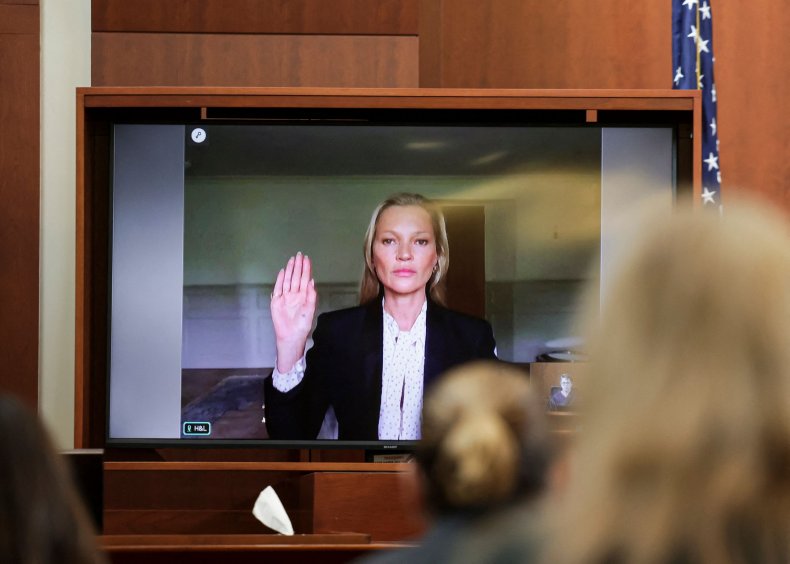 Depp's attorney, Chew, then asked Moss if Depp had ever pushed her down any stairs. "He never pushed me, kicked me, or threw me down any stairs," Moss said.
Moss then confirmed she had never testified in court before now. Heard's team stated they did not want to cross-examine Moss in any way.
"ZERO cross. EASY win," stated @ReignTea on Twitter after Moss' testimony was finished.
Another user, @GellertDepp parodied a Miss Congeniality song for Moss. "She is beauty, she is grace, she put Ms. Heard in her place." They also added, "Kate Moss just called Amber Heard a liar in 4K!"
Many comments across Twitter accused Heard of being exposed as a liar by Moss, but the Aquaman actress has never actually repeated rumors that Depp pushed her down the stairs. In previous testimony she said, "I just instantly think of Kate Moss and the stairs," when describing an argument involving Depp, Heard and her sister, Whitney.
@ThatBrianFella and @tasteofsanity complimented Moss for testifying during the trial. The latter noted how the fact that she'd never testified in court before but did so for Depp, "thirty years after they dated, speaks volumes."
It didn't take long for TiKTok to upload video footage of Moss testifying in court too as many of Depp's fans expressed their joy. Other clips uploaded to TikTok focused on Depp's reaction during Moss' testimony as he smiled once she'd finished.
The Depp and Heard trial continues today during the final week of court proceedings. Follow Newsweek's live blog for all of the biggest breaking news coming out of Fairfax County, Virginia.