Kate Moss Quickly Denies Depp Staircase Rumor, Says She Slid on Steps
Highly anticipated witness Kate Moss answered questions during the Johnny Depp v. Amber Heard trial on Wednesday and quickly denied the rumor that Depp pushed her down a flight of stairs.
Heard mentioned Moss in her own testimony when recalling a fight the actress had with Depp during their marriage, bringing up the widespread rumor that Depp pushed Moss down a flight of stairs while they dated between 1994 and 1997.
On Wednesday, Moss testified that she and Depp went on vacation in Jamaica in the 1990s.
"We're leaving the room and Johnny left the room before I did. And there had been a rainstorm. And as I left the room, I slid down the stairs and I hurt my back.
"I screamed because I didn't know what happened to me and I was in pain, and he came running back to help me and carried me to my room and brought me medical attention."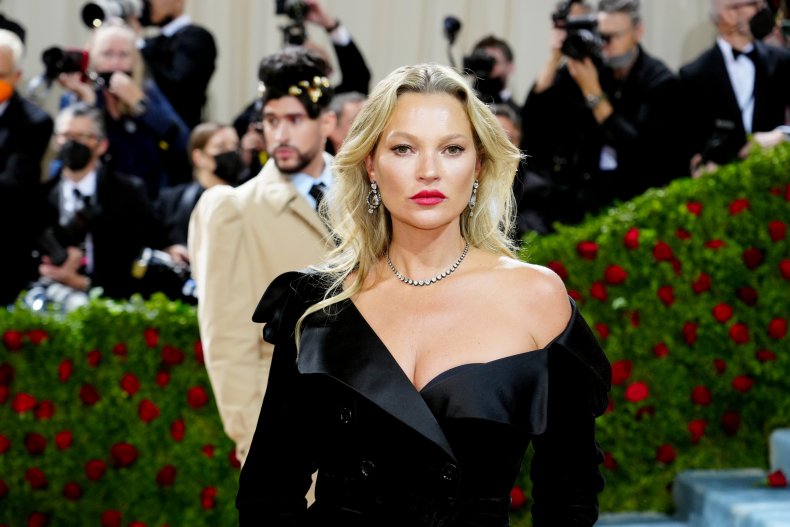 Attorney Ben Chew asked Moss if Depp ever pushed her down any stairs.
"No, he never pushed me, kicked me or threw me down any stairs," Moss said.
Heard mentioned Moss in her testimony on May 5 when recalling a fight she and Depp had during their relationship, which ended in 2016. Heard testified that Depp tried to hit Heard's sister at the top of a staircase and said, "I just instantly think of Kate Moss and the stairs, and I swung at him. In all my relationships to date, I hadn't [delivered] a blow. For the first time, I hit him square in the face."
Heard testified about the rumor in 2020 in Depp's libel case in the U.K. against British newspaper The Sun, which he sued after it called him a "wife-beater."
According to the Associated Press, Heard said during that trial: "He was about to push her [Heard's sister] down the stairs and the moment before that happened, I remembered information I had heard that he pushed a former girlfriend—I believe it was Kate Moss—down the stairs."
Depp testified on Wednesday that he had not heard of the rumor "before Miss Heard grabbed hold of it."
Depp is suing Heard for $50 million for defamation after she wrote an op-ed in 2018 with The Washington Post claiming, without naming Depp, that she was a victim of domestic abuse. Heard is countersuing for $100 million for nuisance.
Closing arguments in the trial, which is in its sixth week, are expected on Friday.
Follow Newsweek's live blog for more updates.
Update 5/25/22, 1:14 p.m. ET: This story has been updated with additional information.