Kate Moss Testimony in Amber Heard Trial Lasts Less Than 4 Minutes
Supermodel Kate Moss' highly anticipated testimony as a rebuttal witness in the Amber Heard v. Johnny Depp defamation trial lasted less than four minutes on Wednesday.
In Fairfax, Virginia, where the ongoing trial between Depp and ex-wife Heard has taken place for the last six weeks, Moss testified on behalf of Depp's legal team in order to squash the rumor that Depp pushed her down a flight of stairs during their romantic relationship from 1994 to 1997.
Depp is suing Heard for $50 million for defamation after the Aquaman actress wrote an op-ed with The Washington Post claiming she was a victim of domestic abuse. In Heard's testimony in her defense, she mentioned Moss when recalling an argument she had with Depp.
In an argument in which Depp allegedly tried to hit Heard's sister, Heard testified: "I just instantly think of Kate Moss and the stairs, and I swung at him. In all my relationships to date, I hadn't [delivered] a blow. For the first time, I hit him square in the face."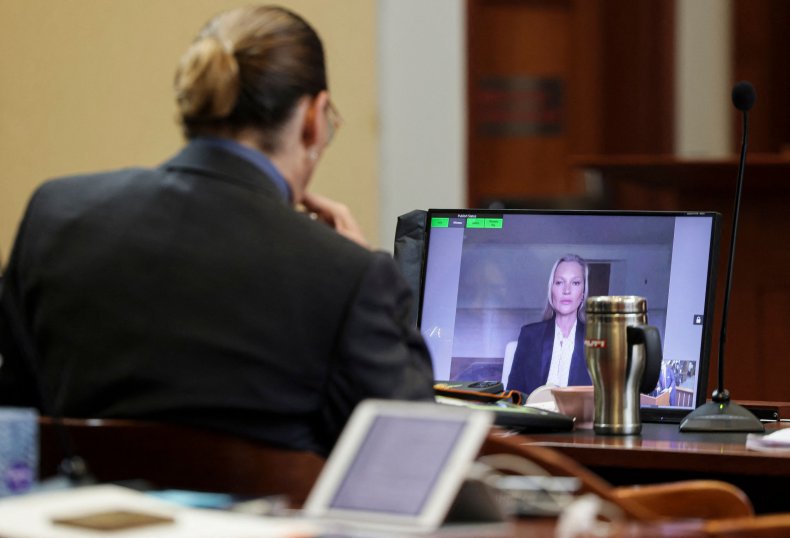 Moss debunked the rumor on Wednesday after being called to testify by Depp's legal team. Her testimony lasting a total of 3 1/2 minutes at most. Heard's legal team chose not to cross-examine Moss.
Moss testified that she and Depp took a vacation to Jamaica in the '90s, and said that when the Hollywood "it" couple was leaving their hotel room, Moss slipped coming down a flight of stairs that was wet after rain.
"I screamed because I didn't know what happened to me and I was in pain, and he came running back to help me and carried me to my room and brought me medical attention," Moss testified.
When Moss was asked if Depp had ever pushed her down a flight of stairs, the supermodel stated, "No, he never pushed me, kicked me or threw me down any stairs."
Moss and Depp dated for three years and were considered one of Hollywood's "it" couples. Since they broke up in 1997, Moss has never accused Depp of being physically violent or abusive toward her.
There was an incident, however, in which rumors circulated that a trashed room at The Mark Hotel in New York was the result of an argument between the two in 1994. Depp was later arrested for criminal mischief over the incident, but the charge was dismissed by a criminal court judge on the condition that he kept out of trouble for six months.
On their break-up, Moss told Vanity Fair in 2012: "There's nobody that's ever really been able to take care of me. Johnny did for a bit. I believed what he said. Like if I said, 'What do I do?' he'd tell me.
"And that's what I missed when I left. I really lost that gauge of somebody I could trust. Nightmare. Years and years of crying. Oh, the tears!"
Follow Newsweek's live blog for updates.
Update 5/25/22, 1:20 p.m. ET: This story was updated with additional information.