Kathie Durst's Family Calls for DA to Resign After She Admits Cops Botched Investigation
Kathie Durst's family members call for Westchester District Attorney Miriam "Mimi" Rocah to step down following the release of a report into Durst's murder nearly four decades later, according to the Associated Press.
"We ask the public to consider why the current Westchester DA and her predecessors remain unwilling to tell the truth about why it took nearly forty years for Robert Durst to be charged," said Robert Adams, an attorney for Kathie Durst's family.
In a news conference, Rocah said her probe into the investigation led to new physical evidence and witness statements of the 1982 murder of Kathie Durst. However, she failed to elaborate due to grand jury secrecy laws, citing "tunnel vision" during the investigation, the AP reported.
"This report summarizes facts not subject to grand jury secrecy that were gathered during the investigation into Kathleen Durst's disappearance, and it shed some light on why it took nearly 40 years to charge Robert Durst with her murder," Rocah said in the news conference.
Rocah said the report could officially be released since a trial is not possible following Robert Durst's death earlier this month.
Shortly after Rocah took office in January 2021, she reopened the investigation into Kathie Durst's death. In November 2021, while already serving a life sentence in California for the murder of his long-time friend and writer Susan Berman back in 2000, Robert Durst was officially charged with Kathie's murder.
Kathie Durst's older brother, James McCormack, previously thanked Rocah for investigation but questioned why it took so long, according to WABC-TV.
"Now more than ever, it is important to ask why it took so long to get to this point? My family and I have serious questions, and we deserve answers," McCormack said.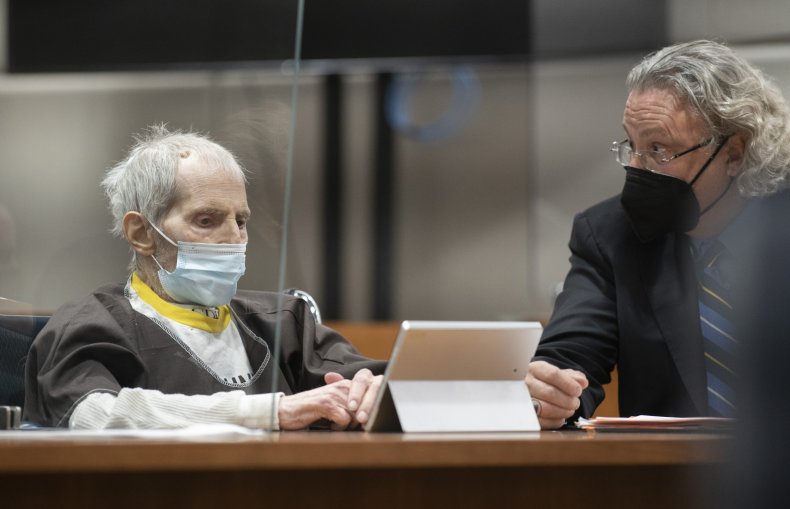 Adams previously stated Rocah simply did her job, something not done for the past 40 years, WABC-TV said.
A statement released by Rocah's office said investigators debunked reports that Kathie was seen in Manhattan the night she disappeared.
Additional evidence includes former neighbors telling police Kathie climbed over adjacent balconies after being beaten and a cleaner noticing what she thought was blood on the dishwasher.
Although Kathie Durst's body was never found, she was declared legally dead in 2017.
Newsweek previously reported that Robert Durst appeared to have incriminated himself during an HBO documentary series titled The Jinx: The Life and Deaths of Robert Durst. While recording, a live microphone picked Robert Durst stepping off-camera muttering to himself "Killed them all, of course."
Durst was also tried for the death of a Texas neighbor but acquitted of the murder. He admitted to dismembering the body and throwing it into the sea but said he acted in self-defense.