Why Robert Durst's "Killed Them All" Confession Won't Work in Court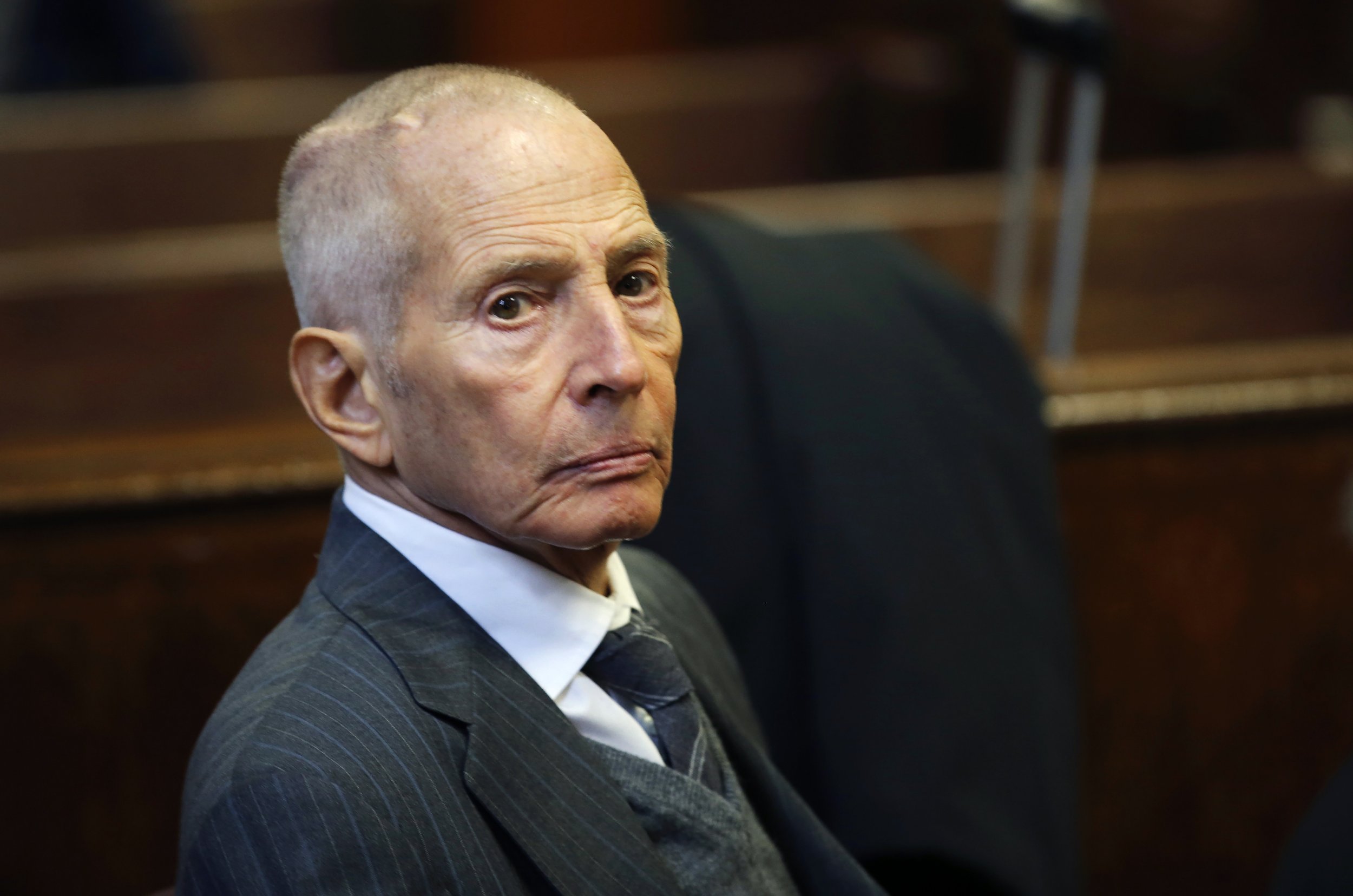 "Who looks in the mirror and says, 'I killed them all'? One answer is someone who killed them all," the celebrity lawyer Randy Kessler tells me. "Another answer is someone mentally unwell."
He was referring, of course, to the statement made by accused murder Robert Durst in the final installment of HBO's The Jinx: The Life and Deaths of Robert Durst.
Kessler, a founding partner of the KS Family Law firm, has represented the rich, the famous and the scandalized during his career, but he says none of his clients have had the overwhelmingly unsettling nature of the millionaire Durst, estranged heir to the Durst real estate fortune.
Durst was arrested on murder charges Saturday in the case of Susan Berman, who was killed in December 2000. On The Jinx that aired Sunday, he is heard issuing what has been widely referred to in press reports as an apparent confession. As the documentary winds down, Durst goes into the restroom with his microphone still on. He says the following:
"There it is. You're caught. You're right, of course. But, you can't imagine. Arrest him. [water runs] I don't know what's in the house. Oh, I want this. What a disaster. He was right. I was wrong. And the burping. I'm having difficulty with the question. What the hell did I do? Killed them all, of course."
Sure, this may sound like a confession to the two murders and one disappearance (also a likely death) to which allegations have linked Durst. However, as a legal matter, these words may not stand in court due to the hearsay rule, which has already become a point of contention among legal experts. Alternatively, the defense could try to use the audio bite to its advantage, as evidence of its client's insanity.
Durst's lawyer, Chip Lewis, couldn't be reached for comment, but during an appearance on Fox News Channel's Justice With Judge Jeanine he said: "You've said things under your breath that you probably didn't mean."
Kessler gives his take on an argument Lewis could make: "To stand in a bathroom alone, speaking in strange short sentences, staring at a mirror, this is unusual behavior. They could argue he is just a weird, unbalanced guy looking in the mirror."
Focusing on mental instability has helped Durst in the past. In his 2003 acquittal in the murder of Morris Black, a Texas neighbor, Durst's lawyers argued he was autistic and focused on childhood traumas, such as his mother's suicide. A juror on the case said Durst was a "crazy person."
The Jinx audio tape alone is circumstantial evidence, Kessler adds. "If you have a lot of evidence, such as DNA and witnesses, that changes things," he says. "But this confession, you cannot use it on its own. They'll need to build a much larger case."
In some high profile cases, such as those of Casey Anthony and O.J. Simpson, even physical evidence was not enough to gain guilty verdicts.
Kessler also points to the inclusion of "them all" in the audio bite. "Unless there is a pattern that is nearly identical in the prior murder case and disappearance, it will be very hard for the legal team to bring up prior cases in court," he explains, adding that it becomes even more complicated because Durst was already acquitted in one of the cases.
"Nonetheless, you cannot unring the bell--the jury will know that Durst has been in a prior situation, even if that isn't brought up in the trial directly," Kessler says. The jury could find this out by hearing the word "all" on the audio tape, even if the selected jurors had not heard of Durst or The Jinx before the trial.
Durst's statement is outside of the realm of "normal" murder confessions, which typically explain details such as motive, method and preconceived plan--like when a murderer tells a police officer: "I killed my wife with a knife I bought last week because she cheated on me." In Durst's case, only a very aloof, minimally detailed reaction is on offer.
Also with Durst, there is the pesky issue of the hearsay rule. Elizabeth Kase, a criminal defense attorney and partner at Abrams Fensterman, says the hearsay rule refers to statements made out of court "offered to prove the truth of the matter asserted." Such statements are generally not admissible, but there are exceptions, she says: "Does this have any actual factual reliability or is it just a rant of a person who is sick?"
Jeanine Pirro, a former Westchester County district attorney who appears in The Jinx as one of the original investigators of Durst, believes the statement is an exception to the rule. "It was a spontaneous statement, a classical exception to the hearsay rule. I don't hear it as a muttering. I hear it as a clear, unequivocal: 'I killed them.' That means he killed his wife, he killed Susan Berman and he killed Morris Black," she said.
If Durst's attorney wants to get particularly creative, he could bring charges against HBO over this tape.
"HBO is not a government actor, so the methods employed by HBO to gather the recordings will not have the same level of legal scrutiny as a government recording or a recording by a government actor," Kase explains. "Durst may have civil claims against HBO to argue that HBO does not have rights to share those tapes without his knowledge or authorization."
Also, it has yet to be proved, beyond a reasonable doubt, that the recordings have not been manipulated. Though the filmmakers have an esteemed reputation, the defense could go after the credibility of the tapes.
So while Jinx viewers may have been tantalized with the "confession," the jurors may not even get a chance to hear it.