Kathryn Hahn On The 'Horrifying' True Story Behind 'The Shrink Next Door' On Apple TV+
A podcast that Kathryn Hahn describes as an "unbelievable, remarkable, horrifying listen" has been adapted into a new comedy drama starring Will Ferrell and Paul Rudd.
Hahn stars alongside the two in the new Apple TV+ series The Shrink Next Door, which launches on Friday, November 12, with new episodes dropping weekly.
Written by Georgia Pritchett (Succession), the limited series is based on a true podcast series of the same name, which told the story of Isaac Herschkopf, a psychiatrist who abused his relationship with his patients to exploit them for personal gain.
Hahn admits she became engrossed with the podcast series by Joe Nocera when she was shooting I Know This Much Is True in 2019.
She told Newsweek how she couldn't believe what she was hearing, "I couldn't stop listening just because it felt so unreal and also so close.
"The scale was just close enough that there was a possibility that it could happen to people that I knew, maybe even myself in a weird situation. It felt so familiar. It was just an unbelievable listen. A remarkable listen. A horrifying listen."
Showrunner Pritchett concurs with Hahn's assessment and says she thought the story behind the podcast was "bananas."
Rudd, Ferrell and director Michael Showalter (Wet Hot American Summer) joined forces to create the show, which convinced Pritchett to get involved too as she had so many questions about the story she wanted answering.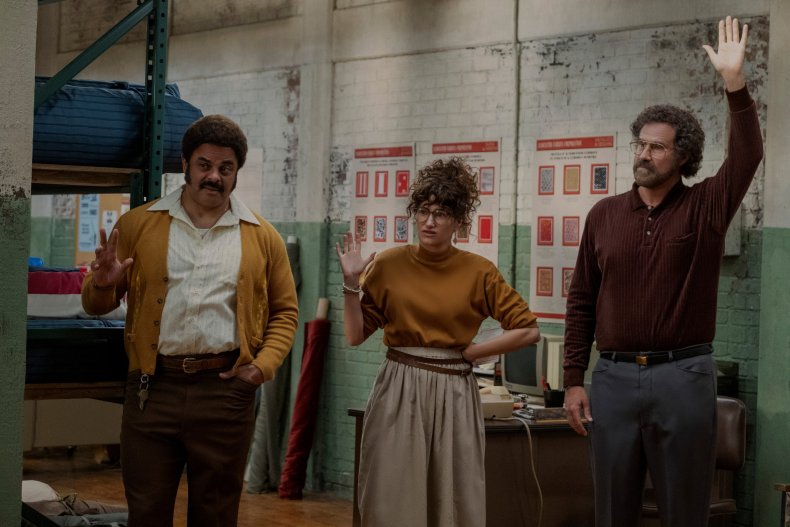 She told Newsweek: "The more I thought about it, the more I thought, this actually could happen to anyone."
Rudd plays the psychiatrist Dr. Isaac "Ike" Herschkopf and Ferrell plays his unwitting patient Marty Markowitz. Over the course of decades, we see how Ike extracted what he wants from Marty's life.
"When you kind of dig into it a bit, Marty has just been bereaved, and he just split up from his relationship and he was kind of struggling at work. And you think, well, we've all experienced that," Pritchett said. "And then similarly, with the pandemic, and lockdown we've all felt isolated and concerned and afraid about the future.
"So it feels like we're all potential Martys. In a vulnerable moment, you turn to something or someone to help you and you can often turn to the wrong person or thing—and that's what happened," Pritchett said.
Hahn plays Phyllis, the sister of Ferrell's Marty who becomes justifiably wary of Ike once she hears about some of his unusual methods.
Hahn said conversations with the real life Phyllis were invaluable. "I was lucky enough to have the real Phyllis, who I was able to zoom with a couple of times." Hahn continued, "She was so generous with me in telling me her story and her life story and she just shared a lot and trusted me. I will always treasure that and hold that to my heart."
Hahn has previously worked with both Ferrell and Rudd several times before, including their first team up in Anchorman. She says it was easy to find the drama in The Shrink Next Door, despite all the comedic talent on set.
"I think we all knew that it was serious business but no one on the set is a precious actor. So of course, we had a lot of fun between takes, but when it came down to the work, Will [Ferrell] and I really dropped into it, I felt very lived into that sibling relationship," Hahn said.
"What I appreciate about Georgia's scripts is that they perfectly fit in that mushy pocket between comedy and drama, and you don't have to push for that. If you just play the play, the words in front of you, and you look into your scene partner's eyes, and you've done all of your homework, it's just there for you tonally."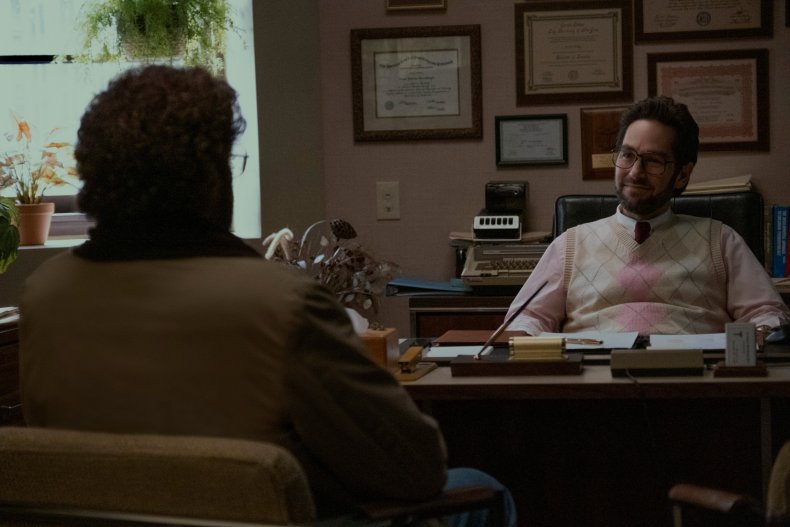 When it came to casting, Rudd and Ferrell attached themselves to the roles as executive producers, but showrunner Pritchett is thrilled with how it worked out, especially for Rudd.
She said: "It kind of goes against your instincts in some way, because Paul is always the hero. But actually, that works so well for us because I wanted us to fall for Ike, as Marty does, and to kind of go on that journey with him and to sort of just be dazzled by his charm."
Pritchett also thinks Ferrell puts in "the performance of his career" as Marty Markowitz.
"With Will, he's so funny and I was just excited at the prospect of saying to him, 'okay, forget being funny. We're gonna, you need to make people cry, you need to go to very difficult places and very emotional places and dark places. Let's surprise people people won't be expecting this'. And I think he really delivers," Pritchett said.
The first three episodes of The Shrink Next Door drop on Apple TV+ on Friday November 12. New episodes will air weekly every Friday.