Kathy Griffin Asks Fans to Explain Scan Results After Surgeon 'Ghosted' Her
Kathy Griffin asked social media users to help decipher her lung cancer scan results on Monday, saying that her surgeon has "ghosted" her.
The comedian, 61, announced that she was diagnosed with the disease back in August 2021, before revealing in November that she was cancer-free.
However, she has since expressed fears that her voice will never go back to normal, after it was altered to a higher pitch than usual as a result of her treatment.
On August 18, the Suddenly Susan star shared on Twitter that she had gone for a check-up, one year after her initial diagnosis.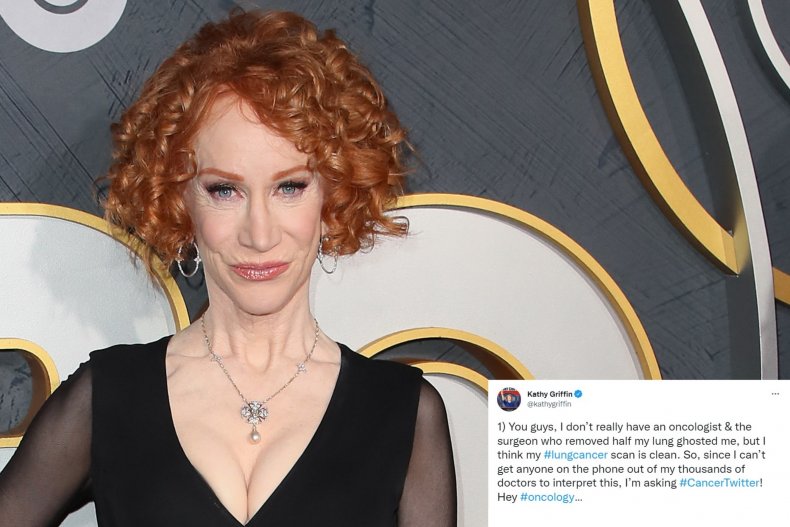 "Just had my one year lung cancer CT scan. Should get results within a couple of days," she wrote, before following up the next day: "I haven't had an oncologist until now, so I tracked down one who specializes in breast cancer not lung, but she could order the scan of my lungs. Anyway, now they said the results will be in 72 hours. Monday."
When Monday rolled around, it appeared that Griffin was no more the wiser on the state of her health, as she published the results online in the hopes that somebody with expertise in that area could impart some knowledge.
"You guys, I don't really have an oncologist & the surgeon who removed half my lung ghosted me, but I think my #lungcancer scan is clean," she tweeted. "So, since I can't get anyone on the phone out of my thousands of doctors to interpret this, I'm asking #CancerTwitter! Hey #oncology..."
When one of Griffin's followers asked whether she had tried a particular doctor in the Los Angeles area, the TV personality responded: "He was the surgeon who did my 1/2 left lung removal.
"But, I lost confidence in him bc the day he did my surgery in the am, he himself underwent anesthesia a couple hours later in the same hospital & had his own knee operated on. So he didn't eat or drink before he cut me."
A number of Twitter users questioned Griffin's reasons for losing faith in her surgeon, prompting her to write back on multiple occasions: "Please unfollow me. That is outrageous. Shame on you. Coming here to say this."
Stating that her situation "sucks," Griffin went on to share of the surgeon: "He ruined my vocal chords & my arytenoids permanently! My voice is my living.
"It's discouraging 2 me that people are sticking up 4 a surgeon who has caused me so many difficulties. I had stage 1. I sure wish I had gotten chemo/radiation instead of surgery with this hack Dr."
One follower asked Griffin if the situation made her "feel litigious," to which she responded: "Never. But it was tempting. The surgeon is very tied in. He is a 'expert witness' as well. That means he knows all the judges, all the MedMal attorneys & all the mediators. But most of all, it won't get me my voice back. It won't make my laryngeal nerve or my vagus nerve heal."
Griffin possibly got an answer to her initial inquiry when a Twitter user told her that "the report looks great. But to be fully reassured, you really need to schedule an appointment with a pulmonary oncologist and have them look at the actual scan."
"Thx Doc! I don't know one. I don't even have a pulmonologist," Griffin wrote back. "The dude I had is like 85 years old. Also no more men. Not kidding. I'd prefer a female under 50. I'd love recommendations for Cedars, St Johns or UCLA! I've had s***ty care & it makes me extremely fearful and anxious."
Back in March, Griffin stated in an Instagram post that she had "to go to see the ear nose and throat doctor and get scoped again where they put a big goddamn tube down my throat and I gag and they look at my vocal cords."
Explaining that her vocal cords were damaged due to the surgery she underwent, Griffin went on: "I'm sick to death of not having my voice and terrified it will never get better because they said it would be better by now and it isn't."
"Thank you for letting me get my frustrations out!" TV personality Griffin concluded the post, which she captioned with the hashtag "#f***cancer."
Griffin revealed that she was cancer-free during an appearance on Jimmy Kimmel Live, where she also explained why her voice sounded different.
She told host Jimmy Kimmel: "I had surgery. You're not going to believe this... I've never smoked but I got lung cancer. In August, I had half of my left lung removed I'm not even kidding."
Explaining that the use of an intubation tube had affected her vocal cord, she quipped: "So now I'm like Minnie Mouse meets Marilyn Monroe."
"It will heal, but I'm sort of enjoying [my voice]," she continued. "I'm a good two octaves higher, I think... It's higher than Mariah Carey, I know that."