Comedian Kathy Griffin has called actor Matthew McConaughey an "idiot" for his recent discussion on Texas voting rights.
McConaughey recently made an appearance on The New York Times' podcast Sway, during which he was asked about his views on Texas' controversial Senate Bill 1, signed into law by Governor Greg Abbott in September.
The Republican-led legislation, which is set to take effect in time for the 2022 primary elections, will see sweeping changes across the state, including the banning of overnight early voting hours and drive-thru voting in Democratic Harris County, according to the Texas Tribune.
The publication reports that the bill also targets and further limits voting-by-mail rules, as well as making it a state felony for local election officials to proactively distribute applications for mail-in ballots.
And McConaughey, who has long been hinting at a gubernatorial run in his home state of Texas, was asked where he stood on voting rights during his discussion with Kara Swisher on the podcast, released last week.
According to a transcript of the interview shared on Twitter by The Guardian journalist Sam Levine on Friday, McConaughey responded: "Voting rights—how do I stand on that, what? What do you mean?"
When Swisher clarified that she was asking about SB 1, McConaughey further enquired: "Well, and what part of that do you mean, how do I stand on that?"
"Meaning the Republicans' legislation to restrict voting," Swisher responded, per the transcript.
McConaughey then said: "You know, I don't know enough about that to be able to discuss the details on how I feel about that. I think it should be easier to vote. I think everyone should, if you're an American citizen, and you're of age, and you don't have your criminal record, that you should be able to vote.
"I think that it should be, as I said, accessible to go vote. You know, but their argument—what's the GOP, Republicans' argument right now, basically against that, what I just said?"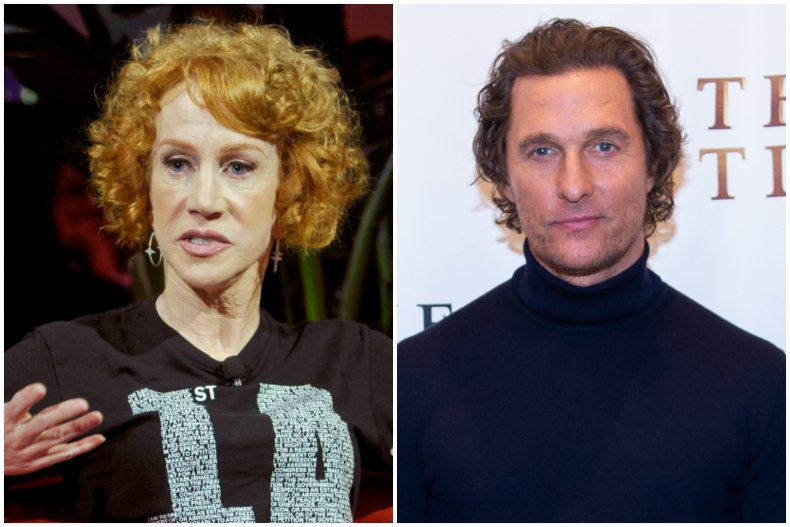 "People are cheating," Swisher said in response. "There's no data suggesting widespread voter fraud, just to be clear."
McConaughey then went on: "Cheating. Well, OK, let me say this. And I know we've been chasing this down, and a lot of folks on the far right have been chasing these things down for a while.
"This little move we made, where Texas hopped out on a national level and said, you know—that was a bit of a trespass in my opinion, as well. You know, Texas is about independence.
"And when we did that, we stepped out on a national scale and tried to say, our brand is Republican. No, no, that's the party that's in office right now.
"Our brand is independence. And we kind of, in doing that, I think, belittled ourselves, our own identity of independence. You know, and Texas it is best. I like to say this—we're here to lead, no secede."
After reading the transcript, politically vocal Griffin made her feelings known on McCaughey's take, when she wrote on Twitter on Sunday: "What. An. Idiot. (GREAT actor)."
During the same podcast, McConaughey—who has labeled his political leanings as "centrist," also addressed Texas' controversial new abortion law.
"I'm not going to come out and tell you right now on this show, here's where I stand on abortion," he said. "But this latest move by Texas? It's a little bit of—feels like a back-to-front sort of Roe v. Wade loophole that they're trying to get into. It's a—feels a little juvenile in its implementation to me."
The controversial law, one of the most restrictive on abortion in the U.S., essentially prohibits abortions when a "fetal heartbeat" can be detected, which is usually around six weeks into pregnancy.
McConaughey said that he took issue with the law offering no exceptions for rape and incest, as well as the six-week time limit on abortions.
He said: "If you're saying that your discussion of abortion is even on the table to consider, six weeks does not really make that an honest consideration."