What Matthew McConaughey Thinks About the Texas Abortion Law
Matthew McConaughey has spoken out about the new Texas abortion law and the self-professed "aggressively centrist" star reveals he has a problem with the new legislation.
The Texan movie star discussed abortion in an interview with The New York Times-produced podcast, Sway, and the True Detective performer gave his opinion on a range of hot topics including mask mandates and the Democrats' fight against voting restrictions.
McConaughey, 51, skirted somewhat around the topic but offered insight into his thoughts on the new law, which he labeled "juvenile" and accused lawmakers of trying to find a "loophole" through Roe v. Wade.
"I'm not going to come out and tell you right now on this show, here's where I stand on abortion," he said in the podcast.
"But this latest move by Texas? It's a little bit of— feels like a back-to-front sort of Roe v. Wade loophole that they're trying to get into. It's a—feels a little juvenile in its implementation to me."
The Lone Star state's controversial law is one of the most restrictive abortion bans in the country.
It essentially prohibits abortions when a "fetal heartbeat" can be detected, which is usually at around six weeks of pregnancy.
The term "fetal heartbeat" has been described as misleading by medical professionals and abortion rights activists.
Private citizens can now collect $10,000 if they bring a successful lawsuit against an abortion provider.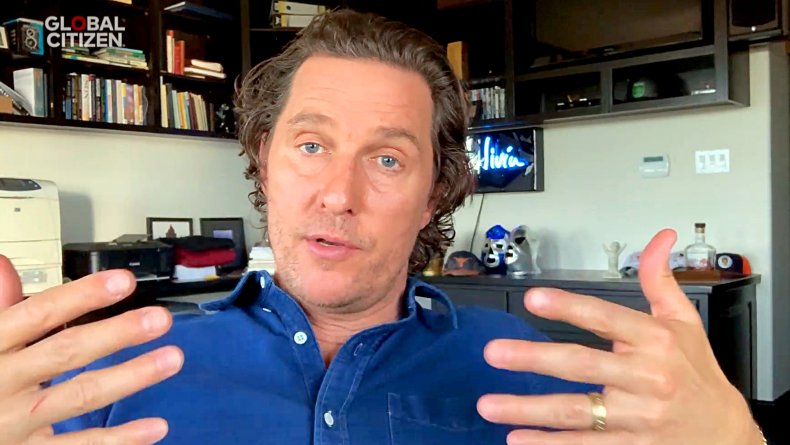 McConaughey said he had a problem with the law offering no exceptions for rape and incest. He also disagrees with the six-week time limit on abortions.
"If you're saying that your discussion of abortion is even on the table to consider, six weeks does not really make that an honest consideration," he said.
McConaughey did not confirm his thoughts on rumors that he is planning a Texas gubernatorial run, but he did discuss other political matters.
On mask mandates, he expressed his support.
"Look, Texas all over— I get it. No one likes being told what to do. We are all more afraid of the word 'mandate' than we were the damn mask," he said. "And I think our pride trumped and stamped down our honor there. I would have said, mandate masks, and I said it way back when, in the very beginning."
On the more general state of politics in the U.S. he said: "I'm working on what I'm trying to understand politics to be.
"I think we've got to redefine politics. If each party's only about preservation of party, well, I'm almost arguing that's undemocratic. If you're only there to, by hook or by crook, preserve your party, you're leaving out 50 percent of the people. So I think politics needs a redefining."