Texas Abortion Provider Contacts Women It Turned Away Now That Ban Is Temporarily Paused
A Texas health care provider is contacting women it previously turned away now that a federal judge has hit the pause button on a state law banning most abortions.
Whole Woman's Health, which operates four clinics in the Lonestar State, said it was able to provide abortions Thursday to patients who had already complied with the 24-hour waiting period.
"We've reached out to people on the waiting list we had to turn away in September. In this climate, every single abortion we can provide is a win," the group wrote on Twitter.
U.S. District Court Judge Robert Pitman late Wednesday evening granted an emergency request from the Justice Department to block enforcement of the Texas statute, known as S.B. 8.
The controversial law is one of the most restrictive abortion bans in the nation. It effectively prohibits the procedure when a "fetal heartbeat"—a term that medical professionals and abortion rights activists argue is misleading—can be detected, which is usually around six weeks of pregnancy.
The ban also applies to cases where the woman was impregnated as a result of rape or incest, with the only possible exception being medical emergencies.
Enforcement of the ban is up to private citizens, who are allowed to collect $10,000 if they bring a successful lawsuit against an abortion provider.
"For years, protestors have stood on our sidewalks screaming at patients & staff. #SB8 put an astonishing amount of power in the hands of these people," Whole Woman's Health said on social media. "Our staff showed up anyway. Today, they bravely provided abortions after 6 weeks. Abortion providers are heroes."
Whole Woman's Health and other groups appealed to the Supreme Court to stop the law from going into effect on September 1, but the Court declined to take up the case.
CEO Amy Hagstrom Miller said clinics have remained open and are providing abortions when possible, but since S.B. 8 was implemented, the process has been "nothing short of a dystopian nightmare."
"We've turned away hundreds of people since September 1," Miller said in a press call on Thursday. Those denied are "often leaving our clinics unable to plan other options because of their shock."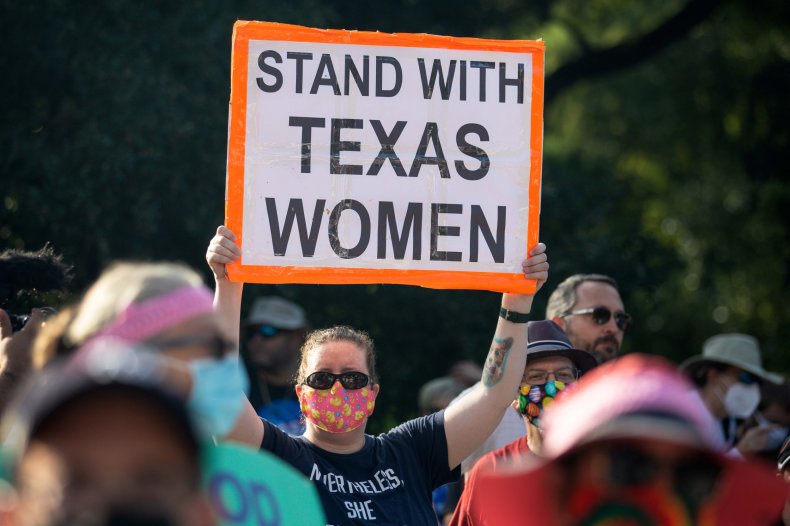 Pitman wrote in his ruling that his court would "not sanction one more day of this offensive deprivation of such an important right."
"From the moment S.B. 8 went into effect, women have been unlawfully prevented from exercising control over their lives in ways that are protected by the Constitution," Pitman wrote in the 113-page opinion.
Planned Parenthood, the nation's leading sexual and reproductive health care provider, said court intervention was "long overdue."
"We will continue fighting this ban in court, until we are certain that Texans' ability to access abortion is protected," Planned Parenthood tweeted.
Texas officials have said they plan to appeal Pitman's decision.