A Brief Timeline of Kathy Griffin Controversies
Kathy Griffin is once again in the hot seat.
The self-proclaimed professional trash-talker has drawn the ire of conservatives after tweeting about—who else?—President Donald Trump on Tuesday.
But the 59-year-old comedian is no stranger to criticism or venom—especially when it's coming from those who support her longtime nemesis, Trump. After all, her latest off-color wisecrack on social media is the least of Griffin's offenses. She's feuded with some of America's elite, been essentially blacklisted by Hollywood, censored from award shows and cut from TV programs, all because of her snarky commentary.
Take a look at some of Griffin's most controversial moments below.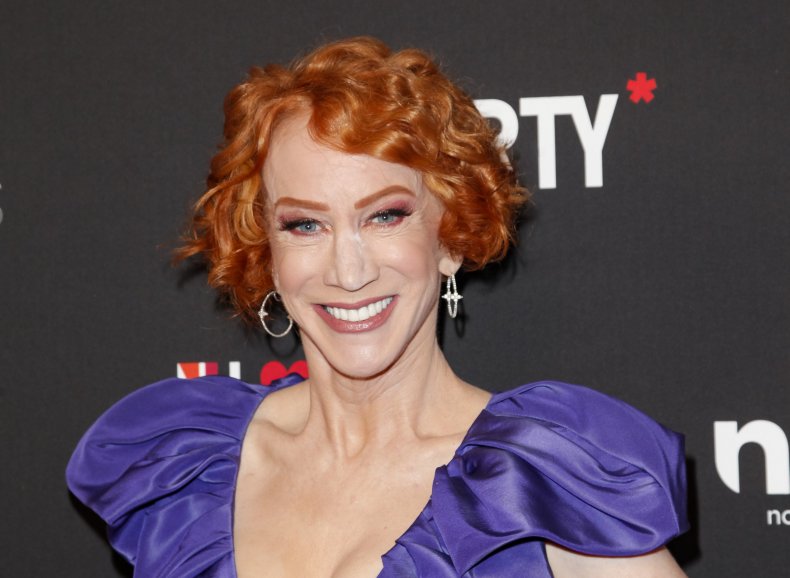 2007
After having accepted an Emmy Award for best reality TV program for her Bravo series, My Life on the D- List, Griffin had her speech cut from the pre-tapped telecast because she made a derogatory comment about Jesus while onstage.
"A lot of people come up here and thank Jesus for this award. I want you to know that no one had less to do with this award than Jesus," Griffin said. "Suck it, Jesus. This award is my god now."
Griffin's acceptance speech getting the axe is just one example of a time when the comedian has been censored. Over the years, her bits and rhetoric have resulted in her apparently being barred from appearing on a number of shows, like The View (after joking about Barbara Walters hooking up with Howard Stern), Today and The Late Show with David Letterman.
2013
Griffin had the heads of parents all across the nation spinning when she seemed to simulate oral sex on Anderson Cooper during CNN's annual New Year's Eve countdown program. The incident made her an enemy of the Parents Television Council, but CNN did not reprimand her for the display.
During her time as Cooper's co-host for the annual holiday special, Griffin often sparked controversy. In 2012, she stripped down to her bra and underwear, violating CNN's "no nudity" rule while covering New Year's Eve in Times Square. And back in 2009, she dropped the f-bomb on the program while discussing a 6-year-old boy who had made headlines that week. That incident did cost her—Griffin was forced to return her paycheck for her role on the show that year. Even still, her contract was renewed for the following New Year's Eve broadcast.
2017
Perhaps Griffin's biggest indiscretion came in May 2017, when she posed in a photo with a particularly gory prop: Trump's bloody and severed head.
The photo essentially brought the ruin of her career. Along with CNN terminating her contract for the network's annual New Year's Eve show alongside Cooper, she was virtually blacklisted from Hollywood. Producers and showrunners wouldn't work with her, casting directors wouldn't book her and she was dropped by her agent. At one point, Griffin claimed she was even put on the no-fly list and was being investigated by the Department of Justice.
"They were seeing if they could charge me with conspiracy to assassinate the president of the United States, which holds a lifetime sentence," Griffin told Buzzfeed in a 2019 interview. "I was detained at every airport when I went overseas."
Griffin did eventually apologize for her participation in the photoshoot, captured by photographer Tyler Shields, and noted that the image "crossed the line." (She then said that she took back her apology, during a 2018 appearance on, of all shows, The View.)
2020
It's never a surprise to see Griffin rage tweeting about Republicans, Trump and anyone associated with him, and yet, every time she does, she manages to stir up a news cycle that feeds off the fury of right-wingers.
Such was the case on Tuesday, after Griffin suggested that the president inject himself with air. Her comment came in response to CNN's Jim Acosta, who tweeted that Trump asked if he should be using insulin at a diabetes event that same day.
"Syringe with nothing but air inside it would do the trick. F*** TRUMP," Griffin wrote.
Newsweek reached out for further comment from Griffin's representatives, but did not receive a response before publication.
The tweet set off the president's followers, many of whom responded on social media by bashing Griffin. Trump's son, Donald Trump Jr., was among the many critics lambasting her for her remark, which some thought advocated for violence against the president.
"I don't think past their prime comedians who tweet stupid things should be banned on here, but next time @twitter @jack bans a conservative for saying something not PC, just remember they have no problem with Dems making death threats against @realDonaldTrump on their platform," Donald Trump Jr. wrote.