Kathy Griffin Criticized for Saying Trump Should Take Syringe 'With Nothing but Air Inside'
Kathy Griffin is facing a backlash after posting a tweet suggesting President Donald Trump should inject a syringe "filled with nothing but air inside."
The comedian stirred up the controversy on Twitter Tuesday night with her damning comment about the president, in response to a tweet from CNN's chief White House correspondent Jim Acosta.
Acosta's tweet read: "Trump at diabetes event at WH: 'I don't use insulin. Should I be?'"
To which Griffin, 59, responded: "Syringe with nothing but air inside it would do the trick. F*** TRUMP."
The television personality was referring to what is known as an embolism, a dangerous and life-threatening blockage of blood vessels that can be caused by air bubbles.
The comedian's tweet presently has attracted 4,500 likes on the platform at time of publishing, but thousands also condemned her for her comments.
Thousands of Twitter users claimed Griffin had made a "direct threat" to Trump, with many tagging the Secret Service and the FBI in their tweets, calling for an investigation into her words.
However, the comedian remains unrepentant and responded to a tweet from the conservative publication Washington Examiner detailing her syringe comments with: "I SURE DID, F***ER. #TrumpLiedPeopleDied."
Griffin also posted a screengrab of a tweet by Trump in regards to Twitter adding a fact-check label to his statement about mail-in ballots for the election, writing: "I feel pretty goddamn superior now knowing that I know a hell of a lot more about the first amendment than this mushroom."
A Twitter representative told the Washington Examiner that the social media company will "look into" Griffin's tweets.
This isn't the first time the My Life on the D-List star has had a run-in with President Trump.
In 2017, Griffin tweeted an image of her holding with looked like the President's bloodied, severed head, prompting an investigation from the Secret Service, according to her lawyers.
Griffin also experienced some disruption to her career due to the tweet as she was fired from hosting CNN's New Year's Eve coverage, a gig which she had held alongside anchor Anderson Cooper since 2007.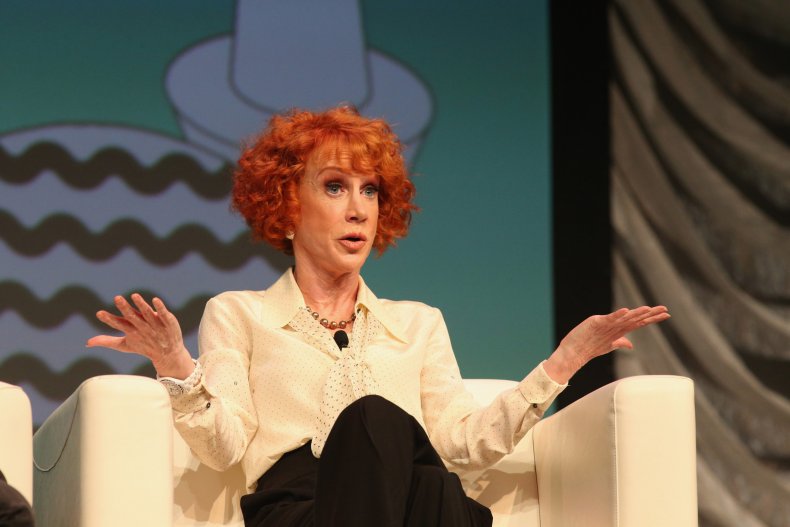 Trump acknowledged the incident at the time, claiming his son Baron, who was 11, was disturbed by the image, tweeting: "Kathy Griffin should be ashamed of herself. My children, especially my 11 year old son, Barron, are having a hard time with this. Sick!"
Griffin later apologized for the tweet and image, saying at the time: "I went too far. I made a mistake, and I was wrong."