Katie Porter Says Biden's Relief Plan Doesn't Do Enough for Single Parents: 'Makes No Sense'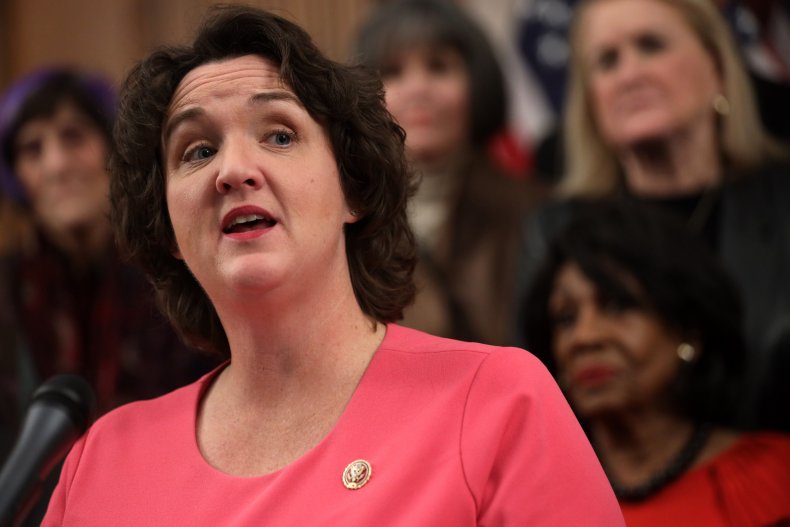 The structure of President Joe Biden's $1.9 trillion COVID-19 relief plan isn't doing enough to support single parents grappling with the pandemic, according to Representative Katie Porter (D-CA).
"There is no discount for being a single parent. If there is please point me to it. Single parents have to pay for all of the costs of the household," Porter, who is a single parent herself, said in interview on MSNBC Thursday.
Porter said the House and Senate are currently considering a tax credit that would provide federal funding to Americans who are bearing the costs of raising a child amid the COVID-19 pandemic.
The tax credit is "really important," Porter said, given the burden parents currently carry given remote schooling and shouldering childcare costs.
But, she said, it's the very structure of the tax credit that that would inadvertently hurt single parents.
"That makes no sense," Porter said of how the tax credit is designed.
As the package currently stands, married couples are more likely to get a bigger tax credit per child than a single parent. This means a couple with one child would receive more funds than a single parent with one child.
Porter added this is senseless because single parents are the individuals who bear significant costs child-raising without the financial support of a partner. On their own, single parents must afford child care and do the domestic work, she said.
Porter's solution is to eliminate the discrepancy in tax credit between single parents and married couples. In a letter Porter and other Congress members sent to the House Ways and Means Committee on Friday, she suggests the bill should use an identical income threshold for married and single parents of $150,000 adjusted gross income.
"This change would avoid imposing a discriminatory single parent penalty that is counter to the purposes of this legislation," Porter wrote. She also cited that penalizing single parents would inadvertently impact Black people and women, who make up the majority of single caregivers. These groups have also seen significant drops in employment within the last year.
"A progressive tax code should not take more from or provide less to single parents, particularly during an economy crisis that has disproportionally hurt women or women of color," Porter wrote.
The Washington Post also reported last month that changes in a single parent's income cause by the COVID-19 pandemic could decrease the package's ability to provide substantial relief to single caregivers. If they reported a significantly smaller income in 2020, they may not get as much relief as they would in a normal economic climate.
Porter and Representative Ayanna Pressley (D-MA) are holding a session on Instagram Live on Thursday to discuss the "#singleparentpenalty."
"The goal here is helping children, making sure children have what they need," Porter said. "No child should get more or less of this benefit because of the status of their parents marriage."
COVID-19 relief benefits will run out March 14, and an estimated 11 million Americans will loose relief if Biden's package is not passed in time. The House will vote on the package next week, and the Senate will pick up the legislation quickly in order to have the final plan to Biden by the deadline.
Newsweek has reached out to the House Ways and Means Committee and Porter's office for comment.