Where Biden's $1.9T COVID Relief Plan Stands, Less Than a Month Before Key Benefits Expire
With Donald Trump's second impeachment trial out of the way, Congress is expected to move full steam ahead with President Joe Biden's $1.9 trillion economic relief package before key benefits expire next month.
Enhanced federal benefits authorized in the previous package, including Pandemic Emergency Unemployment Compensation and Pandemic Unemployment Assistance, will run out March 14. Nearly 11 million Americans will lose enhanced unemployment benefits in April without more relief, one estimate found.
Congress is mostly out of session this week, but the budget reconciliation process—which will allow Democrats to pass much of Biden's $1.9 trillion plan through a simple majority vote—is well underway in the House.
Nine House committees passed their individual portions of the bill last week, which included $1,400 stimulus checks, a minimum wage increase, expanded unemployment benefits, tax credits for families and funds to reopen schools, as well as additional nutrition assistance and housing aid.
Next, the House budget panel will package the parts of the bill reviewed in committees into one measure, which will then go to the entire chamber for a floor vote. With the mid-March deadline in mind, House Speaker Nancy Pelosi said earlier this month the relief package will be passed "before the end of February."
The House will vote on Biden's relief package next week, according to reports. CNN's Manu Raju tweeted that House Majority Leader Steny Hoyer (D-Md.) told members of the House about the upcoming vote during a call Tuesday.
The Senate is expected to quickly take up the House bill in order to deliver it to Biden's desk in early March. But some policies, such as the minimum wage increase to $15 an hour, could hold up the process.
Senators Joe Manchin (D-W.Va.) and Kyrsten Sinema (D-Ariz.) have expressed opposition to including the $15 minimum wage in the relief package. Sinema revealed her position in an interview with Politico over the weekend, saying that if a measure isn't related to short-term COVID relief then "I am not going to support it in this legislation."
Democrats, who hold the slimmest of advantages in a 50-50 split Senate, thanks to Vice President Kamala Harris's ability to cast a tie-breaking vote, cannot lose the support of any members of their caucus. So far, no Republicans have expressed total support for Biden's package.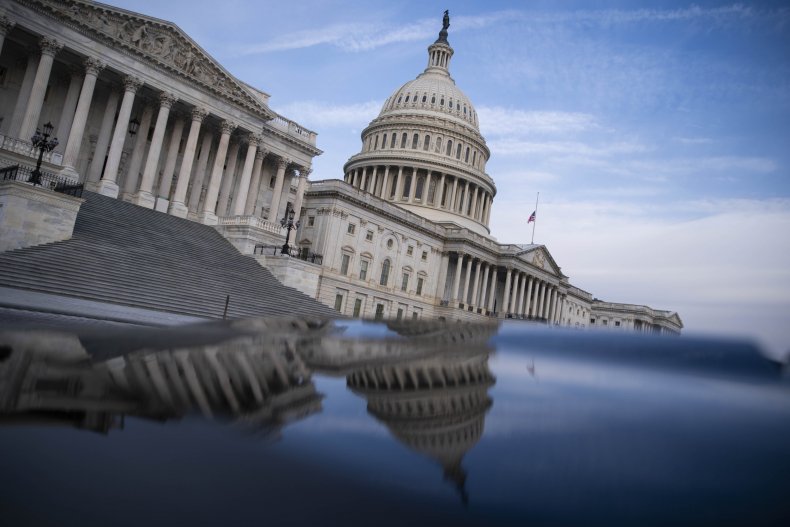 Biden will travel to Milwaukee, Wisconsin, on Tuesday night to discuss the coronavirus and economy in a CNN town hall. The president is expected to use the event to promote his $1.9 trillion American Rescue Plan.
"The president is looking forward to getting out in the country, engaging with people about his plans to get relief, direct checks into their hands and expedite vaccine distribution and reopen schools," White House press secretary Jen Psaki told The Wall Street Journal.
"That has been his focus for some time," she added, "but he will redouble his efforts in the days and weeks ahead."
While Congress works on the legislation, polling has found the president's plan has broad public support. The latest national poll from Quinnipiac University found 68 percent of Americans support passage of the legislation, including 37 percent of Republican voters, 68 percent of independents and 97 percent of Democrats.
Newsweek reached out to the Senate Majority Leader Chuck Schumer and the White House for additional comment on the legislation's timeline but did not hear back before publication.
This story has been updated to include reports that the House will vote on Biden's economic relief package next week.