Key Unemployment Benefits Expire Next Month—Can Democrats Pass Relief Before Then?
Democrats are running full steam ahead with budget reconciliation—a process that could allow them to pass President Joe Biden's $1.9 trillion coronavirus relief plan with zero GOP support—as millions of Americans stand to lose unemployment aid next month.
The enhanced federal unemployment benefits authorized in the last stimulus package, signed into law by former President Donald Trump, will expire March 14. That includes Pandemic Emergency Unemployment Compensation, for Americans who exhausted their state unemployment benefits, and Pandemic Unemployment Assistance, for those who lost their jobs and don't qualify for regular state benefits.
Another 1.1 million people applied for unemployment insurance benefits last week, according to data released by the Labor Department on Thursday. Nearly 18 million Americans are receiving some form of government unemployment benefit.
This week, Democrats in Congress teed up budget resolutions to kick-start the reconciliation process, but experts say a final vote on legislation isn't likely to come until the end of February or early March.
"It's a tight deadline," Gordon Gray, the director of fiscal policy at the American Action Forum and a former staffer for Senator Rob Portman, told Newsweek. "It's achievable, but it's a very tight schedule."
Tamara Fucile, the senior adviser for government affairs at the Center on Budget and Policy Priorities, echoed that sentiment, telling Newsweek, "Meeting the mid-March deadline—when key unemployment benefits will run out—will be tight."
Fucile added, "But passing a budget resolution this week will likely set Congress on a path to meet this deadline, which is critical to millions of people who have lost their jobs and are struggling to make ends meet."
The House passed a budget resolution for Biden's relief plan in a 218-212 vote on Wednesday. The Senate is expected to approve its measure later this week, after 50 hours of debate and a so-called vote-a-rama on amendments to the blueprint.
Once an identical budget resolution passes in both chambers, committees will begin work on crafting legislation. The expected timeline, according to Gray and Fucile, is that an omnibus reconciliation bill will be considered on the floor of the House in the final week of February, with Senate action to follow.
"When they send that over to the Senate, then it's a question of where they are in the trial," Gray said, referring to Trump's impeachment. According to Senate rules, lawmakers may not consider any other matters while it is conducting the trial.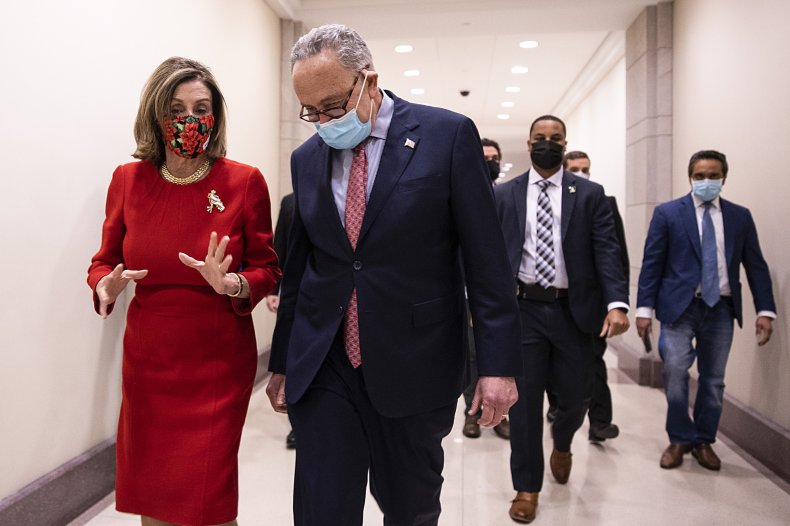 Congress is expected to write a reconciliation bill reflecting Biden's "American Rescue Plan." His proposal calls for $1,400 direct payments, a $15 minimum wage, a $400 per week unemployment benefit through September, a $20 billion vaccination program and $350 billion in support for state and local governments, among a range of other policies.
But some policies, such the $15 minimum wage, could hold up the process. Senator Joe Manchin (D-W.Va.), who is a critical vote in the relief bill negotiations, has said he wouldn't support any measure that violates the "Byrd Rule"—which says reconciliation bills must be confined to changing spending and revenue.
"The further from the 'plan,' the more time it takes," Gray said, "because it's a very, very scant majority. Just assembling a 50-plus-one coalition, and the package that can satisfy that coalition, is going to take time."
White House press secretary Jen Psaki acknowledged earlier this week that the budget reconciliation process is a "lengthy one," which is why the president was continuing to engage with Republicans on the issue. Biden met with a group of GOP senators on Monday to talk about relief legislation, and the Republicans pitched their own $618 billion bill.
There is always the option for Biden's plan to pass through the regular legislative route. But that would require Senate Democrats to win over 10 Republican members. The advantage of the reconciliation process is that only a simple majority is needed to pass the legislation.
"We cannot, cannot afford to dither, delay or dilute," Senate Majority Leader Chuck Schumer said on Wednesday. "We need a big, bold package along the lines of what President Biden has proposed, the American Relief Plan."
Biden told Democrats on Wednesday to "act fast" on economic relief, according to the Associated Press. The president said that he wants to "go big" on providing aid but that he wasn't "married" to the $1.9 trillion price tag.
"I'm not going to start my administration by breaking a promise to the American people," he said.
Newsweek reached out to Schumer's office, as well as House Speaker Nancy Pelosi's office, for comment on the budget reconciliation timeline but did not receive a response before publication.