How Donald Trump's Second Impeachment Trial Will Be Different From His First
Donald Trump made history in the days before his White House departure by becoming the only president to ever be impeached twice. Now, his upcoming trial in the Senate will be just as unprecedented.
While some of the constitutional practices about the trial—which will kick off the week of February 8—will remain the same, many aspects of the process will look different from his first impeachment.
One change is that the Supreme Court will not provide a justice to preside over the trial. Instead, Vermont Senator Pat Leahy, the president pro tempore of the upper chamber, will serve in that role. Chief Justice John Roberts oversaw Trump's first trial in February 2020.
A Senate source told Newsweek that the change, which is a first in American history, is because lawmakers preside over the trial if the impeached is "not president of the United States." Trump left office on January 20 when President Joe Biden was inaugurated.
A week before Trump's exit, the House of Representatives voted 232–197 to charge Trump with "incitement of insurrection" after a mob of his supporters stormed the U.S. Capitol on January 6 to protest the certification of Biden's win. Five people died in the riot, including one law enforcement officer.
"Shortly before the Joint Session commenced, President Trump addressed a crowd at the Ellipse in Washington, D.C. There, he reiterated false claims that 'we won this election, and we won it by a landslide,'" the impeachment article reads. "He also willfully made statements that, in context, encouraged—and foreseeably resulted in—lawless action at the Capitol, such as: 'if you don't fight like hell you're not going to have a country anymore.'"
In 2019, Trump was charged by a Democratic House with abuse of power and obstruction of Congress for allegedly attempting to coerce Ukrainian officials to provide election interference against Biden. Trump denied the charges and was acquitted by the Senate, which allowed him to finish the remainder of his term.
In fact, one of the most unconventional aspects of the second trial is Trump's status as a former president. Another historic first, that means the primary punishment for those found guilty—removal from office—is off the table.
But lawmakers could bar Trump from running for federal office again in the future. In order for the potential punishment to be enforced, a two-thirds majority of senators present would need to convict Trump and then a simple majority vote would be held on the issue of his future officeholding.
While it's never been used against a president, the officeholding ban has been used against three federal judges who were impeached by the U.S. Senate.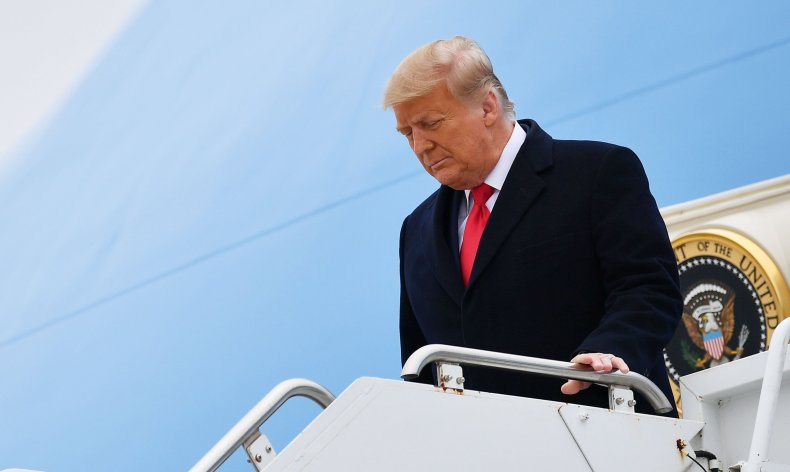 Another key difference between the upcoming trial and Trump's first impeachment is the party control of the U.S. Democrats essentially took over the chamber on January 20 when Vice President Kamala Harris administered the oath of office to three incoming Democrats, splitting the chamber 50–50. Harris will be responsible for casting a tie-breaking vote as president of the Senate.
Still, Democrats will likely need 17 Republicans to join them in order to reach a conviction. So far, only a handful of GOP members of the upper chamber have voiced support for impeachment or said they would consider a conviction.
House Speaker Nancy Pelosi will deliver the article of impeachment to the Senate on Monday evening. Traditionally, the trial would begin almost immediately after the article was delivered but for Trump's second trial lawmakers have agreed on a two-week delay.
Once the trial begins, according to Senate rules, each day will begin at noon and the proceedings will run six days a week unless another schedule is agreed upon. Lawmakers generally agree it's likely this trial will be shorter than Trump's last year, which went on for roughly three weeks.
Representative Jamie Raskin of Maryland will serve as the Democrats' lead impeachment manager. The team will also include Representatives Diana DeGette of Colorado, David Cicilline of Rhode Island, Joaquin Castro of Texas, Eric Swalwell of California, Ted Lieu of California, Stacey Plaskett of the Virgin Islands, Madeleine Dean of Pennsylvania and Joe Neguse of Colorado.
Trump's full legal team hasn't been announced, but one of his lawyers will be South Carolina attorney Butch Bowers. Bowers, a friend of Republican Senator Lindsey Graham, worked for Mark Sanford when he was nearly impeached as South Carolina's governor in 2009.
At his first trial, Trump's legal defense team included several notable lawyers, including retired Harvard Law professor Alan Dershowitz, former solicitor general Kenneth Starr and attorney Jay Sekulow.