Joe Manchin, A Key Vote in COVID Relief, Confident About Passage of $1,400 Stimulus Checks
Senator Joe Manchin, a key vote in COVID relief plans, is optimistic about a third round of direct cash payments, but not without key changes to who is eligible for the benefit.
"The $1,400 is going to go out the door. I have all the faith and confidence that'll happen," the West Virginia Democrat told CBS News on Wednesday morning.
He went on, "What they want to do is targeted. And they're looking at basically, the people are receiving it, what income level? Who needs it the most? They're saying up to $50,000 for single individuals and up to $100,000 [for couples]."
Under previous COVID-19 legislation, stimulus checks have gone to individuals with up to $75,000 in income and couples earning up to $150,000. Manchin told CBS anchor Tony Dokoupil that one of the issues that arose was that people making more than that were receiving direct cash payments.
"They're trying to make sure it's targeted to the people who really need it," the Democrat said about the ongoing relief negotiations. "That's what will happen and it will go out quickly once we get this passed."
Manchin is a critical vote in the stimulus debate due to his moderate stance in a 50-50 split Senate. To pass President Joe Biden's $1.9 trillion package through without bipartisan support via budget reconciliation, Democrats will need all members of their party to vote in favor.
The West Virginia Democrat voted in favor Tuesday to advance a budget resolution—a key procedural vote to set up passing a COVID-19 relief package with a simple majority.
But Manchin's vote to move forward came with a warning that the process ahead be a bipartisan one. The Senate vote on Tuesday will open the door to a period dubbed the "vote-a-rama" where any lawmaker can offer amendments to the plan.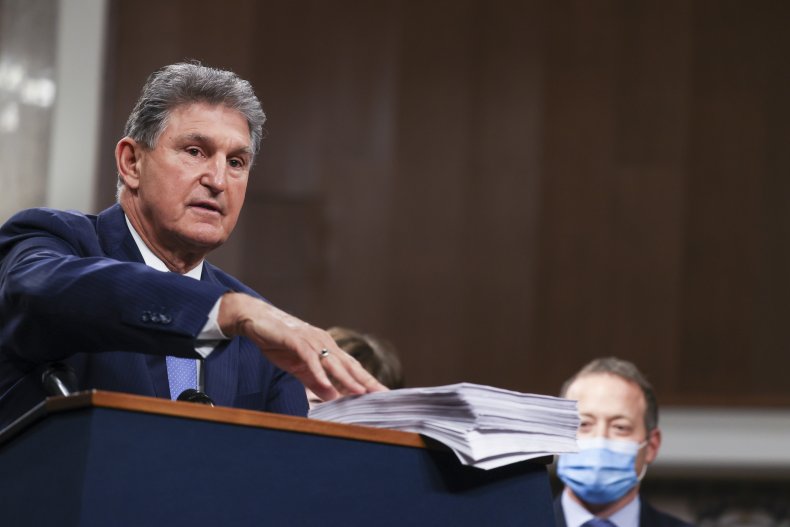 "We welcome your ideas, your input, your revisions," Senate Majority Leader Chuck Schumer (D-N.Y.) said. "We welcome cooperation. There is nothing about the process of a budget resolution or reconciliation, for that matter, that forecloses the possibility of bipartisanship."
CBS This Morning co-host Dokoupil asked Manchin if bipartisanship is a "red line" for him: "In other words, if there are no Republican votes for the final package, will you not vote for it?"
Manchin replied, "That's not the red line, Tony. The red line is, are we going to have an open amendment process and look at everything?"
The senator also reiterated that he would not support breaking the "Byrd Rule," which requires policies to meet certain requirements to qualify under budget reconciliation. One key proposal that could run into an issue with the Byrd Rule is the $15 per hour minimum wage—a policy that Manchin does not support.
"The bottom line is it's going to be bipartisan and there might be some changes. We're going to look at the facts and based on the facts we'll go from there," Manchin said. "It doesn't take that many different senators to vote to change things, that's for sure."
Newsweek has reached out to Manchin's office for additional comment.