Katrina Pierson Defends Lack of Diversity in Trump White House, Asks MSNBC Host to Name Blacks In Lincoln West Wing
Senior advisor for President Donald Trump's 2020 campaign Katrina Pierson rejected criticism about a lack of black staffers in the West Wing by asking critics how many African-Americans Abraham Lincoln had in his administration.
Pierson, who previously acted as Trump's 2016 national campaign spokesperson, went back-and-forth with MSNBC host Al Sharpton Saturday, offering a bizarre excuse for a lack of black staffers in top administration positions.
Sharpton attempted to get Pierson and Media Matters for America founder David Brock to name a single black staffer, but Pierson pushed back, saying any attempt to paint the president as a racist is "ridiculous" and she instead demanded a discussion on slavery reparations.
The Trump campaign advisor later derailed the conversation by comparing the lack of black people in Lincoln's 1860s West Wing. The West Wing offices in their modern form contain the Oval Office, Cabinet Room, Situation Room and Roosevelt Room and were technically not created until the Theodore Roosevelt administration at the beginning of the 20th century.
"Historically, Republicans and Democrats have had major figures of the black community in the West Wing as part of their senior staff and administration," MSNBC host Sharpton said during the "The Race Within the Race" segment Saturday. "Who are the blacks in the West Wing under President Trump?"
"You mean those who took the job or those who were offered? Because those are two entirely different questions," Pierson responded, sparking a shouting match between herself and Sharpton.
Pierson, unable to name one black staffer in Trump's West Wing, claimed she had been offered Sarah Huckabee Sanders' press secretary role but turned it down.
"Everything has to be made about race, reverend... I'm not going to participate if you're going to continue to paint this president as racist. Let's talk about reparations, can we talk about reparations?" Pierson replied.
Sharpton turned to ask Brock how Trump can "ask for black votes" without hiring a single black person, but Pierson interjected, "there's plenty of black people in the West Wing."
"Well, I asked you to name them, and you started telling me, you turned down," answered Sharpton.
Responded Pierson, "Because I'm not going to participate in the attempt to make this all about race. It is ridiculous. How many black people were in Abraham Lincoln's West Wing?"
She added, "Is Abraham Lincoln a racist because he didn't have a black person in his White House? This is insane. This is an insane discussion."
"You can't name a black in the West Wing because we can't find one, Katrina," Sharpton shot back. "I pity you. I'd sympathize with you, but telling me you applied, and other people? Come on. It's unthinkable in the 21st century that even a spokesperson for President Trump can't name a black in the West Wing."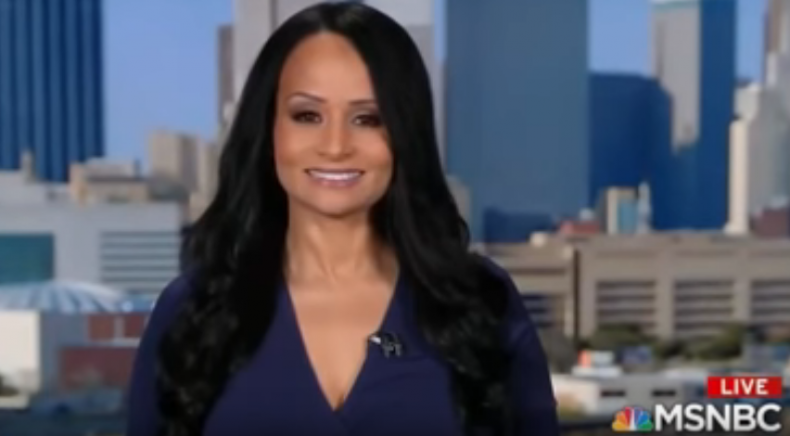 In 2017, Pierson appeared in another race-based discussion on Fox & Friends, where she referred to slavery as "good history."
"Think about this for a second. Where would we be today if not for that civil war? How would our children even know how special and wonderful this country is?" Pierson said in a defense of leaving confederate statues up in southern states. In May 2017, Pierson said the Trump cabinet and staff needed a shake-up after a slew of leaks.
In August 2016, during her tenure as Trump's national campaign spokesperson, Pierson falsely claimed on CNN that former President Barack Obama took the U.S. into war with Afghanistan.
Pierson's Saturday MSNBC appearance saw her weaving between defending and outright denying some negative moves made by Trump. Sharpton asked Pierson how Trump can run in 2020 after having actually expanded the federal budget deficit versus his campaign vows to reduce the loss. But Pierson immediately pounced on the question itself and threw her criticism back at Sharpton saying sarcastically she's "glad" Democrats have decided to care about the deficit now that Trump is in office. When asked by Sharpton about the president's failure to work out a deal with North Korea's Kim Jong Un, Pierson said many Americans are "pleased" Trump is at least trying to work out a deal.