Brett Kavanaugh Accuser Julie Swetnick Says She Can't Say for Sure If He Spiked Drinks
Julie Swetnick, who came forward as the third woman to publicly accuse Supreme Court nominee Brett Kavanaugh of sexual misconduct in the 1980s, said that she couldn't say for sure whether the judge had participated in spiking girls' drinks when they were in high school.
In an interview with NBC News's Kate Snow that aired Monday evening on MSNBC, Swetnick, 55, appeared to deviate a bit from her affidavit, which alleged that she had learned of efforts by Kavanaugh and his high school peers to spike girls' drinks at parties to "cause girls to become inebriated and disoriented so they could then be 'gang raped' in a side room or bedroom by a 'train' of numerous boys."
Kavanaugh has vehemently denied the allegations against them, including those initially made by Christine Blasey Ford, who accused the judge of having sexually assaulted her at a high school party in 1982, and a second allegation from Deborah Ramirez, who alleged that Kavanaugh thrusted his genitals in her face at a party when both were students at Yale University.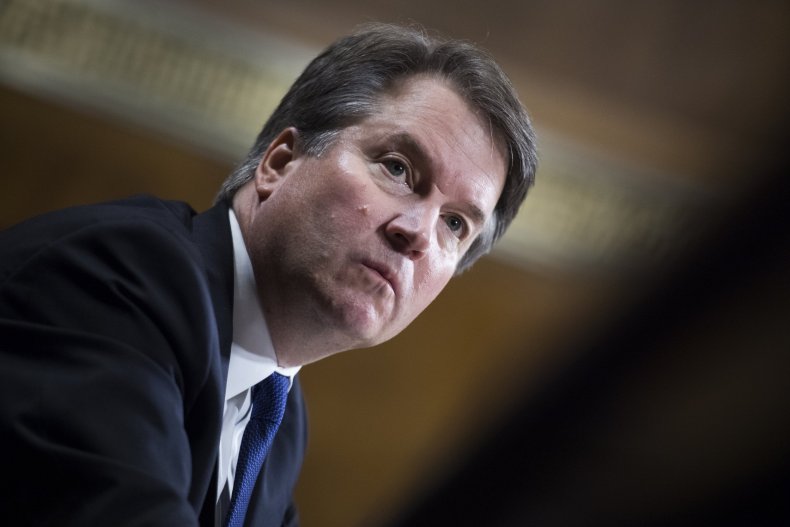 Asked during her interview with Snow if she had ever seen Kavanaugh or his friend Mark Judge, who was also named as having been in the room during Ford's alleged assault, spike girls' drinks, Swetnick said that she had seen him "around the punch containers" and had seen him "giving red cups to quite a few girls during that time frame."
"I don't know what he did," Swetnick said. "But I saw him by them, yes."
Swetnick maintained that she had seen boys, including Kavanaugh and Judge, "huddled by the doors" of rooms waiting for a "turn" with girls inside the room.
She said that she had not understood why they would be waiting by the doors until she herself was sexually assaulted in an alleged gang rape.
"My body was violated," Swetnick said. "My soul was broken."
Read more: Brett Kavanaugh committed perjury by lying under oath during hearing, Senate Judiciary Committee Democrat Says
During the interview, Swetnick also said that she knew Kavanaugh to have been a "very aggressive, very sloppy drunk," adding that the Supreme Court nominee was a "very mean drunk" in high school.
The 55-year-old said she was inspired to come forward after Ford's allegations emerged.
Both Ford and Kavanaugh testified before the Senate Judiciary Committee on Thursday, responding to senators' questions about the alleged assault.
The FBI has since launched a week-long investigation into the allegations against Kavanaugh, although it remains unclear what the exact scope of that investigation is.
Meanwhile, GOP Senate Majority Leader Mitch McConnell has vowed to push forward with a full Senate vote on Kavanaugh's nomination this week.