Justice Brett Kavanaugh floated the possibility of Texas's abortion law becoming a model for states to restrict other constitutional rights, such as gun rights under the Second Amendment.
Kavanaugh pressed Texas Solicitor General Judd Stone on the hypothetical during oral arguments at the Supreme Court Monday for two challenges to S.B. 8—the Lone Star State's controversial law prohibiting abortions when a so-called "fetal heartbeat" can be detected, which is as early as six weeks into pregnancy.
The Texas ban is unique in that its enforcement is outsourced to private citizens, who are awarded as much as $10,000 if they bring a successful lawsuit against an abortion provider or anyone else who "aids and abets" the procedure.
Stone argued in court that the state cannot be sued in federal court over the law because it is enforced through individual lawsuits brought by citizens, not government officials.
Kavanaugh asked Stone about the "implications of your position for other constitutional rights"—including possible infringements on gun rights, free exercise of religion rights and free speech.
The associate justice, appointed by former President Donald Trump, specifically posed a theoretical law that would allow the seller of an AR-15 semi-automatic weapon to be sued for $1 million.
The Texas solicitor general acknowledged the possibility but said Congress could pass laws to protect such rights. Kavanaugh seemed wary of such intervention.
"Some of those examples, I think, would be quite difficult to get legislation through Congress," Kavanaugh said.
Justice Elena Kagan also jumped in on the matter, asking Stone: "Isn't the point of a right that you don't have to ask Congress?"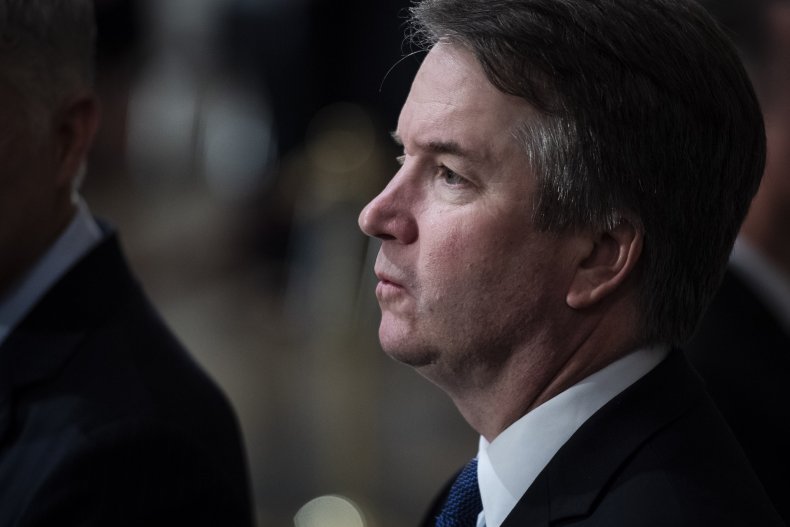 Health care networks and the federal government have described S.B. 8 as "unprecedented" and unconstitutional, arguing that the citizen-enforcement loophole is intended to insulate the state from judicial review.
"In the history of the United States, no state has done what Texas has done here," Solicitor General Elizabeth Prelogar told the justices. Prelogar on Monday argued against the law on behalf of the Biden administration.
Prelogar warned that all constitutional rights are threatened if the Texas law is allowed to stand.
"Across the arguments this morning, Texas's position is that no one can sue," she said. "Not the women whose rights are most directly affected, not the providers who have been chilled in being able to provide those women with care and not the United States in this suit."
Prelogar continued, "If a state can just take this simple mechanism of taking its enforcement authority and giving it to the general public backed up with a bounty of $10,000 or $1 million, if they can do that then no constitutional right is safe."
S.B. 8 went into effect on September 1 after passing the Republican-controlled state legislature and being signed by Governor Greg Abbott. The law is one most restrictive abortion bans in the country, applying even to cases of incest or rape. The only exception to the law is for medical emergencies.