Kavanaugh Described Himself and Friends as 'Loud, Obnoxious Drunks' in 1983 Letter Signed 'Bart'
A letter reportedly written by Supreme Court nominee Brett Kavanaugh in 1983 appeared to shine a light on the then-teenager's high school social life, with Kavanaugh describing him and his friends as "loud obnoxious drunks with prolific pukers."
The letter, published by The New York Times, was reportedly written about a beach trip Kavanaugh and seven classmates at Georgetown Preparatory School had planned.
In it, a teenage Kavanaugh raised the question of who he and his friends might want to have stay with them during the trip.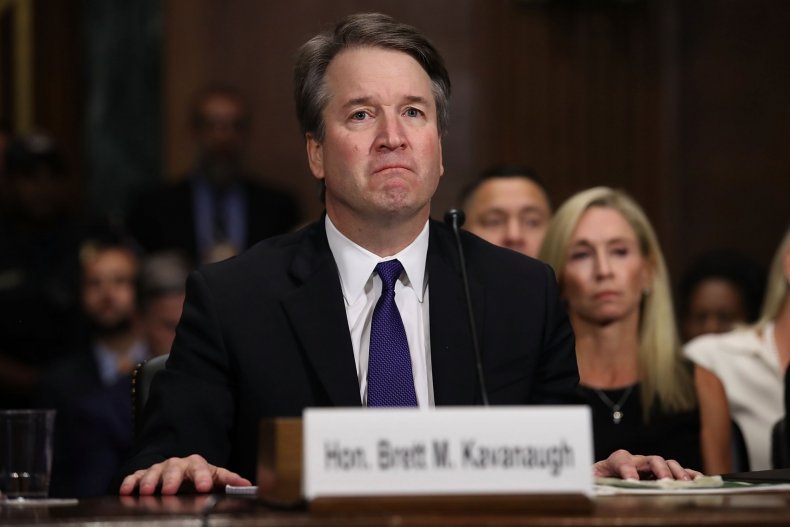 "I think we are unanimous that any girls we can beg to stay there are welcomed with open ...." Kavanaugh wrote.
He didn't finish the sentence, but then wrote: "Anyway, I think we're all set."
The judge also said later in the letter that the week ahead would have "big potential," adding "interpret as wish."
As for his reference to them all being "loud, obnoxious drunks," Kavanaugh wrote in a post-script: "It would probably be a good idea on Saturday the 18th to warn the neighbors that we're loud, obnoxious drunks with prolific pukers among us."
The letter would have been written in the year following the 1982 sexual assault Palo Alto University professor Christine Blasey Ford has accused Kavanaugh of committing.
Ford alleged that the Supreme Court nominee sexually assaulted her at a summer house party, pinning her to a bed and groping her, while he and his friend Mark Judge, who she said was also in the room at the time, laughed at her expense.
Interestingly, the letter was signed with the name "Bart," a moniker that came up during Kavanaugh's testimony before the Senate Judiciary Committee last week.
Democratic Senator Patrick Leahy of Vermont asked Kavanaugh directly about the name, after it came to light that Judge had referred to a "Bart O'Kavanaugh" in one of his books.
After some back-and-forth, Leahy said: "Judge Kavanaugh, I'm trying to get a straight answer from you under oath."
"Yes or no?" he said, asking whether the judge was indeed the Bart O'Kavanaugh Judge had referred to.
"You'd have to ask him," Kavanaugh responded, referring to Judge.
Read more: Christine Blasey Ford's Attorneys Say They Haven't Heard From FBI In Kavanaugh Investigation
The FBI may well have asked Judge in its own investigation into the allegations against Kavanaugh, as Kavanaugh's high school friend was one of several people the FBI had interviewed, according to CNN.
In addition to Ford's allegations, Deborah Ramirez came forward to accuse Kavanaugh of having thrust his genitals into her face during a party in the 1980s when both were students at Yale University, and Julie Swetnick accused the judge of having been part of a group of high school boys who sought to spike girls' drinks in order to take advantage of them.