Christine Blasey Ford's Attorneys Say They Haven't Heard From FBI In Kavanaugh Investigation
Attorneys representing Christine Blasey Ford said on Tuesday that they had yet to hear from the FBI in its week-long investigation into the Palo Alto University professor's allegation of sexual misconduct against Supreme Court nominee Brett Kavanaugh.
Debra Katz and Michael Bromwich, who are on Ford's legal team, expressed concerns over the FBI's handling of the investigation in a letter sent to FBI Director Christopher Wray and FBI general counsel Dana Boente.
Specifically, the attorneys took aim at the agency's reported decision not to interview either Ford, Kavanaugh or other witnesses Katz and Bromwich identified in its investigation.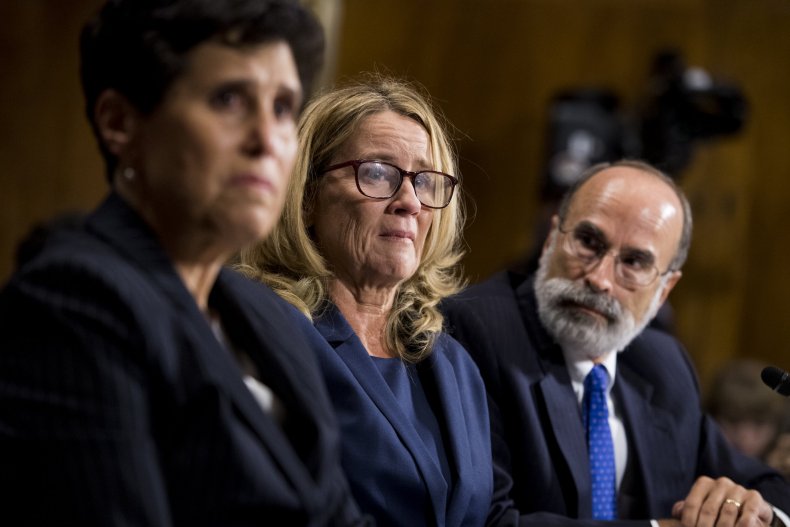 "This afternoon, we learned of media reports that the FBI does not intend to interview either Dr. Ford or Judge Kavanaugh. We hope that this reporting is inaccurate," Katz and Bromwich wrote in their letter, according to The Hill.
"It is inconceivable that the FBI could conduct a thorough investigation of Dr. Ford's allegations without interviewing her, Judge Kavanaugh or the witnesses we have identified in our letters to you," they stated.
The attorneys asked to speak with Wray or Boente to discuss the ongoing investigation. It is unclear whether such a discussion has taken place.
It is also unclear why the FBI might choose not to interview Ford, Kavanaugh or the witnesses suggested by Ford's legal team.
The investigative agency had reportedly been given license by the White House to interview anyone it deemed relevant to its investigation.
Katz and Bromwich's letter to the FBI was sent just as the agency was expected to end its investigation, with the probe coming to a close as early as Wednesday, according to The Wall Street Journal.
Last week, Ford testified before the Senate Judiciary Committee about the sexual assault she alleged took place at a house party in 1982, when both she and Kavanaugh were in high school.
The Palo Alto professor told senators of how Kavanaugh allegedly pinned her to a bed and groped her, while he and his friend, Mark Judge, who she claimed was in the room at the time, laughed at her expense.
Kavanaugh has denied Ford's claims, as well as two other allegations that have been made against him.
Shortly after Ford made her allegations public, Deborah Ramirez also came forward to accuse Kavanaugh of having thrust his genitals into her face at a house party in the 1980s, while both she and the judge were students at Yale University.
Read more: Hillary Clinton Laughs at Brett Kavanaugh Claiming Allegations Are 'Revenge on Behalf of the Clintons'
Julie Swetnick later came forward to make a third explosive allegation, accusing Kavanaugh of being part of a group of teenage boys who sought to spike the drinks of girls in order to take advantage of them in the 1980s.
Swetnick has since clarified that she never saw Kavanaugh or Judge spike anyone's drink firsthand—but she has stood by her allegations asserting that he was part of a group that did so and claiming that she often saw him "around the punch containers" and "giving red cups to quite a few girls during that time frame."
She also maintained that she had seen boys, including Kavanaugh and Judge, "huddled by the doors" of rooms waiting for a "turn" with girls inside.
Swetnick asserted that she had not understood why they would be waiting outside the doors like that until she herself was sexually assaulted in an alleged gang rape.