#KavanaughLied Trends As Donald Trump Defends Supreme Court Justice Following NYT Article
Supreme Court Justice Brett Kavanaugh was the subject of Twitter ire on Sunday, as President Donald Trump attempted to defend the embattled judge from persistent criticism of his alleged history of sexually assaulting women.
"Brett Kavanaugh should start suing people for libel, or the Justice Department should come to his rescue. The lies being told about him are unbelievable," Trump wrote in a tweet about the controversial conservative justice, who was confirmed to a lifetime appointment on the nation's top court last September despite what many believed were credible allegations against him of sexual assault from when he was in high school.
"False Accusations without recrimination. When does it stop? They are trying to influence his opinions," the president added, "Can't let that happen!"
Trump's defense came after The New York Times published an article on Saturday highlighting allegations that Kavanaugh drunkenly shoved his penis into young women's faces and hands during parties while he attended Yale.
Although some of the allegations came out during contentious Senate hearings last year leading up to Kavanaugh's appointment, The Times reporting further confirmed their validity with numerous sources who had attended the elite Ivy League institution with the justice. In the article, Deborah Ramirez, who alleged that Kavanaugh pulled down his pants and thrust his penis toward her face during a drunken party, detailed to journalists her experience with Kavanaugh while a student at Yale.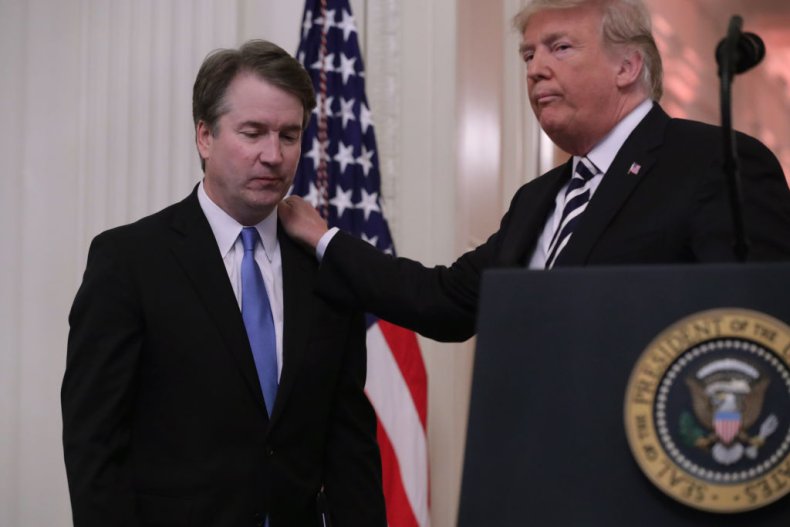 The article also confirmed that the FBI failed to investigate at least one of the allegations dating back to Kavanaugh's time at the university. During Kavanaugh's confirmation process, former classmate Max Stier contacted the FBI to tell them about an incident where he'd seen the judge drunkenly push his penis into a young female student's hands.
Kavanaugh has consistently denied that he sexually assaulted young women while he was in high school and later at Yale.
However, when the article was tweeted out by The Times' Opinion section, the caption suggested that thrusting a penis into someone's face was "harmless fun." Although the tweet was deleted, many criticized the newspaper's original caption and its explanation that it was "poorly worded."
"Such a profound lapse in judgment and common sense. Sexual assault isn't harmless fun. What the hell is going on at the NYT?" feminist writer and professor Roxane Gay wrote.
"I'm having a really hard time understanding how any decent human being could write a sentence like: 'Having a penis thrust in your face at a drunken dorm party may seem like HARMLESS FUN.'" Chris Johnson, the founder of the blog Little Green Footballs, wrote.
"Glad the NYT understood this to be poorly worded. But the beliefs underlying it are exactly what made it possible for Kavanaugh to be confirmed," the official account for the Women's March wrote. "Sexual harassment and assault is never 'harmless fun.'"
On Sunday, the hashtag #KavanaughLied was trending on Twitter, with social media users slamming the Supreme Court justice.
"Let me remind everyone: This man who lied under oath about multiple allegations of sexual assault is likely to hear cases on:
-Whether states can ban abortion before women know they're pregnant.
-Whether being a woman is a pre-existing condition," Matthew Chapman, a reporter at Raw Story, tweeted.
"Well lookee here. It seems the allegations against Kavabro were, in fact, credible. That serial creep was ordained by the @GOP because, well, birds of a feather and all. #KavanaughLied, ergo Kavanaugh needs to go," writer and actor Jack Wallen wrote in a post.
"A lifetime appointment to the Supreme Court should not mean a lifetime escape from justice. The House should begin impeachment inquiries," pastor and professor Reverend Dr. Chuck Currie wrote.