People Are Making 'Red, Red Wine' Jokes About Brett Kavanaugh's Drunken Brawl After a UB40 Concert
It was predictable, really. Inevitable, even. As soon as the news broke that Judge Brett Kavanaugh allegedly instigated a bar fight after a UB40 concert in New Haven, Connecticut, while he was at Yale, the "Red, Red, Wine" jokes flowed.
The past of Kavanaugh, Trump's nominee for the Supreme Court, is under intense scrutiny during his Senate confirmation process.
Three women have come forward with allegations of either sexual assault or sexually inappropriate behavior against Kavanaugh, who denies all the accusations.
The New York Times obtained a police report detailing how Kavanaugh threw ice at another man whom he and his friends believed to be UB40's singer, Ali Campbell, in a bar after the 1980s band performed in the area. An altercation broke out, though no arrests or charges were noted in the police report.
Kavanaugh made many references to drinking beer during his testimony to the Senate Judiciary Committee about allegations made by Christine Blasey Ford, who accused him of sexually assaulting her at a high school party in the early 1980s.
Among UB40's catalog of hits is a reggae cover of the Neil Diamond song "Red, Red Wine," released in 1983. The incident involving Kavanaugh took place two years later in 1985. So Twitter ran with it.
Robert A. George tweeted: "So, besides beer, it looks like Brett Kavanaugh may face a problem with 'Red Red Wine.'"
Steven Hyden tweeted: "I thought Brett Kavanaugh liked beer not (cocks eyebrow) red red wine."
Britt F. Frey wrote: "We all know why #Kavanaugh got into a fight after the UB40 concert: he likes beer, not red, red wine."
The user @RandilynIsIn tweeted: "If Brett Kavanaugh threw alcohol in the face of ub40, the band behind Red Red Wine, what would he have thrown at the B-52s?"
Derek Cressman wrote: "Red, red wine make me feel so fine, but beer makes Kavanaugh violent..."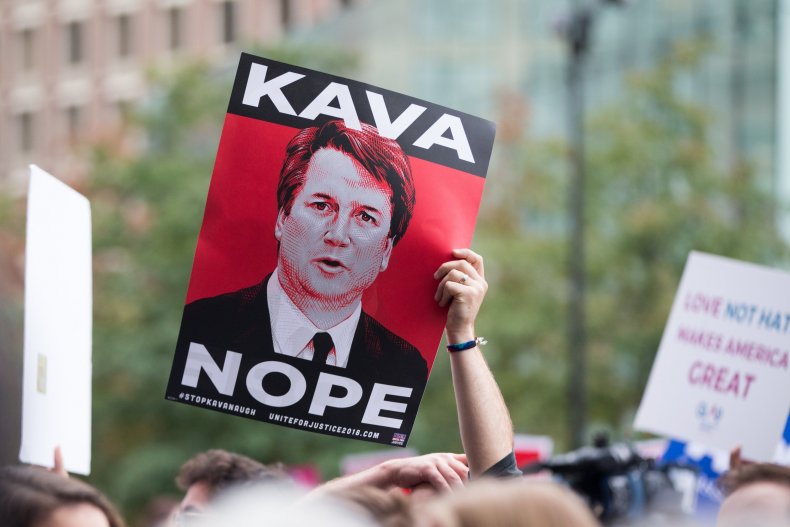 Charles Ludington, who was a contemporary of Kavanaugh's at Yale and witnessed the fight, told the Times that the group were trying to determine if a man at the bar was UB40 singer Ali Campbell. The man cursed at the group, telling them to stop staring at him. Ludington said Kavanaugh cursed in return and threw his beer at the man, triggering the fight.
"The guy swung at Brett," Ludington said. Another friend, NBA star Chris Dudley, "took his beer and smashed it into the head of the guy, who by now had Brett in an embrace. I then tried to pull Chris back, and a bunch of other guys tried to pull the other guy back.
"I don't know what Brett was doing in the melee, but there was blood, there was glass, there was beer and there was some shouting, and the police showed up."