White House Press Secretary Kayleigh McEnany urged Georgia Governor Brian Kemp to pressure his secretary of state, as the Republican incumbents slightly trailed behind their Democratic opponents in polling only a month from Georgia's runoff elections.
"You have the power to call in a special legislative session because right now if we lose these two Senate seats, guess who's casting the deciding vote in this country for our government? It will be Kamala Harris," said McEnany during a Sunday interview with Fox News. McEnany appeared on Fox in her personal capacity, she noted in an email to Newsweek Sunday afternoon.
"Call for the special legislative session," the White House press secretary urged. "Governor Kemp can also threaten the budget of the secretary of state. There is plenty he can do."
President Donald Trump previously urged Governor Kemp to convince the state legislature to overturn Joe Biden's win and requested he mandate an audit of absentee ballot signatures.
McEnany called for a legislative session for the purpose of imposing a signature match.
Georgia Secretary of State Brad Raffensperger responded to the president and said a special session to overturn the state's election results "would be then nullifying the will of the people," during a Sunday interview with ABC News.
In addition to the president, Georgia Republican Senators David Perdue and Kelly Loeffler have previously criticized Raffensperger, claiming "failures" in the state's election process without providing substantial evidence.
Georgia faces two runoff elections. Their outcomes will determine Senate control that could either secure or diminish Democratic President-elect Joe Biden's ability to get things done under his upcoming administration.
Republicans have 50 Senate seats going into the next Congress and Democrats have 48. In order to have a chance at controlling the upper chamber, the Democrats must win both seats open in Georgia's runoff election. Kamala Harris as vice president would break any ties.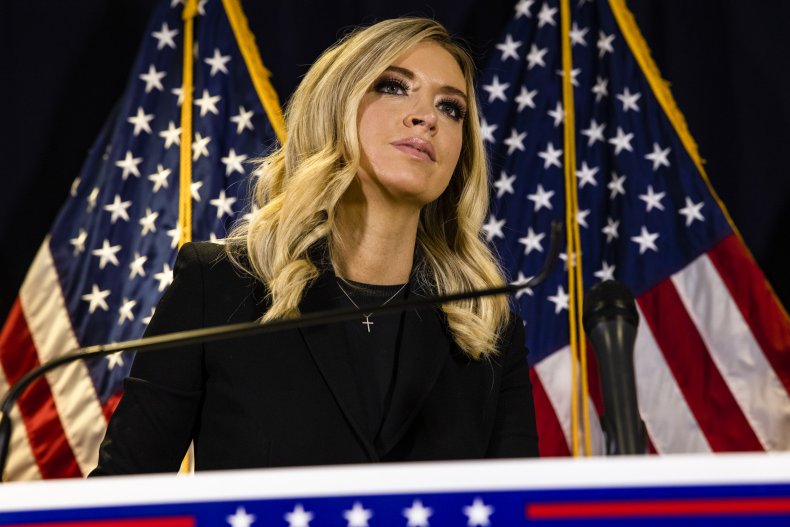 With nearly a month to go before the critical runoffs, the George Senate Republicans trailed their Democrat opponents in a recent poll.
Democrat Raphael Warnock is ahead Loeffler by seven points—52 percent to 45 percent—according to a December 3 WXIA-TV poll. The SurveyUSA pollsters, who conducted the survey, said Warnock's advantage comes from Democrats refusing to vote for Loeffler. About one percent of Democrats surveyed said they would vote for the Republican candidate, while 97 percent opted to support Warnock. Loeffler has a slightly looser grip on Georgia Republicans, as 92 percent of those surveyed said they would vote for her.
Democrats were also polling ahead in the second runoff election between Jon Ossoff and Perdue.
According to the WXIA-TV poll, Ossoff has a narrow lead over Perdue by two points. However, the Democrat's advantage was within the poll's margin of error.
This article has been updated to include the emailed response from McEnany.