What Kayleigh McEnany Has Said after Having Her Twitter Account Locked
White House press secretary Kayleigh McEnany has said Twitter "had me at gunpoint" after allegedly temporarily locking her out of her personal account.
Ms McEnany says she lost access to her Twitter account on Wednesday because she shared a story published by the New York Post, which claims that Joe Biden's son, Hunter, was being paid by Ukrainian energy company Burisma Holdings in order to obtain access toJoe Biden for political reasons.
Biden has repeatedly denied the claims made in the New York Post's article.
"If they can ban the press secretary of the United States for President Trump, they can ban... a citizen and that is pathetic," Ms McEnany told Fox News' Sean Hannity after reportedly being locked out of her account, which has since been restored.
"It's not a temporary blockage. When I log onto my Twitter account it says I'm permanently banned. They essentially had me at gunpoint and said unless you delete a news story reported by the New York Post I cannot regain access to my account."
Donald Trump has described the story as a "smoking gun."
Twitter blocked the story's URL from being shared on its platform, initially without explanation.
However, the company later said that it made the move because "The images contained in the articles include personal and private information — like email addresses and phone numbers — which violate our rules" and that "we also currently view materials included in the articles as violations of our Hacked Materials Policy."
Twitter CEO Jack Dorsey has since admitted that the site's implementation of these policies was "not great."
Despite Twitter's explanation, both the President and White House press secretary are insisting that Twitter blocked the story because it reflects negatively on Trump's election rival.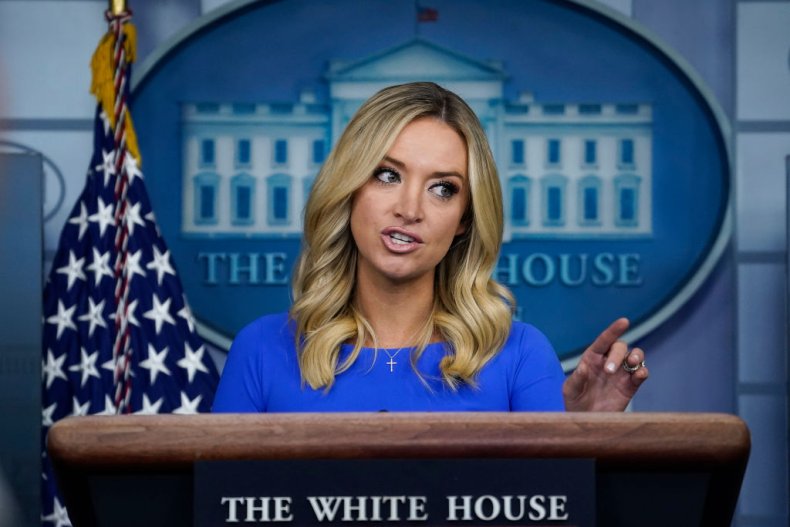 Facebook has also said it is "reducing [the story's] distribution" on its platform, as it "is eligible to be fact checked by Facebook's third-party fact checking partners," in order to establish that it isn't misinformation.
"This is censorship, it is not the American way. This is not how a freedom-loving democracy operates," Ms McEnany continued.
"And we have to hold Twitter accountable. And Facebook, too, is banning the transmission of this story simply because ideologically it hurts the side of the aisle the Silicon Valley prefers. It's sad, it's censorship, this is not America."