Kazoo the Dog Helps Recover Stolen Cars and Himself, Thanks to GPS-Enabled Collar
California law enforcement officers were able to retrieve two stolen cars and a dog after the pooch's GPS-enabled collar allowed them to track down a suspect.
In a post on Instagram, the Pasadena Police Department said that the incident began at 8 a.m. Dec. 2, after a woman reported that her car and dog had been stolen.
She had reportedly left the engine of the car running for a moment to make a delivery.
By the time police responded to the location, the man had already fled the scene while leaving behind another car that had previously been reported stolen.
"What our suspect didn't know, was that the victim's canine companion had a special [GPS-enabled] collar," Pasadena police continued. This allowed law enforcement to track the collar's location using the victim's cell phone.
With the additional help of the Los Angeles Police Department, officers were able to locate "not only the dog but also the suspect and the stolen vehicle." The stolen vehicle was found abandoned along the 105 freeway, where police were able to find the dog safely inside.
The dog, named Kazoo, was then reunited with his owner.
The suspect was identified by Pasadena police as William Urizar, 26, according to Pasadena Now. He was arrested on charges of carjacking.
"There was an individual near the car. It's an area of several homeless encampments," said Bill Grisafe of the Pasadena police. "The suspect that was near the car was arrested. Primarily the probable cause for the arrest was that he had on his back was the hair, the dog's fur, over the back of his shirt."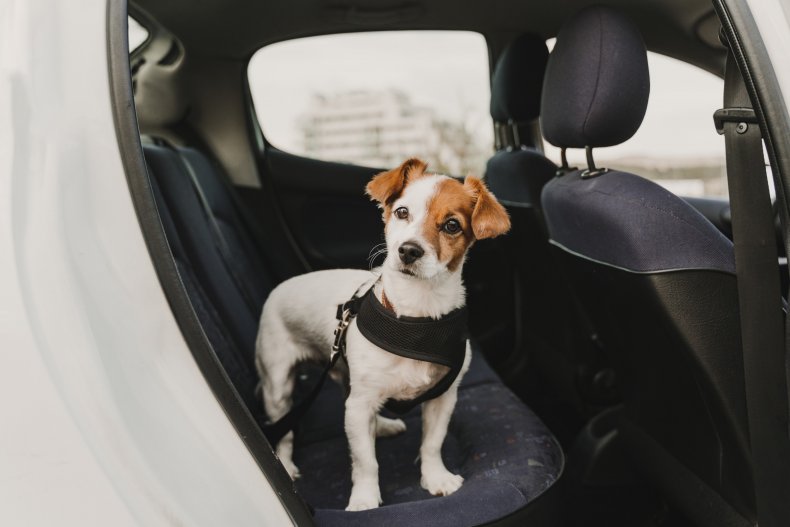 This is not the first time that a GPS-enabled collar has helped a dog find its way back home.
This past May, a 2-year-old Australian shepherd named Lex was reunited with his family after escaping from his backyard in suburban Chicagoland. A smartwatch notification from the collar reportedly alerted the family that Lex had made his way off the property, and they were able to locate their missing friend less than a block away and bring him back home.
"If we didn't have the tracker, I don't know if we would have ever found him," Lex's owner Eli Rollins had said. "Or if we found him, it would've taken a very long time."
At the time, Jeanette Garlow, a representative from Lost Dogs Illinois, told WGN-TV that similar occurrences happened all the time. She added that beyond investing in a GPS-enabled collar, getting dogs microchipped is the best way to ensure their safety.
"That microchip can get your dog home," she said.
Newsweek has reached out to the city of Pasadena, California, for comment.