KD and CJ McCollum Trade Twitter Barbs in NBA's Latest Feud
Kevin Durant and CJ McCollum were involved in a social media spat, after the latter branded the former's decision to sign for the Golden State Warriors two years ago as "soft."
Since leaving the Oklahoma City Thunder for the Warriors as a free agent two years ago, Durant has had to justify the decision, amid criticism he opted to join the best team in the league instead of trying to beat it.
Having won two titles and two NBA Finals MVP awards in his first two seasons in the Bay Area, one might think Durant is unlikely to be fazed by the criticism, but having to repeatedly defend his decision has clearly taken its toll.
On Wednesday, McCollum replied to Barstool Sports host Dan Katz on Twitter by describing Durant's move to the Warriors as "soft" before adding he respected it anyway.
It did not take long for the two-time NBA champion to reply.
"So, I would get into a gang fight, plot on my brother for 2 months in our home and then go get the gang we lost to and beat him up?" he tweeted.
"U think that low of me CJ? I just did your f*****n podcast. Snakes in the grass boy I tell ya."
Following Durant's reply, McCollum looked to defuse the situation, insisting his words had been taken out of context.
"There is no feud y'all gotta chill," he tweeted. "It was simply an analogy. I'm done speaking on KD and the warriors [because] it's childish of me to do so and soft lol (will be taken out of context)."
The podcast mentioned by Durant is McCollum's Pull Up with CJ McCollum show. The Warriors forward appeared on the podcast earlier this month, discussing McCollum's criticism of his move and Golden State's recent signings of DeMarcus Cousins, which attracted similar scorn.
The Warriors swept McCollum's Portland Trail Blazers in the 2017 playoffs and McCollum admitted on the podcast the Cousins' signing had upset him. When asked by Durant what bothered him about the Warriors adding the former New Orleans Pelicans big man to their roster, McCollum hinted it had made competing in the Western Conference even more difficult.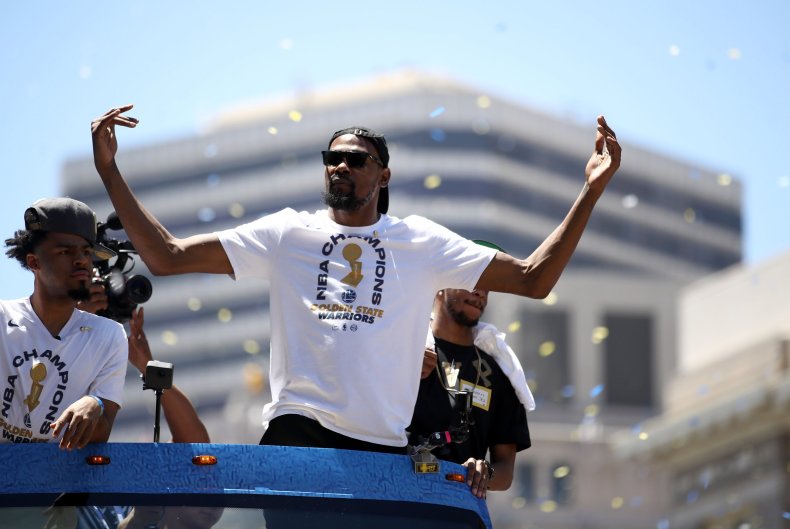 "Bro, I'm in the league," the Trail Blazers guard replied. What do you mean why am I mad about this stuff? I'm in the Western Conference. I gotta play you m***********s all the time anyway as it is, over and over again. We got eliminated by y'all a few times in the first round. So I'm looking at [Cousins]…"
At this point, Durant pointed out Cousins' arrival in Golden State will not have an impact on Portland's chances anyway. "You know you guys aren't going to win a championship," last season's NBA Finals MVP retorted.