Keanu Reeves Says He and Winona Ryder Are 'Married Under the Eyes of God'
Keanu Reeves has addressed speculation that he's married to Winona Ryder—stating that he believes they are, indeed, married in real life.
The Hollywood screen stars, who have appeared alongside one another in four movies, were seen exchanging vows while in character for Francis Ford Coppola's 1992 movie Bram Stoker's Dracula.
In the years since, it has been revealed that a real priest was on hand to conduct the nuptials, leading both stars to believe that they're legally wed.
"We actually got married in Dracula," Ryder told Entertainment Weekly in 2018: "No, I swear to God, I think we're married in real life.
"In that scene, Francis [Ford Coppola] used a real Romanian priest," the Stranger Things star added. "We shot the master and he did the whole thing. So I think we're married."
Backing up her claim, filmmaker Coppola told The Guardian that same year: "In a sense when we were all done, we realized that Keanu and Winona really are married as a result of this scene and this ceremony."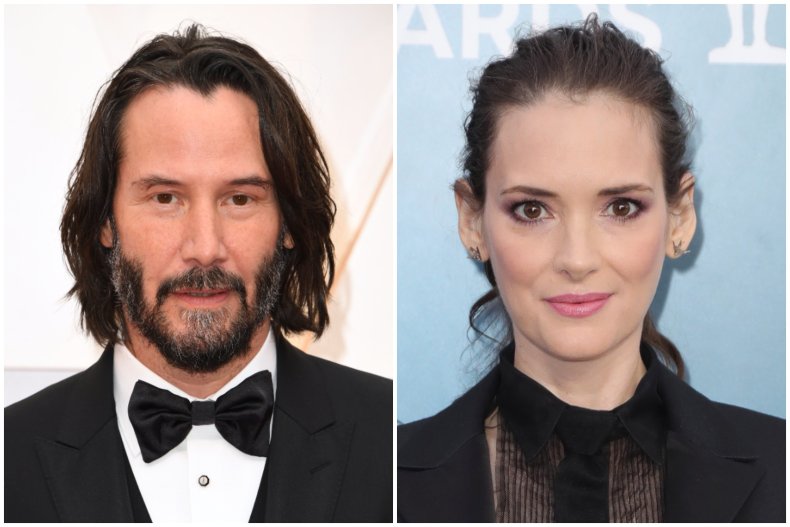 Now Reeves has weighed in on the matter, sharing his belief with Esquire in a video interview that he and Ryder exchanged legally binding nuptials.
As he answered a host of questions about his life and career, the John Wick star said when asked if he was really married to the actress: "We did a whole take of a marriage ceremony with real priests. Winona says we are. Coppola says we are. So I guess we're married under the eyes of God."
Fortunately for the stars, who last appeared together in the 2017 film Destination Wedding, they have not gone on to inadvertently commit bigamy, as neither are married to their partners.
Reeves went public with his romance with visual artist Alexandra Grant in 2019, a decade after they first met, while Ryder has been with her partner, Scott Mackinlay Hahn, since 2011.
Reeves and Ryder have been firm friends since meeting in the late 1980s, and have often shared gushing words about one another.
"I love Keanu," Ryder said in a June 2020 interview with The Sunday Times, during the height of the global COVID lockdowns. "We're great friends. I miss him so much, and it's hard because he's not far, just over there," she added as she pointed out of the window of her Los Angeles home.
Elsewhere in his new interview with Esquire, The Matrix star Reeves also addressed speculation over whether he's set to join the Marvel Cinematic Universe.
"Isn't it bigger than a universe?" Reeves asked. "It's almost like a multiverse... It's a Marvel-verse. It would be an honor. There's some really amazing directors, and visionaries, and they're doing something no one's ever really done.
"It's special in that sense in terms of the scale, the ambition, the production. So it'd be cool to be a part of that."