Who Is Kehinde Wiley? Artist Unveils Barack and Michelle Obama's Official Portraits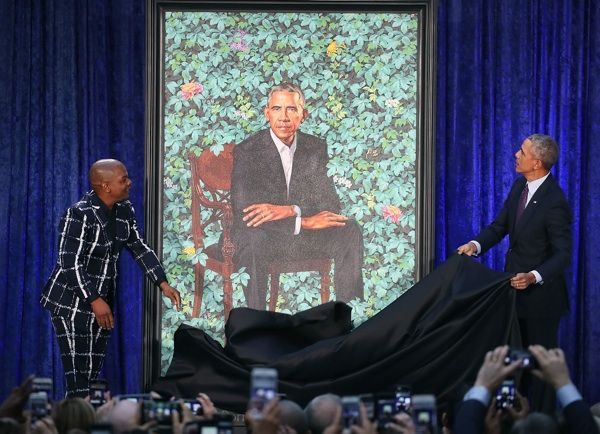 On Monday, official portraits for former President Barack Obama and his wife, Michelle, were unveiled at the Smithsonian's National Portrait Gallery. Obama chose African American artist Kehinde Wiley to create his portrait.
The painting depicted the 44th president sitting among a colorful oasis of foliage. "How about that? That's pretty sharp," Obama said when it was unveiled.
"I tried to negotiate less gray hair and Kehinde's artistic integrity would not allow (him) to do what I asked," the former president teased. "I tried to negotiate smaller ears. Struck out on that as well."
Wiley, a Yale University–trained artist, is the first African-American artist to have his work featured in the National Portrait Gallery. He is known for his larger-than-life, regal and color-filled portraits. He often uses the heroes, saints and prophets featured in Old Master paintings from the Renaissance era and 1800s. Then, he replaces them with figures of black men and women.
Some of his most popular works of art include portraits of actor Ice T embodying Napoleon; Michael Jackson channeling Horseback by Rubens; an equestrian portrait of King Phillip II by Peter Paul Rubens; and Grandmaster Flash and the Furious Five as a 17th-century Dutch civic guard company.
In a 2015 interview with The New York Times, the artist spoke about breaking down stereotypes of black Americans through his artistry, as well as highlighting the racial disparities suffered by minorities in the U.S. Those efforts attracted Obama to Wiley's work.
"What I was always struck by when I saw his portraits was the degree to which they challenged our ideas of power and privilege," Obama said on Monday.
A 2014 winner for the National Medal of Arts, which Barack Obama presented to him, Wiley's work has hung in the halls of the Brooklyn Museum, New York's Metropolitan Museum of Art, Los Angeles County Museum of Art and several others.
Michelle Obama was "overwhelmed" by her portrait, created by Baltimore-based artist Amy Sherald, who is also known for underscoring the plights of black America. A Maryland Institute College of Art and Clark-Atlanta University alum, Sherald's paintings often depict black skin tones in shades of gray—a style the artist adopted to remove the assigned "color" of her subjects, which essentially led Michelle Obama to commission Sherald.
While thanking Sherald on Monday, Michelle Obama said she was particularly fond of how Sherald's work will inspire "girls and girls of color."
"They will see an image of someone who looks like them hanging on the walls of this great American institution.… And I know the kind of impact that will have on their lives because I was one of those girls," she said.