Keith Lee Is Out for 'Retribution' Against Karrion Kross at 'NXT Takeover: XXX'
The "Limitless Era" is underway in NXT, but this weekend's Takeover: XXX event may spell the end of it before it can even really get started.
NXT Champion Keith Lee will defend his title against arguably the most dangerous opponent he's had to face as champion, Karrion Kross. The mysterious and "mythological" Kross and his partner Scarlett have looked to take over and destroy NXT since their debuts in May.
Decimating wrestler after wrestler, Kross and Scarlett now hope to grab the ultimate prize, Lee's NXT Championship. But the champ didn't seem too concerned in a recent conversation with Newsweek.
"[Fans] are going to get Keith Lee handling business, that's what it comes down to," Lee said. "It's about business more than anything else. The fact that [Kross] has angered me has done nothing but endanger him further. Also, the fact that now he has the company sounding stupid because they dubbed the sound of a clock over an hourglass visual. Now they look like idiots, just like him, so that also upsets me."
It took the 35-year-old Texas native two years to get to the top of NXT, and he has no plans to come down from it—especially not after Kross hit him with a fireball to the face and injured his rival-turned-friend Dominik Dijakovic.
"Let's use a new group on the main roster to describe what will happen [on Saturday]," Lee said. "This is about retribution and I will give it to him."
This interview has been edited and condensed for the sake of clarity and length.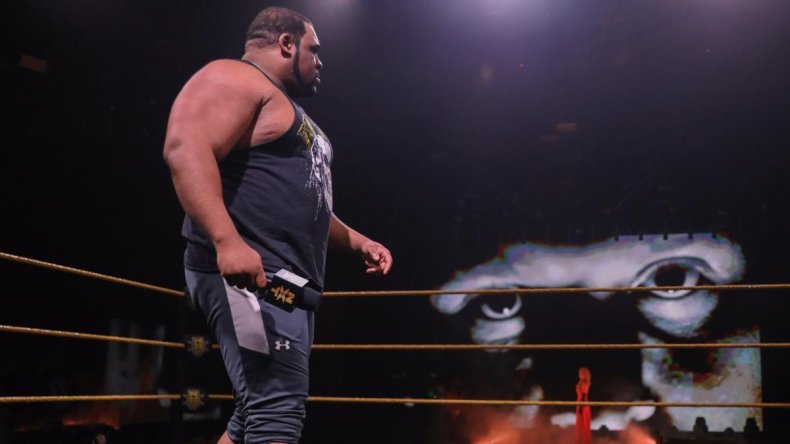 It's been a little over a month since you won the NXT championship, how's the experience been for you?
It started out great. [Laughs] As we all know I recently ate a fireball, so it's not been great the past couple weeks, but being the main man has its consequences and I take them with the greatest of joys.
That segment with the fireball to the face has turned you into an online meme. Have you seen it?
I haven't been on social media a whole lot, but I have had some associates reach out to me and tell me about it, as well as the actual imagery of the fireball hitting me. So, yeah, I've seen both and both have become, as people would call it, a "meme."
What's your reaction to how it's been used?
I mean, at the end of the day, the internet is what it is. If people find joy in my pain then so be it. [Laughs] If that makes them feel good, then good for them. I can only be who I am and let it be what it is, man.
After winning the NXT Championship, you relinquished the North American title. To be frank, I was disappointed that I didn't get to see you defend it against some of the up-and-coming members of the NXT roster.
When I did it I said it wasn't an easy decision to make by any stretch of the imagination. At the end of the day, there are limitations that I have. And one thing I did not want to do after I did it the first week was that it wouldn't be fun if I put both titles on the line all the time. That would make no sense, and it takes away from what I've done for the North American Championship.
So when the option was presented, and I had an array of options of things I could do, to me that made the most sense for the health of the brand and, from my personal opinion, from a business perspective. I know a lot of people don't think like that, but it's in my nature to do so. I don't necessarily not like having it, but I feel better about other people getting opportunities.
To that point, the last few weeks we've had a lot of wrestlers get the opportunity and now this Saturday they'll be in the ladder match to become the new North American Champion. Is there one person in particular you're pulling for?
It's a tough call for me, man. I really wish that another person had made it into this match and that's Isaiah "Swerve" Scott. It was gonna be one of two people. One of them made it in, that is Bronson Reed. He's actually a person that I wanted to fight and he probably would have been someone that I tried to egg into a competitive battle if he had not entered into the triple threat series. So, I'm happy that he did because now he's at his first Takeover and I'm certain he will not disappoint because he is a beast. I know that personally.
Last time we spoke, you did speak highly of Bronson and even Triple H talked highly about him on his teleconference call this week. What about Bronson makes him such a great competitor?
Dude's got heart. He's also not normal and we both know that that's something I can relate to. It's easier when you can relate to someone. Knowing that he's an abnormal type of athlete, that lights my fire, that makes my blood boil. That creates great matches and Dijak is a testament to that in any series that we had anywhere on the planet. And Bronson can do the exact same thing if he's pushed to it.
You brought up Swerve and him not getting the opportunity. He's involved in the Cruiserweight Championship picture right now, but do you see bigger things from him?
I'm hopeful. The dude oozes talent and charisma. He's a smooth dude, but he's also very physical and has the capability to be very aggressive. I just think that he needs... like with Bronson, these are guys that I wanted to fight because I know what they are capable of and I know that I can pull it out of them.
What is it about NXT that they seem to be able to give new stars opportunities, like what we're seeing with Bronson Reed, Timothy Thatcher and others?
I think NXT is in a perpetual state of growth. There are people that come, people that go, people that come back. I think that the introduction of new people and the going and coming, all of these things are the lifeblood of what WWE is right now. There's so many different brands that it's cool to see them get opportunities in different locations and see them face different people. Matchups you'd never thought you'd get. There are circumstances that I would like to see some of those people get the handcuffs taken off and get to go to town as well.
You bring up Dijak and he's been a part of your feud with Karrion Kross. What does Dijakovic mean to Keith Lee becoming the champion you are today?
I feel like Dijak is that specimen that creates that "iron sharpens iron" scenario where whoever fights Instantly gets better just because of how good he is and because they don't have a choice.
You either get better when you face them or you get swallowed up because he's a behemoth of a man. You're talking about a dude who is six seven, 270 and more athletic than probably 80-90 percent of the roster across all brands. I don't care about what weight they are either.
He's just a super athlete and he doesn't make sense. A lot of people say I defy physics, and I would agree. Bronson does the same thing, and Dijak does it in ways that I don't even comprehend sometimes. He's different and that type of characteristic, trait, drive, that kind of push that comes from an athlete is what you need for the growth of not just WWE, but this industry.
The WWE Network put some of your Evolve Wrestling matches with Dijak recently. How does it feel to have fans get to see some of your pre-NXT matches?
It's really cool that people get to see what I was before I came here, because realistically the moment me and Dijak fought in 2016, my entire career, my professional experience changed dramatically. It continued to change for two years before I signed with the WWE. So letting them see, for me, was a lot of growth and learning. And working in WWE was a lot of growth and learning as well. It's culminated into what you see right now.
Is there a match from your pre-NXT days that isn't on the network yet that you want people to hopefully check out one day?
I feel like a lot of people have seen it because most people that know me, know me for times before WWE. For those who haven't had the chance or haven't been educated by the universe yet: Keith Lee vs Dijak at PWG BOLA [Battle of Los Angeles] 2017. That match was ridiculous and holds a special place in my heart.
This Saturday your opponent is Karrion Kross. He's been pegged as a big deal in the company and this feud has become very personal. What can you say about Karrion Kross?
Kross is an outlier. He's somebody that I would describe as "chosen," and that being considered, along with the route that they've taken, honestly, I don't think that I've had anyone make me quite as angry as I've been lately. Usually I get angry inside of a match because someone pushes me to that point through competition.
Now I'm angry because someone wants competition, but doesn't want to face me man-to-man to do so. As a person who is often about the honor in the fight itself, that's something that drives me. As an athlete, it's something I can't respect. When you watch this match, you're going to understand exactly what I mean because my demeanor... I can feel it when I train, when I work out, when I walk. It's like people are afraid when they watch me, because I can't stop the aurora that has been created by this creature, if you will.
Also, apparently, we have a mage in NXT somehow, I don't know. I thought I trained my fire resistance up, but I only got to rank 9 and I guess they cast Fireball 13 on me.
I would suggest you watch because I'm going to beat the crap out of him.
NXT Takeover: XXX will stream on WWE Network Saturday, August 22, starting at 7 p.m. EDT.