Keith Lee Talks NXT Championship Win, Adam Cole and Start of 'Limitless' Era
Night two of NXT's Great American Bash was a history-making event for the black and gold brand.
The main event saw NXT Champion Adam Cole take on North American Champion Keith Lee in a winner-takes-all match. After 20 minutes of intense action, Lee defeated Cole to become the first NXT superstar to hold both titles simultaneously.
Not bad, considering the 35-year-old Texas native saw his momentum in NXT derailed due to injuries and questionable booking decisions just over a year ago. But the "Limitless" Keith Lee stayed the course and is now at the top of NXT.
"The moment itself is something that will probably stand the test of time and it's something I'm slowly coming to realize as extremely special," Lee told Newsweek Thursday. "It signifies the beginning of the 'Limitless' era in NXT and I hope it does nothing but promotes growth for this industry, this thing I love, sports entertainment ... professional wrestling."
Newsweek caught up with the newly crowned double champion to talk about what the win means for himself and the future of NXT. This interview has been edited for the sake of clarity and length.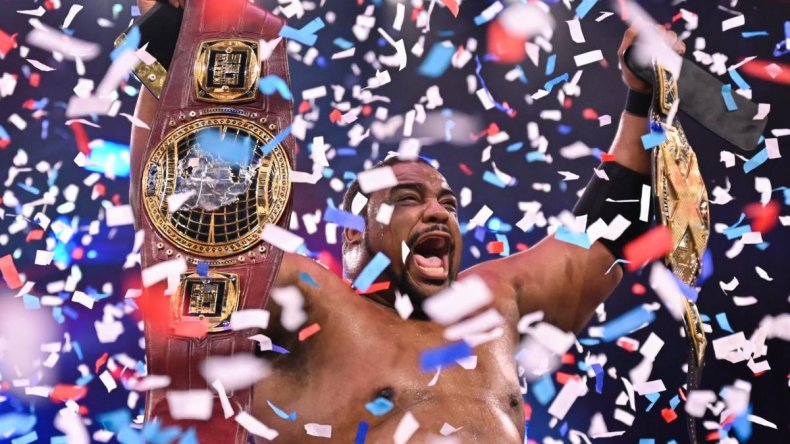 WWE fans have seen double champs recently with Becky Lynch and Bayley. Are you going to have a catchy name like them?
I'm still the "Limitless" one, man. I haven't thought of any quirky names. I'm still kind of processing everything. I spoke to a friend and told him that when I usually accomplish something it's, "OK, achievement unlocked and it's on to the next thing." But this time I want to really revel and celebrate what I have done, and then I'll figure out whatever that next step is. But it's going to take some thinking on my part, because as cool as it is to be another double champ, there's never been a first-ever North American and NXT world champion and as cool as that accomplishment is, I want to make whatever that next step is as cool as that.
It's funny you talk about staying in this moment when I feel you haven't had the time to do so in this meteoric rise of yours. Have you thought about this journey, from before winning the North American championship to now winning both titles?
I don't tend to really dwell in the past very much. I personally think that it's been quite the journey when I think back, as you ask that question. It's been very interesting. But I think that every obstacle or opportunity, I've proven myself in a multitude of ways. I most certainly earned it and I most certainly proved why I am where I am.
Having both titles at the same time is history-making, and it means a lot to you personally, but what does it mean for NXT?
At the end of the day, NXT is its own machine, its own entity that is full of hungry, ridiculously talented, world-class, top-tier athletes. I don't think it means that much to NXT in the grand scheme of things.
I think it's a personal achievement. Me, having this accomplishment, doesn't make or break NXT to an extent. I think that I can shape NXT by making the right move now that I've done this, and I can help NXT by fostering the same type of attitude that I have now in the form of promoting competition in top-tier matches and wanting people to be just as hungry as I am and as hungry as I was in that match [with Adam Cole], in order to facilitate the continuance of NXT's bread and butter of professional wrestling.
What does this era of Keith Lee in NXT look like?
It's hard to say. I prefer to revel in my moment before I figure out what that next step is. But once I figure it out, I will share that with the world in one fashion or another. I know I have professional wants in terms of competition and opportunities, but I have to figure out ways to create those opportunities and make them valid. But most importantly, man, I'm ready to fight anyone at any time, and that's the type of competitor that I am. So that's what it looks like.
It was made as a point of commentary during your match, and I know it's been an emotional week since your trainer, "Killer" Tim Brooks, passed away. If he were here right now to see this moment, what would he say?
Oh man, you just gave me goosebumps. I think that in this moment, were I with him, he would smack me in the shoulder real hard and say, "You've done good kid. I told you so." And then he'd probably laugh at me and make a ridiculous joke.
What was your family and friends' reaction to your win?
Not just family and friends, but people around the world—I've seen videos of people crying and enormous celebrations. But it's been the same in my family as well. One particular thing that stands out to me, and this is probably the coolest thing to me, was seeing the very guy that was not necessarily into my decision to achieve this, to do what I do, my father, in his enormous chair in his living room, watching this match.
My younger brother was sitting on one side of the sofa biting his nails and my stepmother on the other side of the sofa and her knees wouldn't stop shaking. And my father was in his big chair and when the three count happened everyone jumped up, my father included, who didn't really understand professional wrestling when I started. And he was tough on me. But to see him act like a child was easily the coolest thing that I've ever seen in my career. That's a fact that's also hard to process in all of this ... I don't know, man. Seeing the reaction of so many people has been very touching and very special.
Your opponent on Wednesday, Adam Cole, has been such a pillar for NXT and a great champion. What does he mean to the brand, and what does it mean to you that he passed the torch onto you?
Adam Cole is someone that in an alternate world, a parallel universe somewhere, he and I are best friends. He's someone that mirrors my love for this sport. And I know that sometimes people aren't able to see it because of the antics of Undisputed Era, but if you watch that match there were zero interruptions. That was a pure-blood, hot, spicy competition. And he was in there, man, and you could see it in his eyes. The guy breathes professional wrestling and he's so good.
And yes, there are size differences and yes, there are visual oppositions, but what he can do in the ring—his intelligence, his ring awareness—he's the epitome of a ring-savvy competitor. And when I tell you that you can feel his passion pulsing when you're in the ring with him, I absolutely mean it. It's ridiculous.
Dude, it's not just NXT—this guy means something to this industry. He's a special competitor and I was absolutely honored to share a ring with him and even more honored that he decided to take this match one-on-one. And I gained an entirely different respect for him because after that match, the man stood up and shook my hand.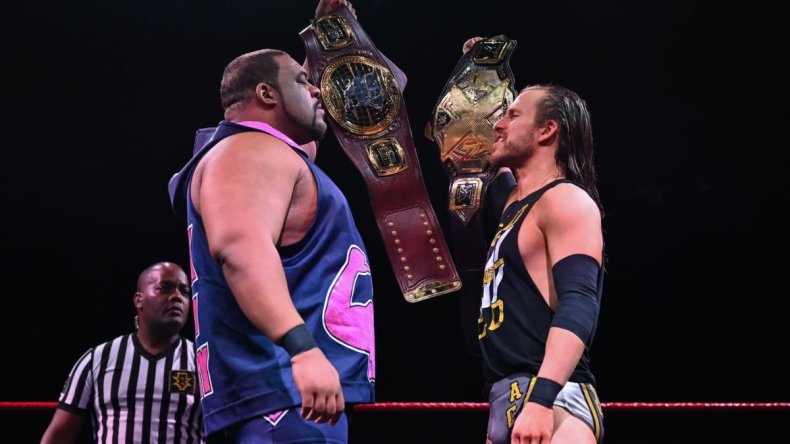 Just talking to you now reminds me of how you had to get through Finn Balor and Johnny Gargano, two NXT legends in their own right, to get to Adam Cole.
It's weird when you think about it, isn't it? When you look back at things and see how they progress. And you can think back to when I stepped in the ring with those guys and decided what championship I wanted to take first. And I didn't intend for it to stop. Whatever the next step is for me to continue the grind of making myself push harder and make myself something more—that's next on the agenda. And I'll figure that out in time, but right now, man, you have to look at those things.
Going through those guys who have been the lifeblood of NXT for the past... at least six years. These guys were the guys, and Adam Cole came in and set new precedents and took it to different heights and set new records. It's ridiculous. It's surreal. But at the end of the day, it's what I deserve and I've proven that.
It's been a little over a year since Kofi Kingston won the WWE Championship at WrestleMania and now you, as an African-American wrestler, hold the top title in NXT. Is that something you think about?
I am honored to be a representative, if that. I try not to limit myself to that, but I understand that there's a pride that comes with it. Actually, I've had conversations with all three members of New Day when it comes to this. It's really cool when you're recognized for such things, but at the end of the day I want to be more than just an "African-American Champion." I just want to be "The Champion."
All day long, I want people to shout it from the mountaintops. "Yes, that is our African-American champion." But I want the world to be able to say, "that's our Limitless champion, and he represents all of us." And I will.
Following the match, audiences saw Karrion Kross and Scarlett. They've made their intentions known since their debut and they likely have their eyes set on you. Are you prepared for a possible program with them?
The potential is there, but I feel like there are a lot of people that have potential as well. I think that if I had a say [of who to wrestle], I know someone who I want to fight because I know what they are capable of, and that would have to go to Bronson Reed, actually.
That guy has yet to unload who he is. And I feel like I can push him and force him to unleash a little bit of who he is. At the end of the day, when you have both singles championships, the target on your back is always going to be there. [Laughs] The target is big enough when you have one, but two? Man, the prospects of Bronson Reed, "Swerve," yeah, I'm excited because there is great potential.
Karrion Kross is on a pathway of destruction, but I don't know—we'll see what happens.
Watch Keith Lee on NXT every Wednesday, starting at 8 p.m. EDT, on USA Network.