Keith Lee defeated Adam Cole in the main event of the Great American Bash night two on Wednesday to become both NXT North American and NXT Champion.
This marks the first time in NXT's history that a wrestler holds both men's singles titles at the same time.
The 35-year-old Texas native overcame Cole's various finishing moves, including the Panama Sunrise and The Last Shot. The finish of the match saw Cole hit Lee with a second Last Shot before he went to the top rope to attempt another Panama Sunrise when Lee caught the champion to hit him with the Spirit Bomb and the Big Bang Catastrophe for the pin.
Although Keith Lee ended the night showered in confetti and holding both championships, Karrion Kross and Scarlett—two new additions to NXT's roster—were shown looking on in the rafters.
Kross and Scarlett have put the NXT locker room on notice since their debut, and Karrion is looking to capture the gold.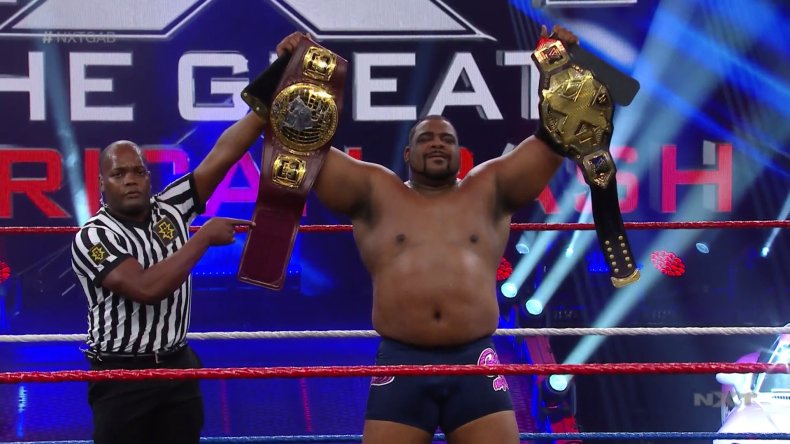 This is the first time Keith Lee has won the NXT Championship. The 35-year-old was first signed to the WWE in 2018, but didn't get his massive push until a year later due to a combination of booking decisions and injuries.
Lee would rise to prominence in NXT after a memorable feud with Dominic Dijakovic. He would be a part of the NXT invasion of SmackDown Live in November 2019 and be the last one eliminated in the traditional Survivor Series match between the RAW, SmackDown and NXT brands. After eliminating Seth Rollins, Lee would ultimately fall to Roman Reigns.
Keith Lee would also take part in the 2020 Royal Rumble at #13, being eliminated--alongside Braun Strowman--by Brock Lesnar.
Adam Cole won the NXT Championship from Johnny Gargano at Takeover: XXV in June 2019. Cole would hold on to the top title in NXT for a record 402 days, dispatching of Gargano, Tommaso Ciampa, Pete Dunne and Velveteen Dream in that time.
Keith Lee won the NXT North American Championship from Cole's Undisputed Era cohort, Roderick Strong in January of this year. Lee has held the title for 166 days, second most in company history.
Cole was the inaugural NXT North American Champion when he won it at NXT Takeover: New Orleans in April 2018. Cole held onto that title 133 days before losing it to Ricochet in August 2018.
What do you think of Keith Lee holding both top NXT men's titles? Let us know in the comments section.