Drake Maverick Wants to Grow NXT and Steal the Show at Great American Bash
It's been a wild few months for Drake Maverick.
Maverick, whose real name is James Curtin, was among the many WWE in-ring talent, producers and backstage personnel who were released or furloughed in early April due to the COVID-19 pandemic.
Prior to his release, the 37-year-old from the U.K. was booked to compete in NXT's Cruiserweight Championship tournament. His real-life dismissal was incorporated into the tournament's storyline, as Maverick made his way to the finals of the tournament but ultimately lost to El Hijo del Fantasma.
Although he lost the title, Maverick gained a new contract with NXT—but not before being betrayed by Fantasma, who turned heel as Santos Escobar.
Now in the midst of his first feud on the NXT brand, Maverick is set to team up with Tyler Breeze and Fandango to take on Escobar and his faction mates, Raul Mendoza and Jaoquin Wilde, on night two of NXT's Great American Bash.
"You're going to see a very different side from the three of us," Maverick told Newsweek on Tuesday. "Between the three of us there's 50-60 years of experience in the job and those guys can excel in the serious situations, so it's one that you're not going to want to miss."
Ahead of his match on Wednesday, Newsweek caught up with Maverick to talk about his release, changing his image and continuing to build NXT. This interview has been edited for the sake of clarity and length.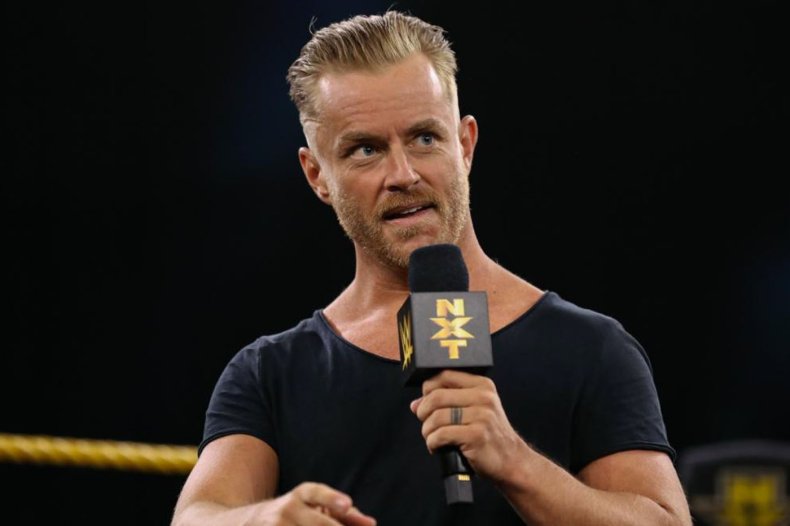 The last few days you've given your followers on social media a scare with a cryptic tweet. What happened there?
What was that? I have no idea. [Laughs]
I woke up to my wife saying, "Honey, did you tweet something?" She showed me this tweet and I went, "Nope. What's going on?" I looked at my phone and apparently that tweet was sent. I thought I better change my passwords. I checked in with my people and they checked with their people and apparently, I guess I was hacked. If I wasn't hacked then something happened, but it was the weirdest thing ever waking up in the morning, getting 19 text messages and missed calls. Renee has the same and she's none the wiser. Weird times. Sorry for scaring everybody, but all is well. I was sound asleep.
It's been almost three months since you were released. Thinking back, how has that time been for you?
It's been the wildest ride emotionally that you'll ever understand. And that goes with just what's going on in the world as well. It's just the weirdest time. Those who know me know that wrestling is right there. The earliest and latest memory of me is me watching wrestling. Right before this phone call, I was watching wrestling—so is life.
I have such a passion for this and I think that comes through the TV screen and when I was doing the tournament, as much as I'm accustomed to being put in situations to make people laugh and joke, what I really excel at is the serious situations. And I really pride myself on being a jack of all trades.
The most comfortable I've ever been was going through this tournament as a competitor and I know that won't make a lot of sense, but I was allowed to just be me. And I didn't have a role, I didn't have to think, I just did what I would naturally do and that's just be me. It was the most I've ever learned in the industry, and the best I ever felt in the industry. No matter what's going to happen, I'm just going to be me and I'm very proud to have turned a bad situation in my life in my favor because that's what it was, man. The lowest of lows, the highest of highs, to the bits in between to even higher, you know what I mean.
I'm sure it was compelling for people watching, but trust me, living those few months was not that fun. I just did whatever I could to hold onto this crazy dream that little James had.
You say this period of time is when you learned the most about the industry, is there anything specific that you did learn?
Just that it's OK to be you. One of the things that was very tough, and I feel a lot of men go through this, is that we are expected to be "men" in every situation.
In wrestling, we're expected to be alpha males and not react to things. But for the first time I was like, "You know what, I'm not afraid to let anyone in to who James is. Who this person is and who I am and how much [wrestling] means to me." So I'm going to sit in front of this camera and I'm going to let everyone know and hopefully you can see it in my face and whatever happens happens. And that you can all see how much this means to me and how much I'm going to put into the last three matches that I had, because that's all I have and I don't know what's going to happen in the future, but just know that you will have my everything.
And that was the big thing, just being James was what people wanted more than a hokey, little bad guy or a weaselly little guy who can't consummate his marriage; they just wanted me as a person and they connected with me 10 times easier when I was me. So I'm just happy now that I don't have to think about a promo or what I do next. I just think about what I would do in a real situation. That was one of the best things as a WWE competitor that I ever learned.
Was there less pressure to impress anyone during the tournament? What was going on in your mind?
What was going on in my mind was that the job gave me a lot. I've said this before—I wasn't being used on television, they were paying me a lot of money, I would have released me. I really would. You're not getting any return on your investment, I would have released me too.
Mentally I was thinking that this job, this company, has given me a lot and you basically had a vacation for two years aside from a couple of matches, you don't have anything to be angry about. It's business at the end of the day.
You can take the approach of going in there, all guns blazing angry about the decision made or you can just be a professional and hopefully down the road they'll remember your professionalism and want to work with you again. I just turned up everyday as I would every show, with great respect to everybody because I never entered the NXT locker room before, and I have great respect for everything they built there. [NXT] has gone from Full Sail University to Takeovers to big arenas everywhere to a weekly show on the USA Network.
The sacrifice that Tomasso Ciampa has made—he broke his neck and came back. All of that trying to build up the house that is NXT. The journey of Johnny Gargano, the amount of people who went through NXT on their way to RAW and SmackDown, I have great respect for that place, but it was about going in and showing that I can do whatever it is they want to the best of my ability. That was all it was.
My mentality was being professional because you've been released, but it's business. It's a job and you want to work for this company down the road and the way the world is at the moment, you don't know what's going to happen. So let's just be a pro, be a good person and take each day as it comes.
We just saw Heath Slater appear on Monday Night RAW and he was one of the superstars released as well—
And he knocked it out of the park. How often have you seen Heath Slater given a microphone in a serious situation? It's very rare, but guess what? He knocked it out of the park because that's the type of talent that he is. That's the type of talent that Curt Hawkins and Zack Ryder were, the "Good Brothers," everybody if you give them a little something they'll make it better, and they'll knock it out of the park, every one of them. And Heath is one of the best in the industry that I ever met and he's a wonderful person and I'm glad that he got to have that moment.
This journey and story marks a new chapter in your WWE career, but many fans are a bit uneasy with the circumstances surrounding it. Are the criticisms surrounding your story warranted?
People have their opinions whether it's positive or negative on everybody. But anyone who is discrediting that this wasn't a genuine situation with my livelihood on the line, is very much mistaken. You can think of any conspiracy theory you want, but there's no conspiracy theory. I was fired and I worked my ass off to get my job back. And if anybody wants to create a conspiracy theory on that, that's up to them.
Every day when I leave the house, I have the release paperwork that I received a day after I got the phone call framed on my wall next to the front door. And every day I look at it and it says, "Dreams don't work unless you do" right above it. Every day I look at that and it tells me not to be complacent and to bust my ass everyday to be where I want to be. And I think about that every day because I could have been gone and I'm just blessed that I was given the opportunity to still have those three matches in the NXT Cruiserweight Tournament. It is reality—if I would have sucked it would have been a totally different story, but I didn't. I'm confident in my abilities, I'm confident in the work and the person that I put out there.
A lot of WWE fans know you as this bumbling guy who chases R-Truth for the 24/7 Championship, and peeing yourself with AOP. But you're doing a lot more serious character work. Is this where you want to be creatively?
I think it just shows range. It's difficult when you're a painfully undersized performer. Everybody judges a book by its cover. Immediately people say, "He's not very big" or "He's little, isn't he?" and that's what people see and I remember hearing stories about Rey Mysterio when he first debuted for WCW. People heard that a child had been booked and that he was going to be on the show. And then Rey blew everybody away. I've done that several times in my career.
Tommy Dreamer told this story recently, and I told it on Busted Open Radio as well, but the first time he saw me, he didn't know what everyone was thinking. Bubba [Ray Dudley] was singing my praises and he was just like, "I just don't see it." But then seeing me out there in the ring and with a microphone and he finally understood it. But it takes time.
There's a lot of people you see and know that they're going to be great and you don't even know if they have a love or passion for this or have range, but you only see muscles and the body and you're like, "Alright, we have money here." But it takes a lot of passion and a lot of drive to just keep on ticking. In my mind, funny don't make money and I really thrive on the serious situations and this was the stuff that I grew up on and I relate to and that's what gave me the love for this. I'm excited for the future, especially being on NXT.
And now that you're a part of NXT, you've become a crucial part of the brand and this sort of "rebuild" of the Cruiserweight Division. How does it feel to be a part of that?
Looking back at the Cruiserweight Tournament, it did a great deal for everyone involved. We added some nice story arcs for Kushida, a world-renowned in-ring competitor, we added some story with Jake Atlas, and progressed the Fantasma/Escobar story with Joaquin Wilde and Raul Mendoza.
That tournament seemed to do so well in progressing everyone in some way off the back of my real-life situation. Everyone should be giving credit to the NXT team, Triple H, Shawn Michaels and all the guys backstage. That's what our job is, to elevate each other. It's only going to benefit NXT and the show is getting better and better. The show is starting to snowball and get bigger and night one of Great American Bash was fabulous. I promise you that night two will be equally, if not more, spectacular.
And I'll say this, our six-man tag on this show is sleeper for match of the night. You're going to expect a lot of fun and games from the team of Drake Maverick and Breezango, but it's going to be the exact opposite, which is what's going to be so fantastic and different about it.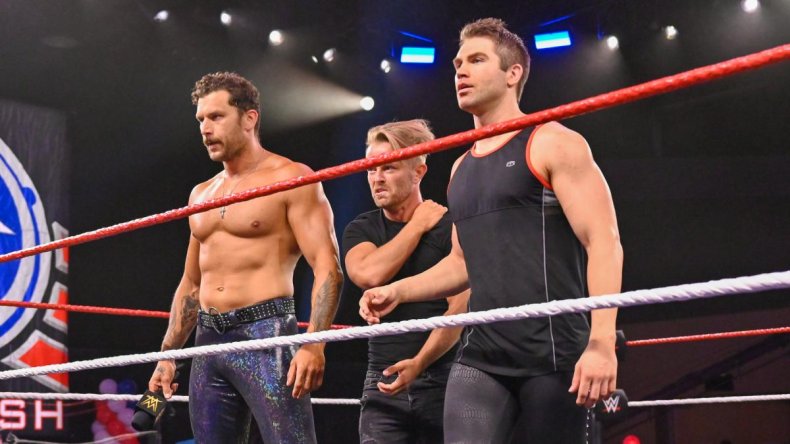 Your future is NXT, but what does Drake Maverick want to accomplish in NXT?
In the future, I'm just looking to grow the NXT brand and myself as a brand while I'm on NXT. I want to fight Johnny Gargano. I've said it and I think it'll be the best story NXT has told in a long, long time. We've had a very similar journey, mindset for the industry as well. I just think we would go out there and tear the house down.
I'm also looking forward to just getting the WWE Universe back, please. Can we please have them back as soon as possible? Everybody out there listening, wear a mask please. Let's get this done and get it taken care of and let's get the world back to normal so we can have people in the arenas, people in Full Sail, Takeovers, people at WrestleMania again. That's what I want. The more we can keep entertaining you in this real unknown time—I'm happy to be one of the people doing so—but let's get things back to normal and people back in the buildings.
Night 2 of NXT Great American Bash airs Wednesday at 8 p.m. on USA.