Drake Maverick defeated Tony Nese in the NXT Interim Cruiserweight Championship tournament to win what could be one of his last matches in WWE.
After Nese—who lost his first match to Kushida—dominated the match, Maverick pulled out a well-timed top rope bulldog to secure the victory, his first in the tournament. Following the match, Maverick was asked about his victory which the wrestler said that he's not leaving the WWE until he's NXT Cruiserweight Champion.
Maverick was part of a long list of WWE Superstars and backstage employees who were laid off or furloughed back on April 15. The former 205 Live general manager put out a video reacting to the news of his release went viral when the teary-eyed wrestler explained how he plans to continue wrestling in the tournament.
His spot in the NXT Interim Cruiserweight Championship tournament was announced weeks prior to the layoffs, which made his situation in the company awkward to say the least.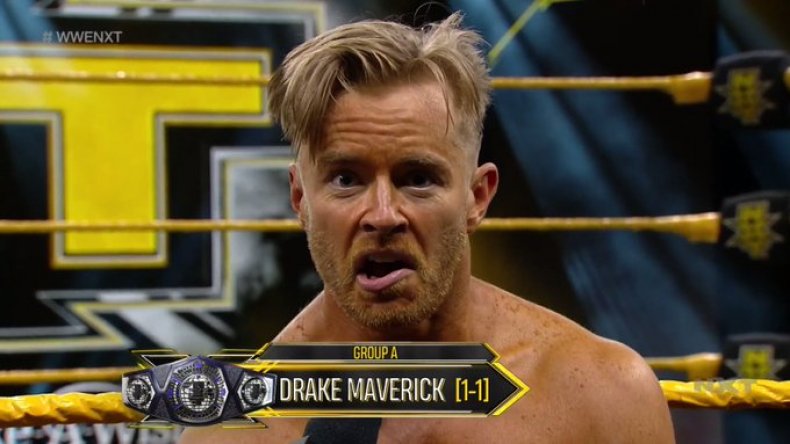 Paul "Triple H" Levesque, WWE's Executive Vice President of Global Talent Strategy & Development, told Newsweek that Maverick is still taking part in the tournament and now has a unique opportunity.
"There's a saying in our business that you're always a day away from your fortune or storyline changing to something totally different and this is no exception," Levesque said. "As a part of this, we'll see where all of this goes and [Drake Maverick is] an incredibly talented performer and hopefully this is an opportunity he can make the most of."
"I hope that he proves us wrong, and that we made the wrong choice. While it was a difficult choice, maybe we should look at it again and I really do hope that he can [prove us wrong]," Levesque continued. "But I know he's going to put on a spectacular performance, that's what he's always done. Like I said, this is a tough situation for everybody and we're just trying to make the best of it and do what we can and I'm sure he will [make the best of it]."
Maverick would reiterate those feelings on WWE's The Bump where he wishes to prove the company wrong for laying him off and to save his job.
In his first match of the tournament, Maverick lost to Jake Atlas to a highly competitive bout. After his win over Nese, Maverick will now face Kushida. A win over Kushida could put Maverick in the driver's seat to make the finals.
About the writer
Phillip Martinez is a game and culture reporter for Newsweek. Prior to joining Newsweek in 2018, he was a reporter and editor for iDigitalTimes and Player.One. A Bronx native, he graduated with his Bachelor's degree in Journalism from St. John's University in 2010. An avid Nintendo fan and wrestling mark, he's always looking to become a Pokémon Master while fantasy booking this year's WrestleMania. You can contact him at p.martinez@newsweek.com