Drake Maverick Signs New NXT Contract Following Loss in Cruiserweight Championship Tournament
Drake Maverick's miracle run in the NXT Cruiserweight Championship Tournament came to an end Wednesday when he lost to El Hijo del Fantasma in the finals. However, it wasn't the end of Maverick in the WWE.
Following the loss, Paul "Triple H" Levesque, WWE Executive Vice President of Global Talent Strategy & Development, and founder of NXT, met Maverick at the top of the ramp to present a new contract to him.
Maverick, holding back tears, signed the contract to officially make him a part of the NXT roster.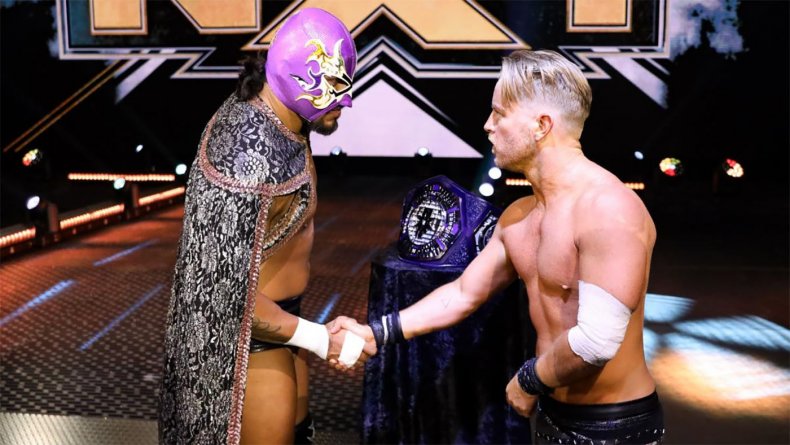 Maverick was part of a long list of WWE Superstars and backstage employees who were laid off or furloughed back on April 15. His spot in the tournament was announced weeks prior to the layoffs, which allowed him to continue to work.
NXT would use Maverick's real life story to propel his run in the tournament, garnering massive support from fans.
Triple H spoke to Newsweek in April on the recent layoffs and Maverick still competing on the brand.
"There's a saying in our business that you're always a day away from your fortune or storyline changing to something totally different and this is no exception," Levesque said. "As a part of this, we'll see where all of this goes and [Drake Maverick is] an incredibly talented performer and hopefully this is an opportunity he can make the most of."
"I hope that he proves us wrong, and that we made the wrong choice. While it was a difficult choice, maybe we should look at it again and I really do hope that he can [prove us wrong]," Levesque continued. "But I know he's going to put on a spectacular performance, that's what he's always done. Like I said, this is a tough situation for everybody and we're just trying to make the best of it and do what we can and I'm sure he will [make the best of it]."
As for El Hijo del Fantasma, he won the Cruiserweight Championship after the masked luchadores that have abducted NXT superstars as well as attacked him on multiple occasions. Maverick would take out the luchadors and send them running to the back, but when he rolled back into the ring, Fantasma hit Drake with a superkick and the Phantom Driver for the win.
Now that Maverick is a part of the NXT roster, we'll see where he goes in the Cruiserweight division. Jordan Devlin was the NXT Cruiserweight Champion prior to the COVID-19 pandemic. However, Devlin has been in the UK since the pandemic began and has not been able to return to the states.
With the champion unable to defend the title, NXT decided to have a tournament to determine an interim champion. When Devlin does return, he'll likely want to regain his title and El Hijo del Fantasma will be in his sights.
What do you think of Maverick remaining in NXT? Let us know in the comments section.