Bodycam Footage of Keith Moses Arrest Viewed 2 Million Times
Police have released the bodycam footage of suspected mass shooter Keith Moses being arrested in a clip that has gone viral on social media.
Moses is accused of a shooting spree on Wednesday in Pine Hills, Florida, that resulted in the death of a nine-year-old girl, a woman in her 30s and a TV reporter.
The Orange County Sheriff's Office confirmed on Wednesday that 19-year-old Moses had been charged with at least one count of murder and other charges are expected to follow.
The three victims were later identified as 38-year-old Nathacha Augustin, nine-year-old T'yonna Major and Dylan Lyons. Two other people were injured, one of them being Major's mother the other being a staff member who was with Lyons when he was shot. Their condition is currently unclear.
The department released the bodycam footage of Moses' arrest on Wednesday, and it has since gone viral with over 2 million views.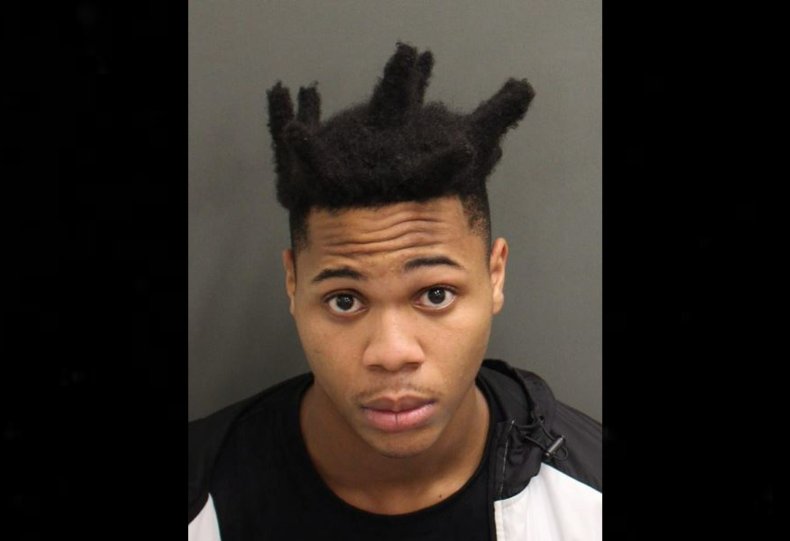 The Orange County Sheriff's Office captioned the video: "This is the moment OCSO deputies apprehended Keith Moses who shot five people on February 22, killing three: 38-year-old Nathacha Augustin, 9-year-old T'yonna Major and MyNews13 reporter Dylan Lyons."
The bodycam footage shows armed men getting out of a vehicle to confront Moses who is walking down the street.
Moses complies with the officer's demands and raises his hands before he is forced to the ground.
The suspect then begins to scream "they are killing me" as officers ensure that he can be handcuffed.
Multiple officers surround the suspect, ensuring he couldn't escape, with one officer putting pressure on Moses. He then began screaming that he "could not breathe" to which officers replied that he could in fact breathe.
One officer remarks that Moses may be on some form of drugs to explain his behavior during the arrest.
Moses' record includes gun charges, aggravated battery and assault with a deadly weapon, burglary and grand theft.
Speaking on the suspect's cooperation, he said: "The suspect isn't saying much right now.
"It is unclear if he knew they were news media or not. We're still trying to work all that out. It's unclear exactly why they were targeted, so we're going to look into that."
During the briefing, Mina added: "No one in our community, not a mother, not a 9-year-old, certainly not news professionals, should become a victim of gun violence in our community."
Newsweek has contacted the Orange County Sheriff's Office for comment.