Keith Olbermann Blasts 'Psycho' Darren Bailey for Mass Shooting Remarks
Keith Olbermann slammed Darren Bailey as a "psycho" after the Trump-backed Illinois gubernatorial candidate said "let's move on" hours after a gunman opened fire at a Highland Park Fourth of July parade on Monday.
Six people were killed, with dozens more suffering injuries in the shooting about 25 miles north of Chicago, in the latest of several deadly mass shootings across the United States.
In a Facebook Live video about two hours after the shooting, Bailey urged people to "move on" from the incident. His remarks were made in nearby Skokie, where a Fourth of July celebration was canceled in the aftermath of the shooting.
"They've done an amazing job," Bailey said. "There's a lot of confusion and frustration that the parade's being cancelled but they did the right thing because people's safety has got to come first. The shooter is still at large, so let's pray for justice to prevail."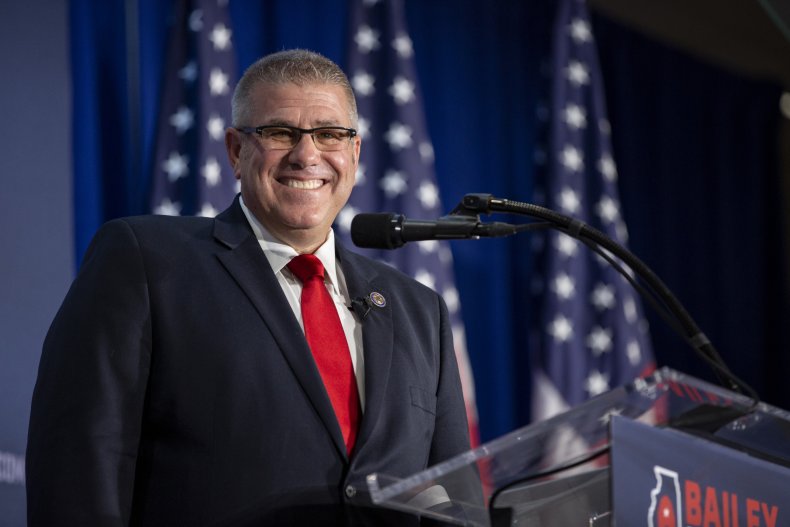 He continued: "And then let's move on and let's celebrate the independence of this nation. We know the mission. We have got to get corruption and evil out of our government, and we have got to elect men and women of honor and courage to get this country and this state back on track."
The comments were met with ridicule on social media, including from Olbermann, who regularly posts a Twitter thread mocking the "worst person in the world." On Tuesday, the liberal political commentator offered the bronze, third-place award to Bailey, describing him as "Trump's soulless candidate for governor of Illinois."
"This psycho powered through the disruption of his campaigning by Highland Park to remind us to 'MOVE ON' and get back to Trumparanoia," Olbermann wrote.
When reached by Newsweek Tuesday afternoon, a Bailey spokesperson said Bailey meant to tell supporters he planned to "move on" from the parade he was attending in Skokie and that he quickly apologized for the remarks.
"I apologize if in any way we diminished the pain being felt across our state today. I hope we can all come together in prayer and action to address rampant crime and mental health issues to make sure these horrific tragedies don't happen again," Bailey said in a statement sent to Newsweek.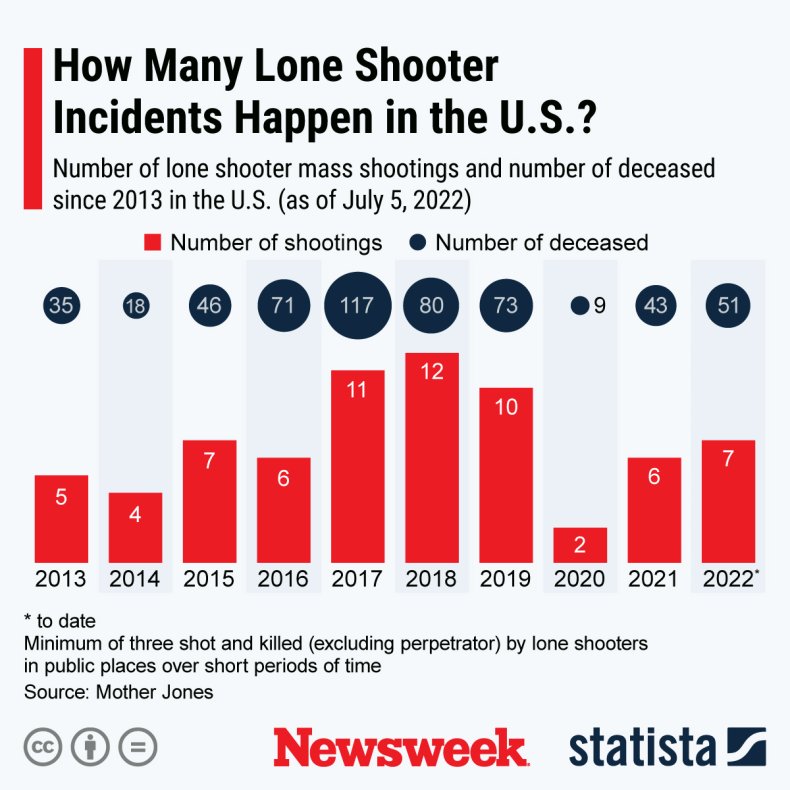 This chart, provided by Statista, shows the number of lone shooter mass shootings and number of deceased since 2013 in the U.S.
Trump endorsed Bailey on June 25, and he easily won the Republican primary last week. But in solidly blue Illinois, incumbent Democratic Governor J.B. Pritzker remains favored to win reelection.
Bailey's remarks were subject to other criticism, as well.
"This is what happens with MAGA type candidates. They have been so trained with 'own the libs' and anger that they lost the ability to have compassion," tweeted Representative Adam Kinzinger, an Illinois Republican.
Police arrested 22-year-old Robert Crimo in connection to the shooting Monday evening. So far, he has only been classified as a "person of interest."
Updated 7/5/2022 at 5:42 p.m. ET: This article was updated to include a statement from Darren Bailey and a Bailey spokesperson.