Who Is Robert E. Crimo III? Man Linked to July 4 Parade Shooting Arrested
A person of interest connected to Monday's deadly Fourth of July shooting in Highland Park, Illinois, has been taken into custody.
Multiple reports indicate Robert Crimo III, 22, was arrested Monday evening.
The Independence Day parade in the Chicago suburb, which is located 25 miles north of the downtown core, was stopped after shots were fired, leaving at least six dead and more than two dozen injured.
Sixteen people were transferred to the hospital for their injuries, according to a press release from the city, and there were others who went to nearby hospitals on their own.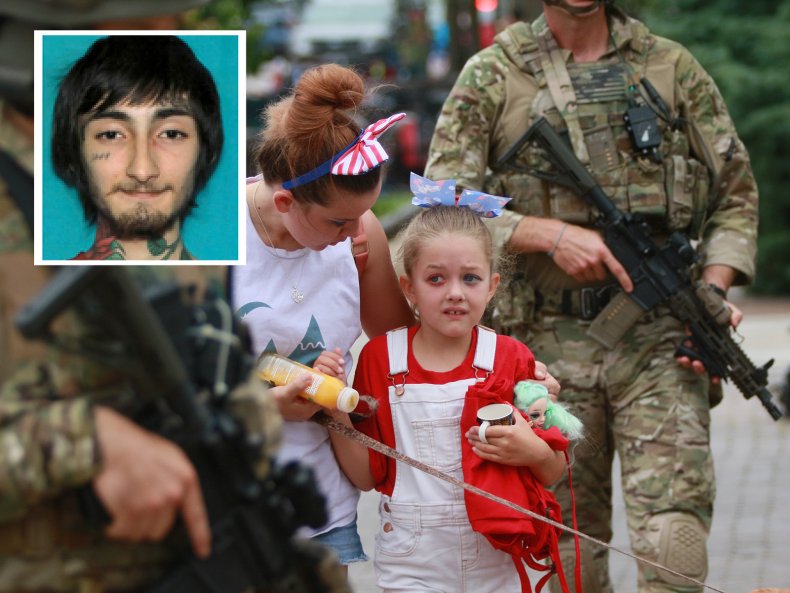 Crimo was taken into custody around 6:30 p.m. after being spotted by a North Chicago police officer, ABC affiliate WLS-TV reported.
After a brief pursuit, Crimo was stopped in nearby Lake Forest and apprehended without incident.
Police said Crimo, who is still being referred to as a "person of interest," has been taken to Highland Park Police Department for questioning.
Video obtained by CBS Chicago shows police surrounding Crimo at the intersection where he was captured. Aerial footage from the station later shows police with a K-9 circling a Honda Fit driven by Crimo after his capture.
The FBI released information earlier Monday evening and said Crimo "should be considered armed and dangerous," offering a reward for tips leading to his arrest.
The agency described Crimo as having a thin build, weighing 120 pounds, and standing at 5 feet 11 inches tall. His tattoos include "four tally marks with a line through them on his right cheek, red roses and green leaves on his neck, and cursive script above his left eyebrow."
Crimo has ties to Rockford, DeKalb, and Elgin, according to the FBI.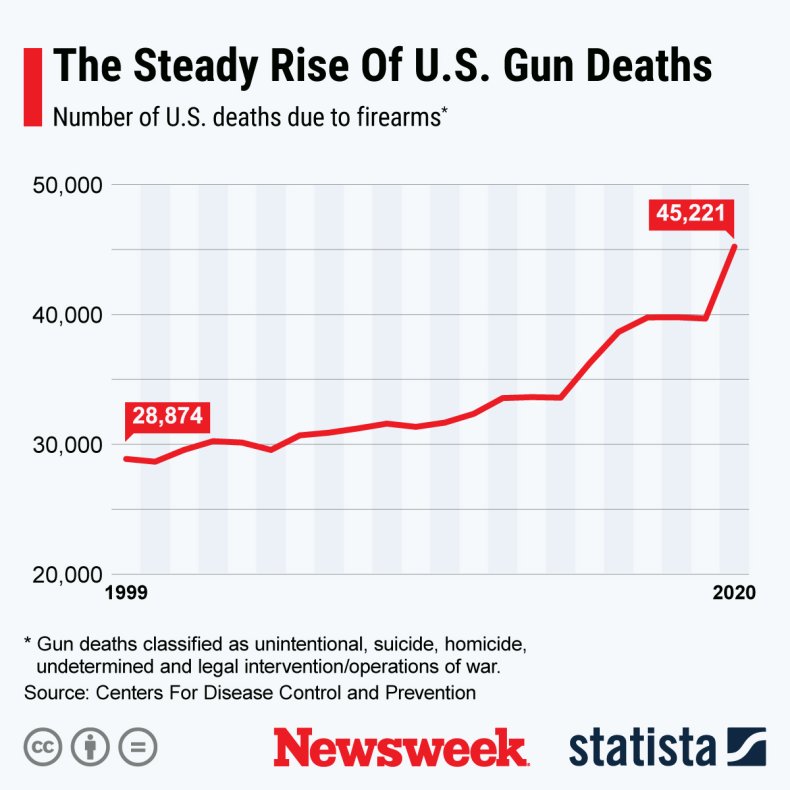 This chart, provided by Statista, shows the steady rise of gun deaths in the United States between 1999 and 2020.
Authorities have not announced charges against Crimo as of Monday evening or revealed any possible motives behind the shooting.
Steven Monacelli, a journalist specializing in extremism, tweeted that Crimo allegedly posted multiple "posted multiple disturbing videos on YouTube with violent imagery" that he said remained up for months. The drawn images depict someone wearing body armor and helmet with a GoPro mounted to it who is pointing a military-style rifle at faceless people lying on the ground or cowering.
Crimo previously performed under the alias "Awake the Rapper" and received a large number of streams on YouTube before they were taken down for unclear reasons, Monacelli said in a follow-up tweet.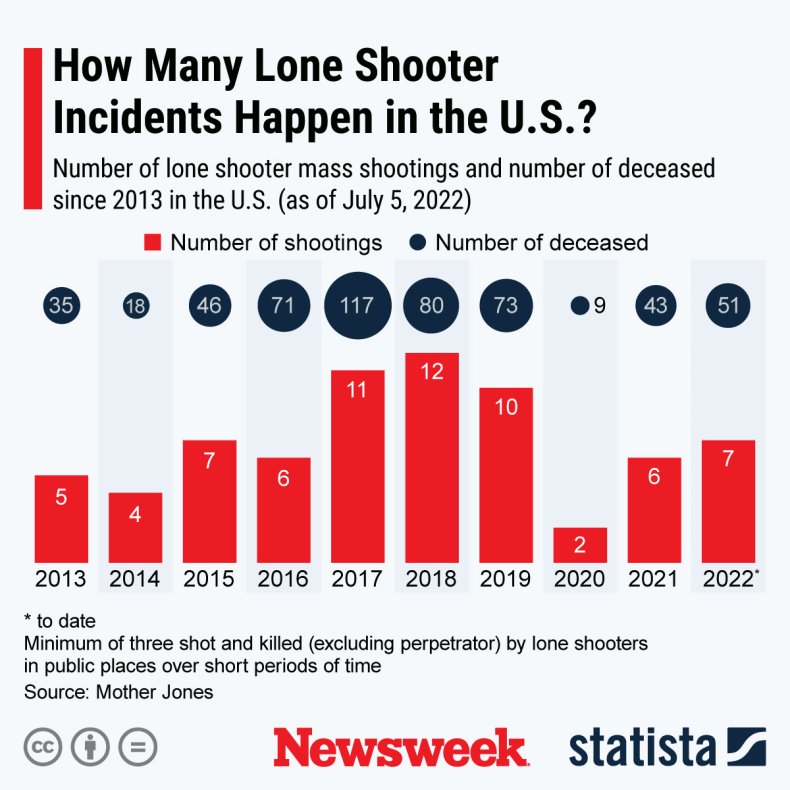 This chart, provided by Statista, shows the number of lone shooter mass shootings and number of deceased since 2013 in the U.S.
YouTube appeared to have pulled videos allegedly posted by Crimo. Other social media platforms, including Instagram, Discord and Twitter have also taken down his social media pages.
Disturbing footage allegedly posted by Crimo, which was later shared on Twitter by USA Today's Monique O. Madan, included a drawn image of someone laying in what appears to be blood after a confrontation with police.
CBS Chicago reported that Crimo lived in Highwood, another Chicago suburb, with his father and uncle.
Lake County Sheriff Deputy Chief Christopher Covelli said it appeared the suspected shooter was "shooting from a roof" and that police recovered a rifle from the scene. He added that authorities believe there was only one shooter involved.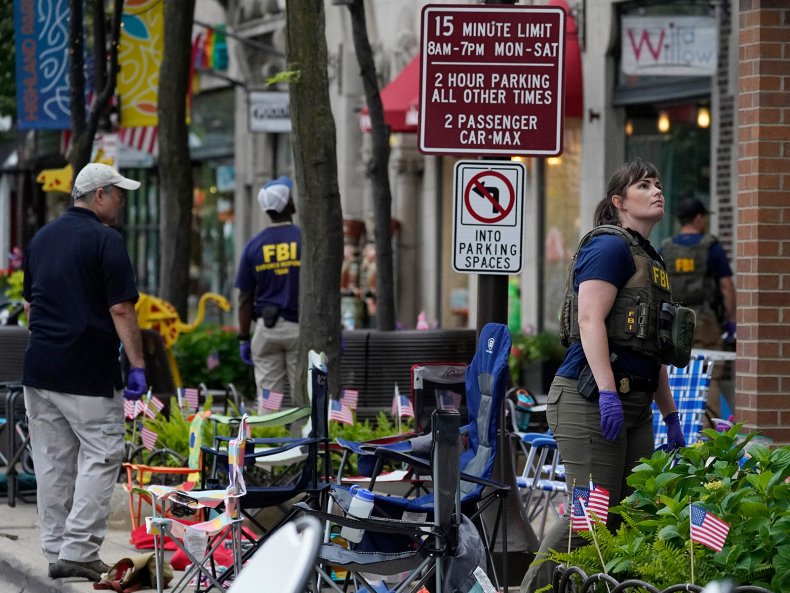 The shooting sent authorities on a manhunt as people were advised to shelter in place. Independence Day parades in nearby suburbs of Deerfield and Evanston were canceled in the wake of the shooting.
Highland Park, which had served as the backdrop of several movies such as Home Alone and Ferris Bueller's Day Off, has a relatively low crime rate. The suburb has a population of about 30,000 people and is safer than 72 percent of U.S. cities, according to online database Neighborhood Scout.
Update 7/4/22, 9:58 PM ET: This story has been updated with additional information.