The Many Antics of Late-Period Keith Richards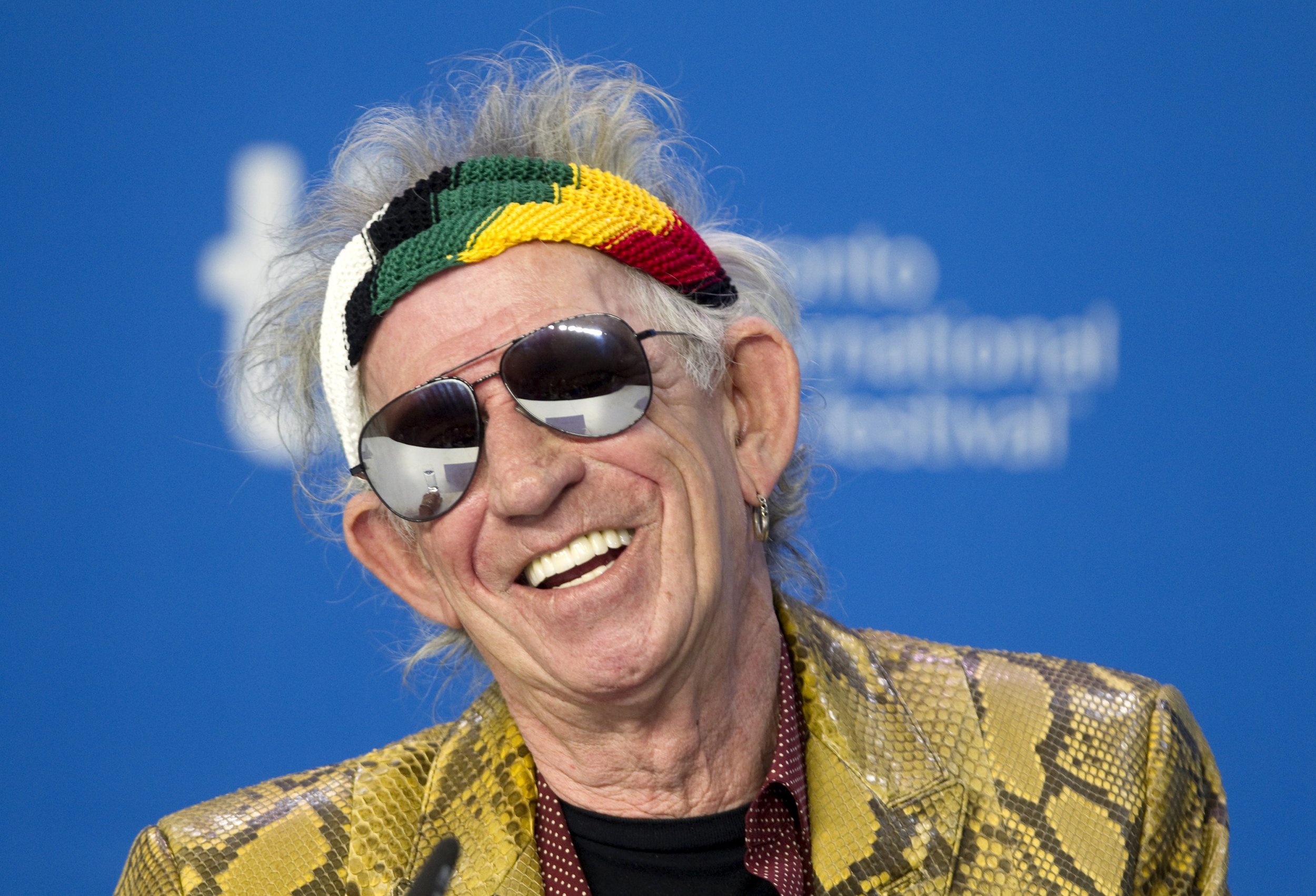 Today is a big day for Keith Richards. Not only is the Rolling Stones guitarist releasing Crosseyed Heart, his first solo album since 1992, but a new documentary about Keef at 71 has been made available to stream on Netflix. His story, however, is far from over. On Wednesday, Richards revealed that the Stones are also getting back into the studio (with Richards, it's always about "getting into the studio") to cut a new album. With that, of course, will come more touring, which means the Stones—who celebrated their 50th anniversary in 2012—won't be hanging it up anytime soon, and will probably keep going until one of the core members can no longer make it to the stage. Most thought that person would be Richards, but at 71 he's still going strong and, miraculously, still living like a rock star—smoking, drinking and carrying on as flamboyantly as ever. Here's how:
April 2006: Richards requires brain surgery after falling out of a coconut tree in Fiji. A lot of people get concussions. Not as many people have brain surgery, but still, it's not uncommon. Only Keith Richards would, of course, have a story as exotic as falling out of a coconut tree in Fiji to explain his head trauma, which turned out to be life-threatening. Initially Richards, then 62, didn't think much of knocking his head, reportedly jet-skiing soon after the incident. He only decided to have himself checked out after still feeling the effects a few days later. The experience caused Richards to give up cocaine for good.
April 2007: Richards tells NME that he snorted his father's ashes. "The strangest thing I've tried to snort? My father. I snorted my father," he said. "He was cremated and I couldn't resist grinding him up with a little bit of blow. My dad wouldn't have cared, he didn't give a shit. It went down pretty well, and I'm still alive."
A Rolling Stones spokesperson later said that Richards was joking, calling it an "off-the-cuff remark" and "not true," and saying to "file under April Fools' joke." Three years later, however, Richards revealed in his autobiography that he did in fact snort his father. "As I took the lid off of the box, a fine spray of his ashes blew out on to the table," he wrote. "I couldn't just brush him off so I wiped my finger over it and snorted the residue."
May 2007: Richards appears in Pirates of the Caribbean: At World's End as Jack Sparrow's father, Captain Teague. The joke here is that Richards barely needed to visit the production's wardrobe department, as the scarves, accessories and various unclassifiable accoutrements with which he routinely adorns himself are costume enough. A Rolling Stone piece about Richards and Johnny Depp's relationship mentions a story from castmate Bill Nighy that Richards "was so soused and wobbly on the set that director Gore Verbinski had to hold Richards's shins steady while he filmed his scenes."
March 2008: Richard becomes the new face of Louis Vuitton, appearing on a billboard advertisement for the luxury bag brand.
October 2010: Richards releases his memoir, Life, which David Remnick of The New Yorker called "[A] slurry romp through the life of a man who knew every pleasure, denied himself nothing, and never paid the price." The praise for the book is universal, it sells over a million copies and GQ names Richards its Writer of the Year.
October 2010: Richards kills a rare orchid in the New York Public Library with secondhand smoke. This is the geriatric rocker equivalent of throwing a television out of a hotel room window. As an apology, Richards autographs the tray that held the departed potted plant.
May 2011: Richards appears in his second Pirates of the Caribbean film, Pirates of the Caribbean: On Stranger Tides, reprising his role as Captain Teague.
July 2012: Richards says he often forgets how to play classic Rolling Stones songs. But because he's played them so many times, he can get by on muscle memory alone. "When you kick off a song you say, 'I can't remember how the middle bit goes,' but the fingers remember even if you don't," Richards told Absolute Radio.
December 2013: Keith Richards turns 70.
September 2014: Richards releases a children's' book called Gus & Me: The Story of My Grandad and My First Guitar. Illustrated by his daughter Theodora Richards, the book debuts at #3 on The New York Times bestseller list.
January 2015: Richards has a run-in with Justin Bieber at a bar while vacationing in the Caribbean. Richards asked Bieber, "Who the fuck are you?" before inviting him to have a drink. Richards ultimate message to Bieber? "Let's get one thing straight. You're a wannabe."
July 2015: Richards tells Mojo that he still smokes regularly, including an "early morning joint." And what kind of weed does he prefer? "Strictly Californian."
August 2015: Richards calls Sgt. Peppers Lonely Hearts Club Band a "mishmash of rubbish" in an interview with Esquire. "The 
Beatles sounded great when they were the Beatles," he said. "But there's not a lot of roots in that music. I think they got carried away. Why not? If you're the Beatles in the '60s, you just get carried away—you forget what it is you wanted to do."
September 2015: Richards disses hip-hop in an interview with the New York Daily News. "What rap did that was impressive was to show there are so many tone-deaf people out there," he said. "All they need is a drum beat and somebody yelling over it and they're happy. There's an enormous market for people who can't tell one note from another."
September 2015: Richards gives his daughters his blessing to snort his ashes after he dies, just as he claimed to do with his father's. "I'll give them a straw," he told the Mirror.