Keke Palmer's Met Gala Food Pic Sparks Fyre Festival Comparisons
Keke Palmer broke Met Gala rules on Monday night and posted a photo from inside the event—and people are shocked at the quality of the offering at the luxury event.
Responding to a fan tweet that asked Palmer for some insider information, the Hustlers star came through with a snap of her plate.
"Give us all the teaaaa! What's on the menu? Who sniffing a lil under the table?" the fan asked.
Palmer, 28, responded with a screenshot from her Instagram story.
The story was captioned: "This is why they don't show y'all the food. I'm just playinnnn," along with the side-eye emoji.
On Twitter, the actress added: "The menu chile."
And at $30,000 a ticket, the food shown by Palmer does not look very appetizing.
Already, social media users are likening the photo to the infamous photo of the food at the ill-fated Fyre Festival that went viral in 2017.
"They feeding y'all like it's Fyre Festival," responded one fan.
While Mike Singleton of NBC added: "This is why they don't allow photos INSIDE the Met Gala. Keke Palmer breaks the rules and posts photo of the salad your $30,000 ticket gets you. It's very Fyre Festival-like."
Another tweet reads: "Why the met gala feeding you like you at fyre fest."
"I love Keke Palmer exposing the Fyre Festival—I mean Met Gala— struggle plate," added entrepreneur Danielle Prescod.
Each time the Met Gala rolls around, pop culture fans are reminded of the strict rules that guests must adhere to while in attendance—most famously the no photograph rule which was famously broken by Kylie Jenner's bathroom selfie in 2017.
This year was Palmer's first time attending the prestigious fashion event. Along with Broad City's Ilana Glazer, Palmer co-hosted Vogue's livestream from the red carpet for more than three hours.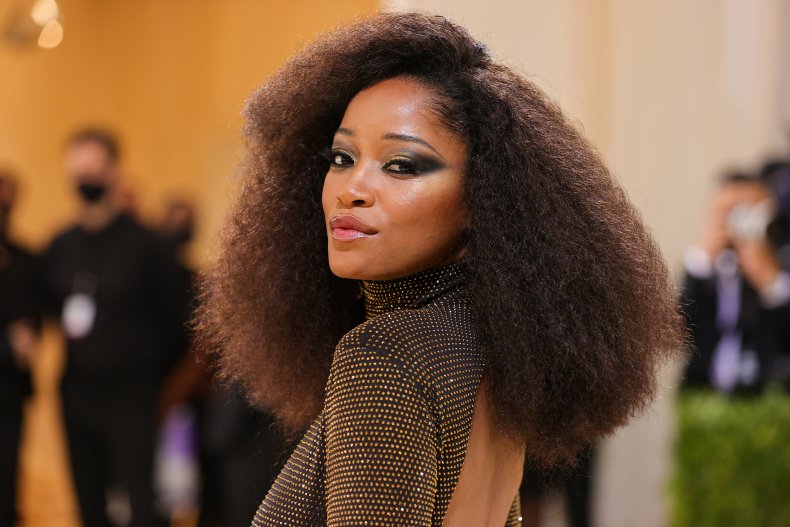 The theme of this year's event was "In America: A Lexicon of Fashion," which was intended to pay homage to American designers and Palmer paid homage to Diana Ross and stunned in a black floor-length Sergio Hudson gown with glitter detailing.
However, while hosting the livestream, Palmer left viewers in hysterics when she had no idea who Brooklyn Beckham was.
Other highlights from the night include Elliot Page's green carnation and Rihanna's late entrance which inspired fans to create endless memes.
The pop star did eventually show up wearing an oversized and voluminous Balenciaga overcoat and with her new boyfriend ASAP Rocky on her arm.