Kelly Craft Refuses to Say If Trump Bears Responsibility for Capitol Riot
Former U.S. ambassador Kelly Craft failed to say on Sunday whether former President Donald Trump bore responsibility for the fatal January 6 Capitol riots.
In an interview with CNN, Craft said she hoped President Joe Biden would be a "unifier," but questioned whether Democrats were "trying to do to rile up the base" when asked if Trump was culpable for the deadly Capitol riots.
The former U.S. ambassador to the United Nations was selected for the post by former President Trump in 2019, following the departure of her predecessor Nikki Haley.
Asked whether she believed Trump was responsible for the Capitol riots, Craft told CNN: "You know what, I see this as they [the Democrats] impeached President Trump, what more are they trying to do to rile up the base? Is the Democratic Party concerned about the elections in 2022 because of their failed policies?"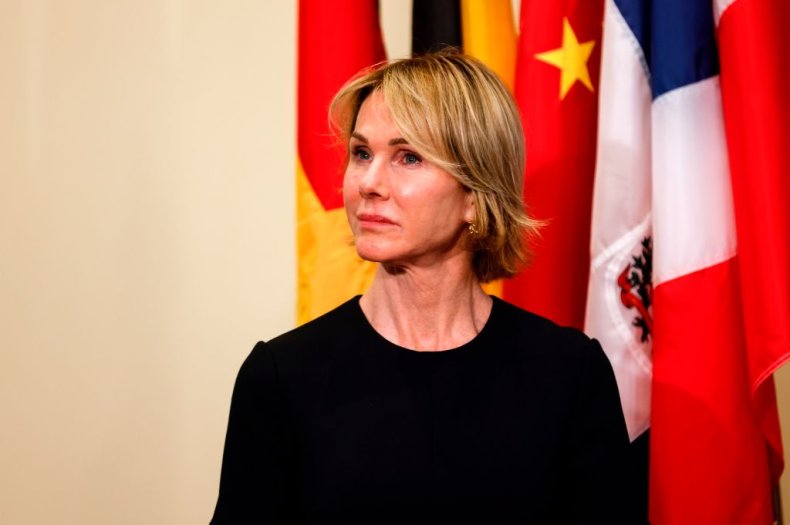 She later added: "President Biden ran on being a unifier, and it is my hopes that he will be a unifier, and unify this party and that we will move forward, and look after the working-class people and the economy and the security and the stability of our country."
The CNN host Pamela Brown then pointed out that Craft had not answered her question. Newsweek has attempted to contact the former ambassador for further comment.
The House of Representatives voted on Wednesday last week to set up an independent commission to investigate the Capitol riots. The lower chamber voted 252-175 in favor of the plans, with all votes against coming from GOP lawmakers.
Thirty-five Republicans voted with Democrats in favor of the proposals for a bipartisan, 9/11-style probe into the riots, the events leading up to the attempted insurrection, and the government response to the attack.
Former President Trump was none too pleased with the plans and the Republicans who voted in favor, calling the proposed commission a "Democratic trap."
"It is just more partisan unfairness and unless the murders, riots, and fire bombings in Portland, Minneapolis, Seattle, Chicago, and New York are also going to be studied, this discussion should be ended immediately," Trump said in a statement. "Republicans must get much tougher and much smarter, and stop being used by the Radical Left."
It is believed that any commission investigation into the Capitol riots would cover remarks Trump made at a rally ahead of the violence, as well as his administration's reaction to the scenes.
However, the independent probe is unlikely to move further than last week's House vote. Senate Minority Leader Mitch McConnell signaled that he was opposed to the plans, casting doubt over whether Senate Democrats will be able to find the 10 Republican votes necessary to have the commission green-lit by the upper chamber.