Kelly Loeffler Claims U.S. Will Elect 'First Marxist Senator' if She Loses Runoff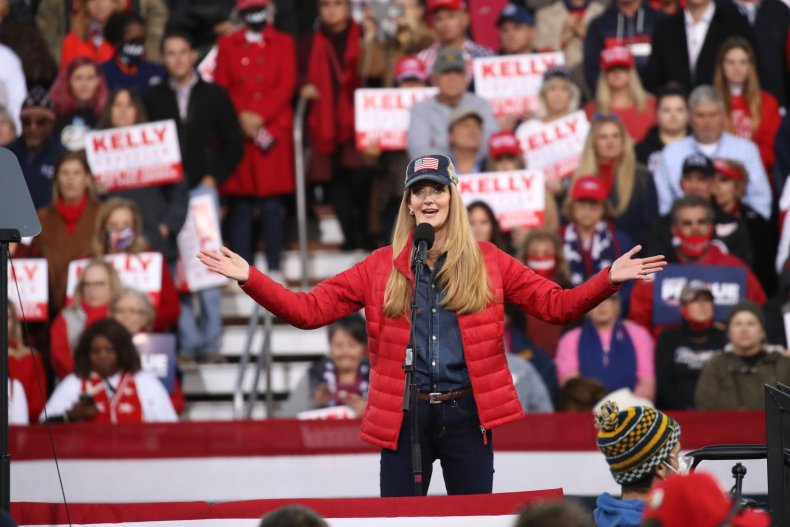 Republican Senator Kelly Loeffler of Georgia has insisted that "America's first Marxist senator" will be elected if she loses her runoff election to Democratic challenger Rev. Raphael Warnock on January 5.
Loeffler made the remarks during a Wednesday night appearance on Fox News' Hannity. The senator told host Sean Hannity that she and fellow GOP incumbent Senator David Perdue were acting as a "firewall to socialism." Loeffler appealed to reluctant GOP voters to cast their ballots while touting President Donald Trump's recent visit to Georgia, when he campaigned in support of both Republican senators.
"We are the firewall to socialism in this country... President Trump was here last week, he said to Georgians 'vote for David Perdue and Kelly Loeffler, you have to exercise your right to vote,'" Loeffler said. "And he's absolutely right. If we don't vote, we could see the election of America's first Marxist senator in this country, right here in Georgia. And that's why we're the firewall."
Despite Loeffler's claim, Warnock is a Democrat and there is no record of him identifying himself as a Marxist. Loeffler has also tied her challenger to Cuban leader Fidel Castro's 1995 visit to a New York City church where he had served as a youth pastor, although Warnock said that he "did not make any decisions" regarding the visit and had "never met the Cuban dictator" during an interview with CNN's Jake Tapper last month.
If both Loeffler and Perdue lose their races, the Senate will be split 50-50 along party lines but Democrats will control the upper chamber due to Vice President-elect Kamala Harris holding the power to cast tie-breaking votes. Democratic Senate Minority leader Chuck Schumer would take on the role of Republican Sen. Mitch McConnell, the current Senate majority leader, in such a scenario.
"The future of the country is on the ballot here in Georgia January 5th, we have to hold the line in Georgia," Loeffler said. "We heard Chuck Schumer say it, 'now we take Georgia, then we change America.' Radical liberal Raphael Warnock is Chuck Schumer's radical agent of change."
Newsweek reached out to the Warnock campaign for comment.
GOP leaders have expressed concern that they could lose control of the Senate due to Republican voter dissatisfaction with Trump losing Georgia. The president has continued to claim, without evidence, that he lost to President-elect Joe Biden in the state and elsewhere due to massive unsubstantiated voter fraud. Some Trump supporters have suggested a boycott of the runoff elections in protest of the system being "rigged" against the president.
Perdue has also falsely accused his opponent, Jon Ossoff, of being a "socialist," despite others viewing the candidate as a largely moderate Democrat. In addition, Republicans have continued to claim that both Warnock and Ossoff are in favor of "defunding the police," while both candidates have repeatedly said that they do not favor the policy.