Kelly Loeffler Said 'Radical Liberal' 13 Times During Georgia Runoff Debate With Raphael Warnock
Kelly Loeffler rarely referred to her opponent, Raphael Warnock, solely by his name during last night's Georgia runoff debate. Instead the Republican senator repeatedly added the prefix "radical liberal."
Loeffler used the term 13 times during the nearly one hour-long debate. Even if she spoke for half of that time, that's once every two minutes and 19 seconds.
She used the term three times during the first round, three times during the second round, six times during the third and—finally—once in her closing statement.
Warnock did not respond directly to the label, however, at one stage he accused Loeffler of "trying to misrepresent me" and suggested his opponent used "politics of distraction and division."
The rivals repeatedly threw accusations at one another throughout the head-to-head, which was moderated by FOX 5 Atlanta anchor Russ Spencer.
Loeffler called Warnock an "agent of change" for Senate minority leader Chuck Schumer (D-NY), and referenced a clip—which has been widely shared by Republicans throughout the campaign—of Schumer saying: "First we take Georgia, then we change the world!"
"We all know what that change would be, they've been very clear," she said. "They want to raise taxes on hard working Georgians, they want to defund the police, they want to open our borders, they want to implement the Green New Deal."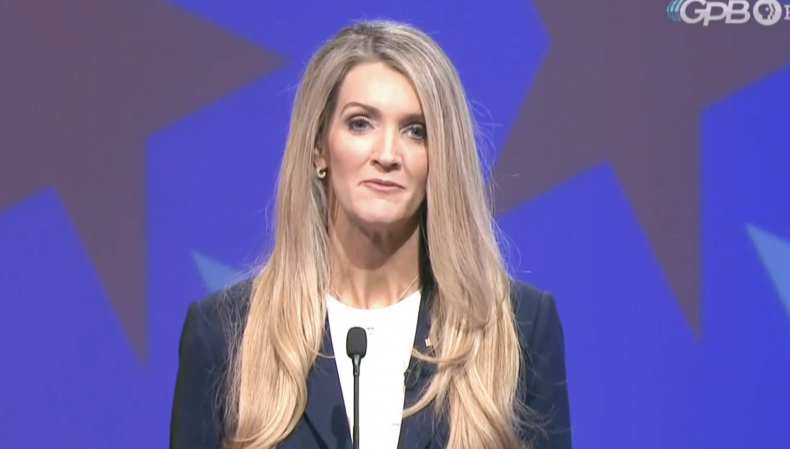 In response, Warnock said he had been campaigning for affordable health care, voting rights and for workers. Speaking later about his stance on policing, he said he did not want to defund the police, adding: "I just think you can affirm what law enforcement officers do and hold them accountable."
He also said: "We need somebody who needs to bring people together rather than using these issues as a political point to be made."
Given a chance to ask each other a question, Warnock first asked Loeffler about claims she "dumped" millions of dollars of stock to protect her investments during the pandemic, and asked why she called an extra $600 of relief for Georgians during the coronavirus pandemic "counterproductive."
She replied by calling the financial allegations "lies perpetrated by the left wing media and Democrats to distract from their radical agenda," said she had worked hard to deliver relief to Georgians and blamed Democrats for the impasse over a new package.
"What I'm working on is making sure we can get the economy moving again, that we can drive forward after this pandemic ... and we have delivered results."
On her turn to ask a question, Loeffler asked Warnock if he would renounce "socialism and Marxism." In response, he said he believed in the "free enterprise system"
Warnock then repeated his claims over Loeffler's financial dealings.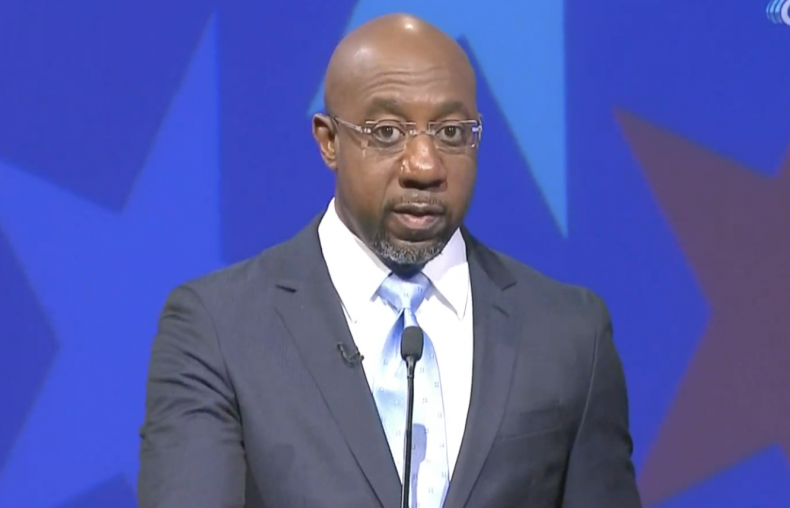 Loeffler and Warnock 's contest is one of two runoffs in Georgia, scheduled for January 5.
On the same night as their debate, democratic Candidate for U.S. Senate Jon Ossoff debated with an empty podium after his opponent, Republican Senator David Perdue, did not show up to their scheduled debate.
The Republican and Democratic parties have been investing huge sums in their candidates' campaigns for the runoffs, with the results deciding whether Republicans retain control of the Senate heading into the new Joe Biden administration.
If the Democrats gain both seats, control of the upper chamber would likely be tied at 50-50, with a Vice President Kamala Harris having the power to settle tie-breaker votes.
Monday, December 7 is the final day to register to vote in the Georgia runoffs.