John Kelly Is Trump's 'Nanny' and Tells Him What to Wear, Some Say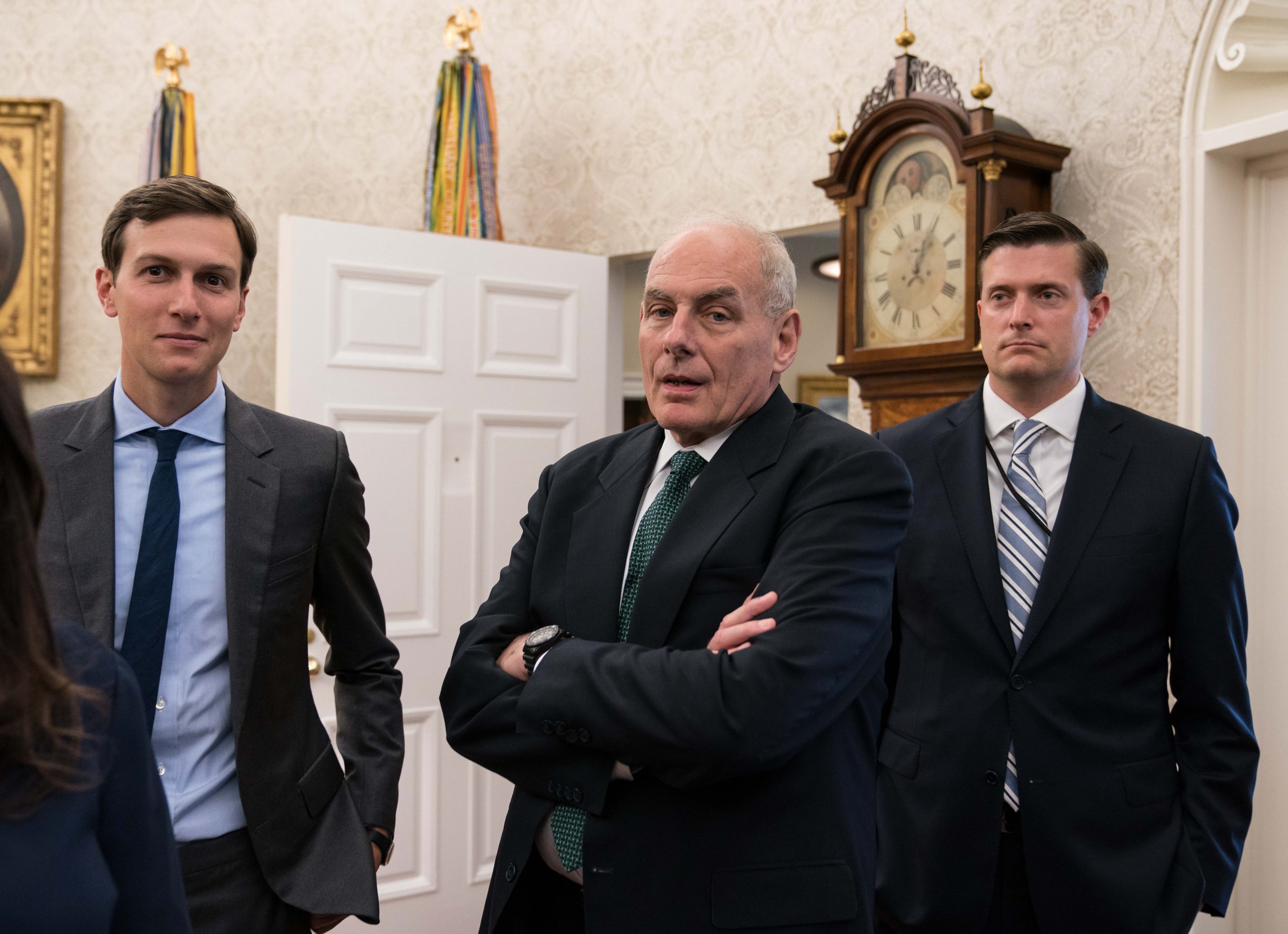 It took new White House chief of staff John Kelly roughly six weeks to instill discipline throughout President Donald Trump's West Wing. But now Kelly is facing criticism for his supposedly "Svengali" control over the president.
That criticism reached a new height Thursday by some Trump supporters outside the White House, who suggested the former general and ex-Homeland Security chief is now the president's "nanny"—and even dresses him.
"He seems to think he is a political Svengali. He's there to bring structure and make it an adult White House," former Trump campaign official Sam Nunberg told The Hill. "Donald Trump wasn't necessarily elected to have Pentagon folks running the West Wing along with Democrats."
An unnamed GOP operative also said people have called Kelly "General Doubtfire," invoking the famous comedy film that depicted the late Robin Williams as a father who dressed up like an older female nanny to see his children.
And political provocateur and Trump political mentor Roger Stone went so far as to blame Kelly for Trump's decision Wednesday to wear black pants with a blue suit jacket—a major fashion no-no—during a meeting with South Carolina Senator Tim Scott.
"Wait! Why was the president wearing a blue suit jacket and black suit pants? Is Kelly picking his clothes out now? @stoneonstyle," Stone tweeted Thursday.
The tighter controls enacted by Kelly and his deputy, Kirstjen Nielsen, have irked Trump confidants, who previously could just stroll in to see and speak with the commander in chief. It was an issue Kelly's predecessor, Reince Priebus, failed to address and largely led to advisers and aides plopping negative press coverage onto Trump's desk, which only stoked him.
Kelly's new barriers around the president have reportedly been a reason for longtime Trump bodyguard and friend Keith Schiller to exit the White House. Last week, it was reported that Schiller was leaving to make more money in the private sector than he does as the current director of Oval Office operations, and that he questioned if Kelly even "likes" Trump personally.
But after about a week in charge, Kelly did appear to be having an impact. White House aides started going to directly to Kelly on issues, and Trump's daughter and adviser, Ivanka, and son-in-law and adviser, Jared Kushner, reportedly adhered to Kelly's new order, Politico reported last month.
A more-disciplined White House may even explain Trump's willingness to work with Democrats on immigration policy and the debt ceiling. This has infuriated his base but earned the president some of the first positive press coverage of his tenure.