Kellyanne Conway Asked to Name One Senior Black White House Adviser—She Couldn't
White House Counselor Kellyanne Conway struggled to name a senior black aide in the White House as she attempted to defend president Donald Trump against claims of racism made by former staffer Omarosa Manigault Newman.
Speaking in an interview with ABC's This Week on Sunday, the gaffe-prone counselor also suggested Trump couldn't be racist because she had never heard him use a racial slur during her time working with him.
"I have never a single time heard him use a racial slur about anyone. I also never heard Omarosa complain that he had done that, and so the only thing that's changed is that she's now selling books," Conway said ahead of the release of Manigault Newman's book, Unhinged, which is set to be released on August 14 but has already made waves in Washington.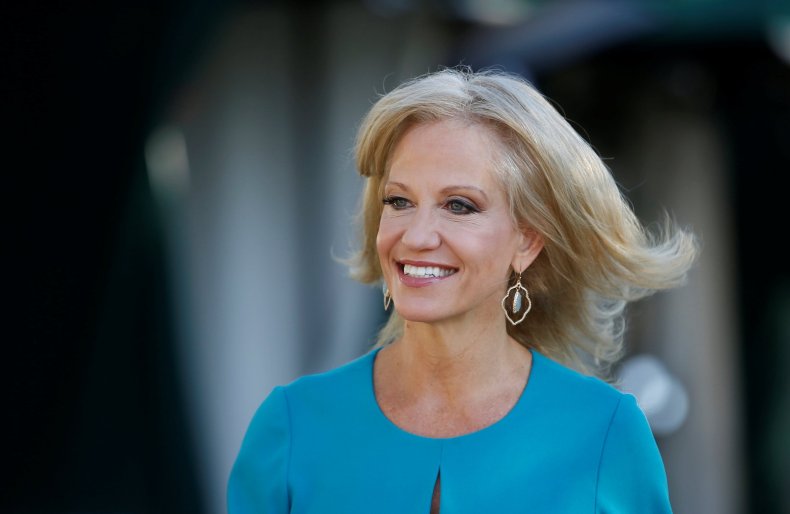 Conway also suggested that as a black woman, Manigault Newman should have enjoyed some of the praise for the gains Trump had made in terms of black employment figures.
"I think Omarosa is a tremendous disappointment here, because she should be taking credit for all the great gains that this president has made with respect to that low unemployment number among African-Americans," Conway said.
But when it came to the topic of black people working in the White House, the counselor seemed to struggle.
Pressed by anchor Jonathan Karl on who was the most senior African-American figure among White House staff, Conway stumbled, initially naming Housing and Urban Development Secretary Ben Carson, which prompted Karl to remind Conway that he was asking specifically about White House staff—"the people the president is with every day."
"We have Ja'ron," Conway continued, referring to Ja'ron Smith, who was later revealed by White House aide Marc Short as having an office in the East Wing during a follow-up interview with ABC.
"[He's] done a fabulous job and…he's been very involved with Jared Kushner and President Trump on prison reform. He's been there from the beginning," Conway said.
Karl once again reminded Conway that he was talking specifically about West Wing staff, asking her: "What does that say, to have not a single senior adviser in the West Wing who's African-American?"
Conway responded by changing tack slightly and explaining that Trump wanted to be a president for all Americans. "There are plenty of people…" she insisted of African-American staff in the White House.
"If you're going by that and not by the actions of the president, which you probably should, then you should look at the fact that we have a number of different minorities, and the fact is that this president is doing well for all Americans," said Conway.
"He promised on November 9, on his election night. He said, 'I will be the president for all Americans,' even those who didn't support him, and he's made good on that promise."